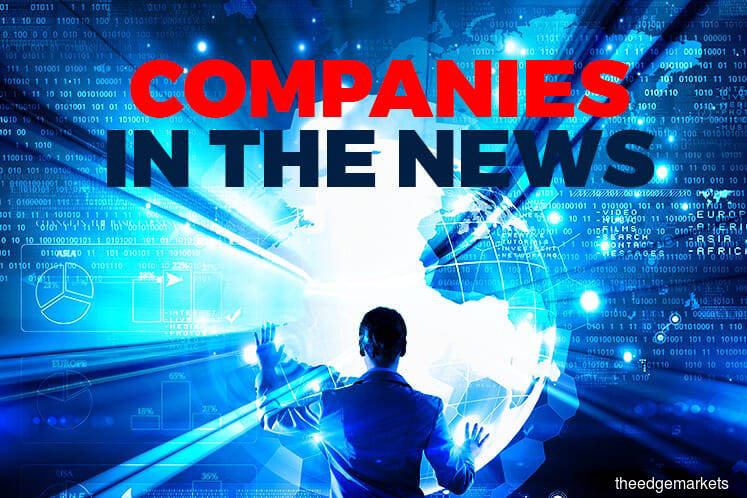 KUALA LUMPUR (Feb 11): Based on corporate announcements and news flow today, stocks in focus on Wednesday (Feb 12) may include: Hartalega Holdings Bhd, Perak Corp Bhd, Euro Holdings Bhd, Eka Noodles Bhd, TA Enterprise Bhd, TA Global Bhd, Kumpulan Powernet Bhd, Cycle & Carriage Bintang Bhd and Scomi Group Bhd.
Hartalega Holdings Bhd posted a marginal 1.27% increase in its latest quarterly net profit to RM121.27 million or 3.6 sen per share, from RM119.76 million or 3.6 sen per share a year earlier, thanks to higher sales volume. Revenue for the third quarter ended Dec 31, 2019 (3QFY19) rose 10.11% to RM796.55 million, from RM723.39 million previously.
The group declared an interim dividend of 1.8 sen per share, payable on March 27.
For the nine-month period ended Dec 31, 2019 (9MFY20), Hartalega's net profit slipped 12.51% to RM319.21 million or 9.49 sen per share, from RM364.84 million or 10.97 sen per share in the previous corresponding period, while revenue was flat at RM2.146 billion against RM2.144 billion previously.
Perak Corp Bhd — whose Movie Animation Park Studios (MAPS) theme park in Ipoh was closed last month until further notice — has lapsed into Practice Note 17 (PN17) status. The state-owned firm said this comes after it defaulted on a loan repayment and its inability to declare solvency.
SPA Furniture (M) Sdn Bhd, a dormant company held by Datuk Seri Lim Teck Boon and his father Lim Chaw Teng has emerged as the largest shareholder with a 51% stake in office furniture maker and property developer Euro Holdings Bhd, triggering a mandatory general offer (MGO) for the shares they do not own at 20 sen apiece.
SPA acquired the stake comprising 136.32 million shares for RM27.26 million or 20 sen per share today from eight Euro shareholders, including managing director Datuk Seri Choong Yuet Keong @ Tong Yuen Keong, who sold all 11.5% he directly held in the company. The Lims intend to maintain the listing status of Euro Holdings on the Main Market of Bursa Securities.
Eka Noodles Bhd's subsidiaries have been sued for allegedly forging and altering documents to confuse the public on the ownership of a noodles brand, Nayati.
The Practice Note 17 firm said its wholly-owned subsidiaries Kilang Bihun Bersatu Sdn Bhd (KBBSB) and EKA Foodstuff Sdn Bhd (EFSB) were served with an amended writ of summons and statement of claim on Feb 3, in relation to the claims filed by Great Food Industries Sdn Bhd.
Besides KBBSB and EFSB, four others were named as defendants — Mazlan Mohamad Isa (trading as Perniagaan Idaman Murni), Great Line Success Sdn Bhd, Ang Eng Hooi, and Chew Hong Food Industries Sdn Bhd.
Trading in shares of retail stockbroking firm TA Enterprise Bhd and its subsidiary TA Global Bhd will be halted from 9am tomorrow (Wednesday), to pave the way for a material announcement. TA Enterprise owns a 60.17% stake in the TA Global, which is involved in property development, property investment and property management.
Kumpulan Powernet Bhd has received a contract to undertake the development of an 8MW hydropower plant in Laos worth US$15.88 million (RM65.88 million).
It received the letter of award from Zhengdong Building Road & Bridge Construction Co Ltd today for the project, which is expected to be completed in 18 months.
Cycle & Carriage Bintang Bhd's (CCB) minority shareholders have blocked the board's proposed selective capital repayment and reduction (SCR) of RM2.20 per share, which would have paved the way for the privatisation of the auto distributor. 
Businessman Tan Sri Wan Azmi Wan Hamzah and Datuk Mohd Zakhir Siddiqy Sidek are set to emerge as substantial shareholders of Scomi Energy Services Bhd, as they have opted to take over the company's shares pledged against loans extended to Scomi Group Bhd, following a default last month.
Scomi Group has missed the remedy period to repay Wan Azmi and Gelombang Global Sdn Bhd (GGSB) — Mohd Zakhir's private vehicle —  RM21 million each that Scomi Group had borrowed mid-last year.
Just like Scomi Group, Scomi Energy had also defaulted on its financing facilities — RM55 million worth of Series E of the Guaranteed Serial Bonds issued by the latter's subsidiary.
Scomi Energy had asked to postpone payment to its bondholders to Feb 28. The bondholders had until Jan 21 to revert, but Scomi Energy has not revealed the outcome of its request.