Click / Tap image to enlarge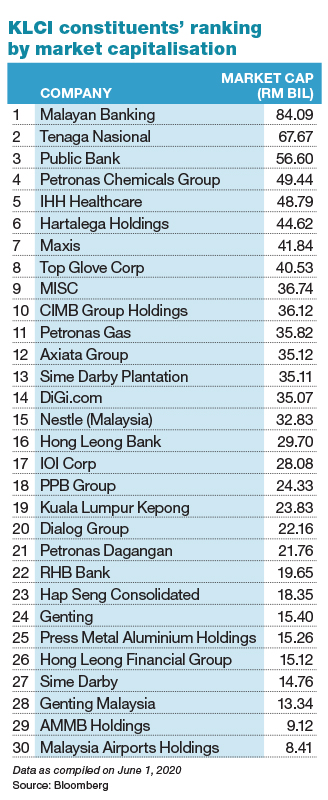 KUALA LUMPUR (June 1): There is no love lost for glove makers Hartalega Holdings Bhd and Top Glove Corp Bhd, whose share prices continued to reach new record highs on Monday. The strong rally put the two glove manufacturers firmly at the sixth and eighth place among Malaysia's largest listed companies by market capitalisation.
This is as the rising investor appetite for glove makers pushed many rubber glove-related players to new highs, extending the momentum that has lasted months in the sector as the Covid-19 pandemic spurred unseen before strong global demand.
At sixth place, Hartalega settled at a market cap of RM44.61 billion at Monday's close, while Top Glove is ranked eighth after Maxis Bhd, with a market value of RM40.53 billion.
Top Glove, controlled by Tan Sri Dr Lim Wee Chai, managed to further narrow its gap with Hartalega amid the outstanding run of its shares.
The counter jumped nearly 22% before settling at RM15.54 at the closing bell — still it was up RM2.24 or 16.84% to emerge as Bursa's biggest gainer.
Investors also rushed to Top Glove's structured warrants, with 11 of them listed among the top 30 gainers across the bourse market today.
Hartalega, meanwhile, was the fourth biggest gainer on Bursa Malaysia, with its share price settling up 64 sen or 5.1%, having gained 7.66% earlier.
Top Glove and Hartalega shares have gained by 116% and 78% respectively over the past one month. In the last five trading days alone, the shares have risen by over 30%.
Looking at historical valuations, Hartalega has managed to maintain the status quo of outpacing Top Glove in terms of market cap after it overtook Top Glove since 2013.
In August 2018, Hartalega was even seen to out-value Top Glove by RM9.3 billion.
Nevertheless, with Top Glove managing to close the gap by some margin — the difference currently stands at about RM4.08 billion — there are some with the view that Top Glove will soon retake the pole position as the glove manufacturer with the largest market cap.
According to Bloomberg data updated in May, there were 12 "buy" and one "hold" recommendations for Top Glove, with target prices (TPs) ranging from RM9.20 to RM20.50, implying further upside to its share price, judging by the best-case estimate.
Meanwhile, for Hartalega, there were eight "buy" , 11 "hold" and three "sell" recommendations, with TPs ranging from RM5.95 to RM11.39. The top range of the TP might suggest that Hartalega's upside was seen limited.
Five other glove makers have joined the Monday frenzy to hit fresh highs. Of the top 30 gainers across Bursa Malaysia, 20 counters were glove-related stocks and warrants.
Rubberex Corp Bhd jumped 98 sen or 27.53% to emerge as the third on the list. The counter closed at RM4.54 for a market capitalisation of RM1.26 billion.
Comfort Gloves gained 58 sen or 16.02%, putting it at eighth on the list. The counter settled at RM4.20 for a market capitalisation of RM2.45 billion.
Kossan Rubber Industries Bhd was the 11th largest gainer with a 43 sen or 4.94% jump in share price to RM9.13, giving it a market capitalisation of RM11.68 billion.
Careplus Group Bhd was at 13th place, with a 42 sen or 30% gain to settle at RM1.82 for a valuation of RM967.07 million.
Glove dipping line manufacturer HLT Global Bhd, which also has a glove manufacturing arm, hit a limit-high of 30 sen or 51.28% to settle at 88.5 sen, valuing the group at RM453.12 million.
Read also:
Craze for glove makers spills over to small-cap stocks linked to healthcare