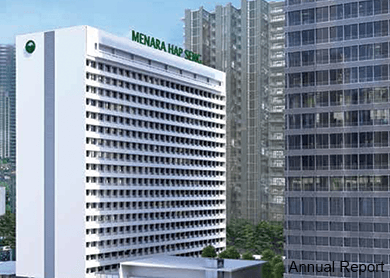 KUALA LUMPUR (May 19): Hap Seng Consolidated Bhd saw its net profit for the first financial quarter ended March 31, 2016 (1QFY16) increase by 26.4% to RM140.21 million or 6.45 sen a share, from RM110.89 million or 5.18 sen a share a year ago, due to the gains derived from the disposal of land.
The group has also declared a first interim dividend of 15 sen per share, with an ex-date of June 8 and payment date of June 28.
In a filing with Bursa Malaysia today, Hap Seng reported a 1QFY16 revenue of RM1.05 billion, which was 2.7% lower than its 1QFY15 revenue of RM1.08 billion.
Higher revenue was recorded by its credit financing, automotive, fertilizer trading and building materials divisions but was offset by lower revenue from the plantation and property divisions.
On its prospects for its plantation business, Hap Seng said that although the El Nino weather phenomenon is expected to end in the second half of the year, its negative impact on fresh fruit bunches yield and crude palm oil production will continue beyond this period.
Its property division's existing investment properties continue to maintain close to optimum occupancy rates and consistent average rental rates whilst occupancy rates of its new investment properties, Menara Hap Seng 2 and Plaza Shell, are expected to increase progressively and contribute to the overall performance of the division.
Hap Seng's credit financing division's term loan portfolio is expected to grow further with focus on loans with higher margin and quality collaterals. Concerted efforts are ongoing to keep cost of funds and non-performing loans low.
The automotive division expects satisfactory performance from its vehicles segment and after sales and services segment despite the challenging market conditions in the automotive industry, with the anticipated upcoming launching of the new E-Class (Mercedes-Benz) in the second half of 2016 expected to boost the division's sales in the forthcoming months.
Its fertilizer trading division is expected to continue operating in a very competitive business environment amidst the volatility of foreign exchange movements and uncertainties in the palm oil industry, while the group's building materials division expects the operating environment in Malaysia and Singapore to remain challenging and competitive.
Hap Seng shares ended the day up two sen or 0.26% today to RM7.69, for a market capitalisation of RM17.48 billion.