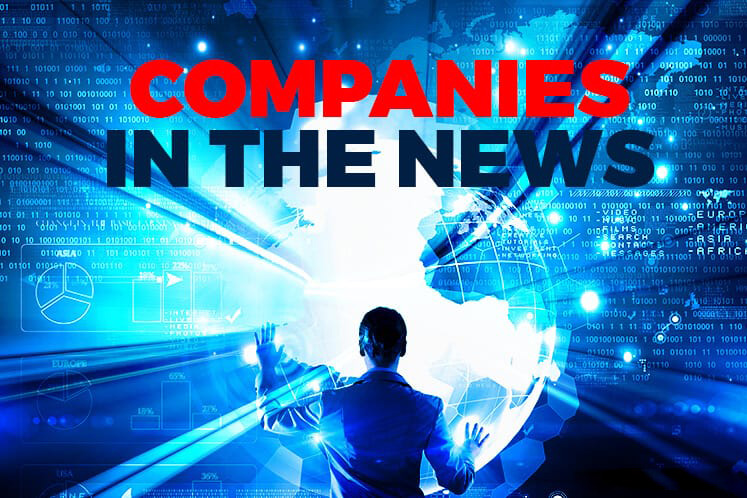 KUALA LUMPUR (Dec 4): Based on corporate announcements and news flow today, companies in focus on Tuesday (Dec 5) may include: Handal Resources Bhd, IOI Corp Bhd, KKB Engineering Bhd, Berjaya Food Bhd, Berjaya Corp Bhd, Trive Property Group Bhd, Kronologi Asia Bhd, Al-Salam Real Estate Investment Trust, Hovid Bhd, UOA Development Bhd, Ireka Corp Bhd, Cypark Resources Bhd, UMW Oil & Gas Corp Bhd, IJM Corp Bhd and Sunway Construction Sdn Bhd
Handal Resources Bhd has partnered with China-based Harbin Jingwei Advanced Composite Material and Engineering Corp to jointly develop innovations and advanced material applications for the oil and gas industry in Malaysia and the region.
Harbin Jingwei is a unit of Shanghai EB Pipeline Engineering Ltd.
Under the collaboration agreement, Handal will jointly develop and promote solutions/products and perform project management for secured contracts while Shanghai EB will provide technical know-how on advanced material engineering.
IOI Corp Bhd sees strong support for crude palm oil (CPO) prices at RM2,500 to RM2,650 per tonne in the next two months which is about 7% higher  compared with current CPO prices.
IOI Corp chief executive officer Datuk Lee Yeow Chor said CPO prices had dropped substantially in the last three weeks due to the unexpected stability in production of oil palm fruits.
He said the strengthening of crude oil prices is  expected to support CPO prices.
KKB Engineering Bhd has won three contracts worth a combined RM16.8 million for projects in Sarawak.
KKB said it received a contract from Hock Peng Realty Sdn Bhd (HPRSB) for the supply, fabrication, delivery and installation of steel structures, as well as for the installation of roof covering, and wall cladding and accessories for the proposed Balingian Coal Stockyard in Mukah.
KKB also received a Purchase Order from LP Capital Construction Sdn Bhd for the supply of mild steel pipes and fittings for the Projek Bekalan Air Luar Bandar in Serian, and another Purchase Order from MKM Wira (M) Sdn Bhd for the supply of mild steel concrete lined pipes and fittings.
Berjaya Food Bhd executive chairman Datuk Seri Robin Tan Yeong Ching has resigned from the post effective today, to comply with the "best practice of the Malaysian code of corporate governance".
The 43-year-old son of Berjaya Corp Bhd (BCorp) founder Tan Sri Vincent Tan has been replaced by project management company Seri Libana Sdn Bhd's managing director Datuk Tunku Shazuddin Tunku Sallehuddin.
Five directors of Trive Property Group Bhd have been reprimanded and fined a total of RM2.55 million by the Securities Commission Malaysia for knowingly furnishing false or misleading statements in the 2014 audited financial statements of the company to the SC and Bursa Malaysia.
Three directors namely Wong Kok Seong, Thu Soon Shien and Datuk Mohamad Amin Mohamad Salleh, who at the relevant time were audit committee members of Trive, were fined RM539,000 each.
Two other directors — Datuk Seri Dr Pang Chow Huat and Zarul Ikhwan Zarul Ahmad — were fined RM465,500 each.
Kronologi Asia Bhd sees its new partnership with a member of Temasek Holdings to provide data backup services as one that will open up avenues for the group to do business with the public sector.
"While there is no fixed dollar attached to the partnership, it provides a huge opportunity for Kronologi in terms of doing business with government entities," Kronologi's acting chief executive officer Philip Teo said.
Al-Salam Real Estate Investment Trust is acquiring 22 properties located across Malaysia for a combined RM115 million in a related party transaction.
The properties are in Penang, Perak, Selangor, Kuala Lumpur, Negeri Sembilan, Melaka, Johor, Sabah and Sarawak.
The major shareholders of Hovid Bhd have extended the closing date to accept their takeover offer to Dec 29, after their shareholding rose to only 61.45% as of the cut-off date today — below the 75% acceptance level they were seeking.
This is the third extension since the proposal to take the pharmaceutical group private was announced on Oct 9.
The group had received a conditional voluntary takeover offer from its controlling shareholder, David Ho Sue San, who made a joint offer together with private equity firm TAEL Two Partners Ltd to buy all the remaining shares they do not own at 38 sen per share and at 20 sen per warrant in a bid to take the company private.
UOA Development Bhd is buying a further 35% stake in Everise Project Sdn Bhd from Kaginic Assets Holdings Sdn Bhd for RM159.54 million, which would bring its total shareholding in the property development company to 74%.
UOA Development said Kaginic Assets had made an offer to dispose of its entire interest in Everise and UOA, as an existing major shareholder, had accepted the offer.
Ireka Corp Bhd has teamed up with the world's largest manufacturer of rolling stock and rail-related products and systems CRRC Urban Traffic (Europe) Co Ltd (CRRC UT) for the collaboration in rail, urban traffic solution, tourism and infrastructure projects in Malaysia and Southeast Asia.
Ireka had also signed a share subscription agreement with CRRC UT to invest in Ireka and subsequently establish a joint venture relationship between both parties, of which Ireka holding 51% and CRRC UT holding 49%.
Cypark Resources Bhd announced its wholly-owned Cypark Renewable Energy Sdn Bhd (CRE) had received a Letter of Acceptance of Offer from the Energy Commission, for the development of its 30 MWac solar plant in Negeri Sembilan.
The group will participate in the development of a large-scale solar photovoltaic plant of 30 MWac situated at Empangan Terip, Negeri Sembilan through a consortium comprising CRE and Revenue Vantage Sdn Bhd.
UMW Oil & Gas Corp Bhd has bagged a US$6.8 (RM27.64) million contract to provide a jack-up drilling rig for ConocoPhillips Sarawak Ltd.
The contract is to drill two firm wells, with the option of two additional wells. It is anticipated that drilling activities for one well will span about 50 days with the activities on the first well commencing in the second quarter of 2018, off the coast of Sarawak.
IJM Corp Bhd said its wholly-owned IJM Construction Sdn Bhd has entered into a pre-bid agreement with three companies to participate in the tender for the Kuala Lumpur-Singapore High-Speed Rail project.
The agreement was signed with Sunway Construction Sdn Bhd, a unit of Sunway Construction Group Bhd, Jalinan Rejang Sdn Bhd and Maltimur Resources Sdn Bhd, with a consortium set up on an equal shareholding of 25% each.