This article first appeared in The Edge Financial Daily, on January 28, 2019.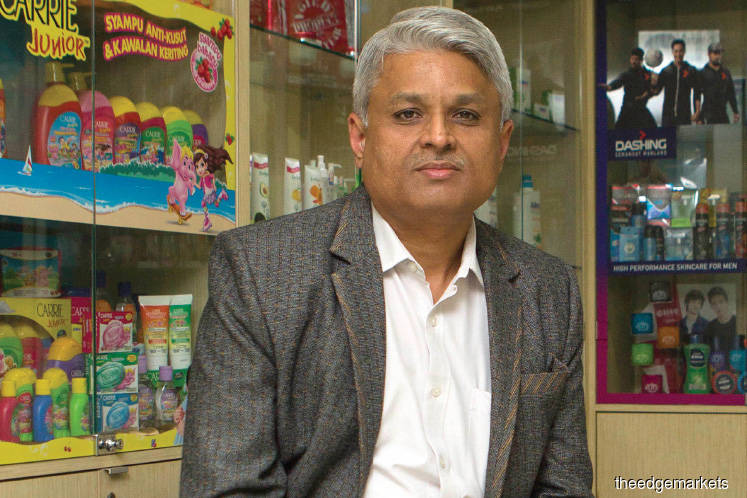 SUBANG JAYA: The halal cosmetics and personal care product industry has grown significantly over the past several years, having emerged as the fastest-growing consumer segment of the country, according to Malaysia's ministry of international trade and industry (Miti).
In fact, the Halal Industry Development Corp (HDC) has indicated that there are currently over 100 certified halal cosmetics and personal care companies in the country.
As at 2018, the global halal cosmetics and personal care market was valued at US$24 billion (RM99.12 billion) and is expected to reach US$41.6 billion by the end of 2025, according to a new report entitled "Global Halal Cosmetics And Personal Care Market Insights, Forecast To 2025" by market research firm QY Research. This points to a compound annual growth rate (CAGR) of 7.1% over the next six years.
Wipro Unza (Malaysia) Sdn Bhd, which has established itself in this space, is hoping to replicate its popularity in surrounding markets given the success of its 12 halal-certified brands in Malaysia over the years. Further afield, it is also actively looking to increase its presence in the Middle East and North Africa.
According to chief executive Sriram Krishnamurthy, all of its 13 product categories have consistently maintained market leading positions in Malaysia over the past decade.
The group is particularly well known for its halal personal care brand Safi — also its biggest. Other brands in the bag include Romano, Enchanteur, Dashing, Carrie Junior, and Sumber Ayu.
"Since inception, Safi has consistently been 100% halal, even beyond what the Department of Islamic Development Malaysia (Jakim) would certify [as] halal. You see, there are some industry alcohol formulas which are permissible to be classified as halal, but we go one step further by not including it at all in our formulas," Sriram told The Edge Financial Daily.
This strategy has helped the company grow and market its brand further in the halal segment, he said, adding that positioning as "a local best" helps them understand their market better.
"Why we have been successful over the years in the Malaysian market as well as other markets is because we consider ourselves as a local player. We think and act locally. All our resources and programmes are decided at [the] country level. So, if there's an opportunity in Malaysia, we have the research and development (R&D) and manufacturing in place to prepare ourselves."
Alongside their head office in Subang, the group also has an R&D facility which has been deemed the world's biggest halal R&D facility for skincare.
"Biggest is defined by investment and [the] number of scientists (more than 100). We started with an investment of RM10 million back in 2012, and we have continuously invested about the same amount on a yearly basis," he said. The group also has R&D centres in India, China, Vietnam and Indonesia, where it operates.
Sriram explained that when Wipro Enterprises first ventured outside of Bangalore, India, Malaysia was their first market and today is the biggest after India. Revenue-wise, Malaysia contributes about 35% to Wipro Unza with the remaining divided by the other countries around the region.
Wipro Unza was formed as a result of an acquisition by India-based parent Wipro Enterprises of Malaysian company Unza Holdings in 2007, and on average launches 70 products a year — more than its competitors.
Ranking-wise, Sriram believes the group is positioned as the No 2 player in Malaysia and is of the view that continuous meaningful marketing can propel it to the top. "Naturally, when you are No 2, your aim is to be No 1," he declared.
Sriram sees a lot of room for growth in the halal personal care segment in Malaysia, judging by the penetration rate of certain products.
"For example, the penetration of facial cleansers in Malaysia is 60%. So about 40% don't use facial cleansers in this country, whereas deodorants' penetration is only about 55%, while selected perfume is only about 25%. So, we see ourselves as a player that can grow the pie."
Safi was launched in Indonesia in the middle of last year and has been well received. "So far, it's getting a lot of traction and good response.
"The prospects for growth in this segment are huge for Asia and the Middle East, and we are optimistic that the Safi brand would grow faster there given their larger population sizes," he said.