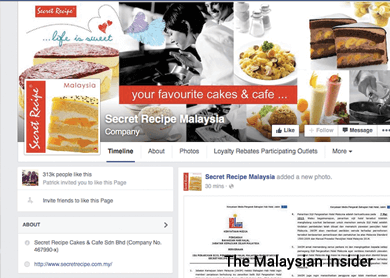 (May 27): The Department of Islamic Development Malaysia (Jakim) revoked the halal certificate of café chain Secret Recipe as its central factory failed to adhere to good manufacturing practices, the Dewan Rakyat was told today.
Minister in charge of religious affairs Datuk Seri Jamil Khir Baharom said the entire chain was affected because the factory supplied goods to all 297 of Secret Recipe's outlets across Malaysia.
"We monitored the processing area and found several issues with its toyyiban (good manufacturing practice). So it must abide by the (Jakim's) guidelines if it wants its halal certificate returned," he told the Dewan Rakyat during Question Time.
He said toyyiban covered cleanliness and health, and denied that Secret Recipe's halal certificate was withdrawn due to the ingredients it used.
"According to Jakim Halal Hub division director Hakimah Mohd Yusoff, the certificate was withdrawn, but not because it contained pork or dogs. Animal DNA factor was not involved," said Jamil.
"We look at both the halalan factor and the toyyiban factor. The certificate covers from the farm to the table.
"So even if it doesn't have any non-halal ingredients, if we are not confident that the processing area is clean and has not fulfilled Jakim's system operating procedures, the certificate can be postponed or revoked."
Yesterday, Secret Recipe Manufacturing Sdn Bhd chief executive Datuk Steven Sim told The Malaysian Insider it respected Jakim's decision and was working to comply with the department's cleanliness standards.
He also apologised to the public for the inconvenience caused and said that a notice had been posted on its Facebook page and its outlets on the issue.
Jakim revoked Secret Recipe's Halal certificate on May 7 after it was found to have breached the halal certification procedure on cleanliness and good manufacturing practices.
Hakimah said that Jakim will evaluate the company's halal certificate application after it had conducted checks based on the Malaysia Standard 1500:2009 and Halal Manual Procedure Certification 2014. – The Malaysian Insider