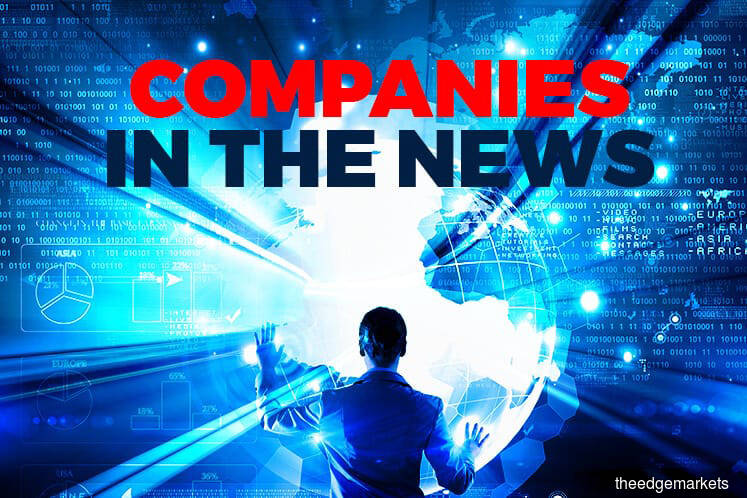 KUALA LUMPUR (Feb 4): Based on corporate announcements and news flow today, companies in focus on Thursday (Feb 7) may include: Gunung Capital Bhd, AirAsia Group Bhd, Malaysia Airports Holdings Bhd (MAHB), CIMB Group Holdings Bhd, Inix Technologies Holdings Bhd and Cahya Mata Sarawak Bhd.
Gunung Capital Bhd has received a letter of award from Jendala Padu Sdn Bhd for a profit-sharing pilot-project to improve the yield of the Pandan Land Bintulu Palm Oil Estate.
The award is for a six-month period to July 31. Gunung Capital has the option to automatically extend the tenure for an additional of up to 15 years by written confirmation to Jendala Padu.
The project will see both parties develop strategies to improve the yield of biological assets on the land, which may also include commodity hedging strategies and other financial instruments to protect yields against commodity price fluctuations.
AirAsia Malaysia chief executive officer Riad Asmat has slammed Malaysia Airport Holdings Bhd's (MAHB) statement on the passenger service charge (PSC) that was released yesterday, calling the airports operator's arguments "duplicitous and disingenuous".
In a statement, Riad said the seven-page statement by MAHB yesterday did not clarify on the PSC, but rather further muddied the waters in relation to the increased airport tax at the Kuala Lumpur International Airport 2 (klia2), which AirAsia Group Bhd has refused to collect in the interest of its passengers.
He also disputed MAHB's contention that it has no say in determining airport tax rates, saying it is involved in the process every step of the way, due to its position as an airport operator.
Riad reiterated that the decision to charge the same airport tax for both KLIA and klia2 is fundamentally wrong and against the principal of non-discriminatory pricing, which assumes comparable service levels.
CIMB Group Holdings Bhd has announced the appointment of Omar Siddiq Amir Noer Rashid as the acting president and chief executive officer of its subsidiary CIMB Thai Bank PCL.
Omar, who is group chief operating officer of CIMB, replaces Kittiphun Anutarasoti.
Kittiphun is currently on a voluntary personal leave.
Inix Technologies Holdings Bhd's extraordinary general meeting (EGM) set to take place on Feb 13, 2019 has been called off.
Inix said the EGM is no longer necessary, as the agenda to remove and appoint directors were already resolved.
It said Dr Wong Jeh Shyan and Norizam Bin Tukiman, two of the three directors to be removed at the EGM, had resigned. Both Wong and Norizam were non executive directors at Inix. The only director that remained was Dr Azman Hussin, who is the chief executive officer of Inix.
The board of directors has resolved to appoint Datuk Zhang Li, Lee Yueh Shien and Edwin Silvester Das as new directors to fill the vacancies created.
Cahya Mata Sarawak Bhd has revised its dividend policy to a minimum of 30% of its annual consolidated profit after tax and non-controlling interests (PATNCI) to shareholders, or subject to a minimum of 2 sen per share.
Its present dividend policy as stipulated in its annual report is a net payout ratio of 40% of our annual consolidated PATNCI to shareholders, subject to a minimum of 2 sen per share.