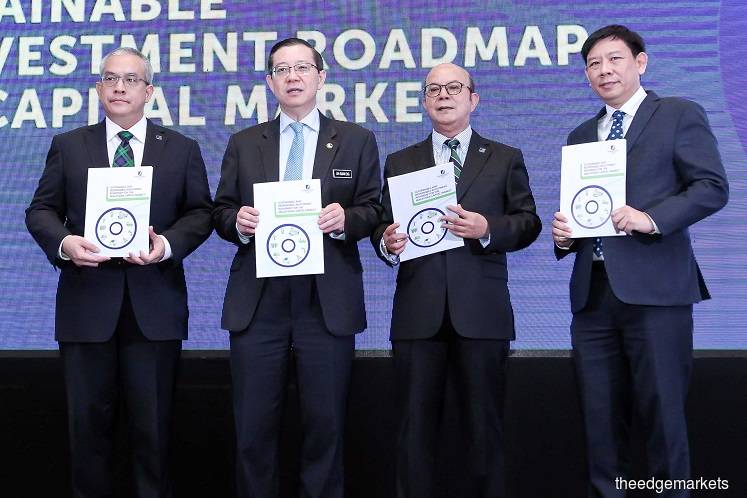 From left: SC deputy chief executive Datuk Zainal Izlan, Finance Minister Lim Guan Eng, SC chairman Datuk Syed Zaid Albar and SC corporate finance and investment MD Eugene Wong at the launch of the SRI Roadmap for the Malaysian Capital Market here today. (Photo by Kenny Yap/The Edge)
KUALA LUMPUR (Nov 26): Finance Minister Lim Guan Eng is urging more institutional investors to allocate their investments towards sustainable and responsible investment (SRI).
"There can be no overstating the importance of the capital market in mobilising private investments to fund Malaysia's developmental and environmental commitments," said Lim, in his keynote address during the launch of SRI Roadmap for the Malaysian Capital Market by the Securities Commission Malaysia (SC) today.
He said the SRI emphasises not just financial returns, but also its positive impact on the environment, governance, culture and social development.
Government-linked investment companies like Khazanah Nasional Bhd, together with institutional investors like the Employees Provident Fund and Kumpulan Wang Persaraan (Diperbadankan), are already placing great importance on the sustainability agenda, Lim noted, which paves the way for others in Malaysia to follow suit.
Meanwhile, the SC chairman Datuk Syed Zaid Albar said the regulator is looking forward to working closely with industries and public listed companies (PLCs) to improve corporate sustainability practices, including green practices and sustainability disclosures.
"Corporate Malaysia must also take cognisance of and avoid the practice of green washing. They must be mindful of their social obligations, as well as their business impact on a wider constituency or group of stakeholders," Syed Zaid said in his speech at the event.
Prospects for the SRI segment in Malaysia are "favourable", said Syed Zaid. Thus, he noted that its development must be carefully guided to ensure the segment's long-term vibrancy and sustainability.
"All stakeholders, including market participants, must also share common aspirations and objectives as we scale up the market. This is a lesson we have learnt in building a globally recognised Islamic capital market," he said.
Syed Zaid added that the launch of the SRI Roadmap is the culmination of a multi-stakeholder approach towards charting the segment's strategic direction ahead. "We believe that the five overarching strategies and 20 recommendations identified in the SRI Roadmap will be pivotal in accelerating the growth of SRI domestically and regionally," he said.