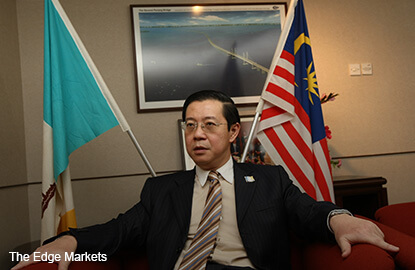 GEORGE TOWN (June 30): Penang Chief Minister Lim Guan Eng pleaded not guilty to two counts of corruption at the Penang High Court today.
Lim, who is also DAP secretary-general, was charged under Section 23 of the Malaysian Anti-Corruption Act 2009 and Section 165 of the Penal Code.
Section 23 of the Act relates to a public officer using its office or position for gratification in making a decision or taking an action whether for himself, a relative or an associate who has a direct or indirect interest with the person.
It carries a 20-year jail term and a fine of not less than five times the value of gratification, or RM10,000, whichever is higher.
Section 165 of the Penal Code concerns the offence of a public servant obtaining a valuable item without consideration from a person involved in any proceeding or business transacted by such a public servant.
The penalty is a two-year imprisonment and/or a fine.
In the High Court, Attorney-General Tan Sri Mohamed Apandi Ali leads a team of seven prosecutors against Lim after the case was transferred from the George Town Sessions Court this morning.
The court heard that Lim allegedly abused his position to benefit him and his wife Betty Chew by approving the rezoning of Lots 436 and 437 in Balik Pulau from agriculture status to residential for Magnificent Emblem Sdn Bhd during a State Planning Committee meeting he chaired at his office on Level 28, Komtar on July 18, 2014.
For the second charge, Lim allegedly received a "valuable property" relating to his bungalow on Jalan Pinhorn that was below market value on July 28, 2015. He is alleged to have purchased it at RM2.8 million although its market value was RM4.27 million.
Dressed in a dark suit and red tie, the 56-year-old, who arrived at the George Town Sessions Court at 10am, was represented by six lawyers led by Gobind Singh Deo.
Judicial Commissioner Datuk Azmi Ariffin set a RM1 million bail with one surety and allowed Lim to retain his passport, but he is to give two days' notice of travel overseas to the court and the AG's Chambers (AGC).
According the Gobind, bail was mitigated with the AGC prior to the case. It was posted by the state DAP.
Meanwhile, businesswoman Phang Li Khoon was charged under Section 109 of the Penal Code for abetment. The charge was read together with Section 165 of the Penal Code.
According to the charge sheet, Phang, 44, was alleged to have abetted Lim to acquire a "valuable property" that was below market value.
Reference was made to Lim's bungalow that was purchased at RM2.8 million from Phang when its actual value was RM4.27 million.
Her bail was set at RM200,000 with one surety.
She was represented by four lawyers led by Datuk K. Kumaraendran.
Mohamed Appandi made an application for both cases to be heard together. However, it was agreed that the both sides would make a decision after documents are submitted to the defence teams.
Azmi set Sept 22 for case management.
Lim was accompanied by his father and DAP parliamentary leader Lim Kit Siang, family members, State Parti Keadilan Rakyat head Datuk Mansor Othman and the state executive council.
Outside, more than 500 Pakatan Harapan coalition members and supporters thronged the courthouse, and chanted slogans while police kept close watch.