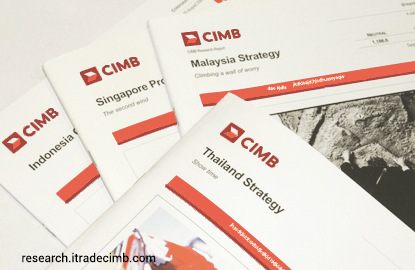 KUALA LUMPUR (March 17): Following a stronger-than expected real GDP growth in 4Q15, CIMB IB Research said it expects the Malaysian economy to lose steam in 1Q16 as domestic demand weakens and net exports disappoint.
In an economic focus yesterday, CIMB IB economist Maslynnawati Ahmad however said the expected modest rebound in consumer spending and the faster pace of construction work for infrastructure projects should help spur GDP growth to 4.2% year-on-year (y-o-y) in 2Q16, from 3.8% in 1Q16.
She said the private consumption expenditure determinants continue to point towards further cutbacks in spending – more retrenchments, lower household income, and a decline in credit growth on the back of the already-high household debt and rising cost of living.
 
Nonetheless, she said the second and third payments of the government's cash handouts, i.e. BR1M, would come in April and June.
 
"That, together with the lower EPF contribution effective Mar 16, would help to arrest the slide in consumer spending," she said.
 
Maslynnawati said forward-looking indicators suggest a build-up of momentum in civil engineering construction work in the coming months.
 
She said the bigger impetus could come from an earlier than- expected kick-start of the key infra projects announced in Budget 2015, but delayed from last year.
 
She said while the number of projects that have awarded contracts remain the same as late last year, i.e. only 2 (WCE and EKVE), three more projects are reported as progressing and reaching award contract stage, i.e. MRT2, Pan Borneo, as well as LRT.
 
 Maslynnawati said that at January's recalibrated budget, the government said it is likely to face a revenue shortfall of
RM6 billion-RM9 billion.
 
"We expect any expenditure cuts to be complemented by measures to boost revenue. The hikes in cigarette and liquor duties, as well as palm oil export duties, would likely be followed by other measures.
 
"The cuts in certain subsidies, already taken into account in Budget 2016 but not yet announced, should be in the pipeline. The fact that there are 2 BR1M payouts in 2Q16 suggests measures would be executed in the same quarter," said.
 
Maslynnawati said CIMB IB Research's earlier call for a 50 basis points cut in OPR in 2H16 assumes: 1) market stabilisation to continue, putting less pressure on the ringgit; 2) China continuing to guide the yuan lower; 3) inflation easing significantly from 2Q16; and 4) global economic growth to disappoint.
 
"We expect data and market developments available by the next MPC meeting in May, with a new Governor in place, would help us gauge whether these assumptions continue to hold.
 
"We expect the Consumer Price Index, having peaked at 4.1% in 1Q16, to trend lower as the effects of GST normalises, with the index likely to average 3.3-3.5% in 2Q16.
 
"Hence, we keep our CPI forecast for 2016 at 3.5%. The upside risk would be more price adjustments that are likely to be announced by the government in the near-term," she said.