This article first appeared in City & Country, The Edge Malaysia Weekly, on December 27, 2021 - January 09, 2022.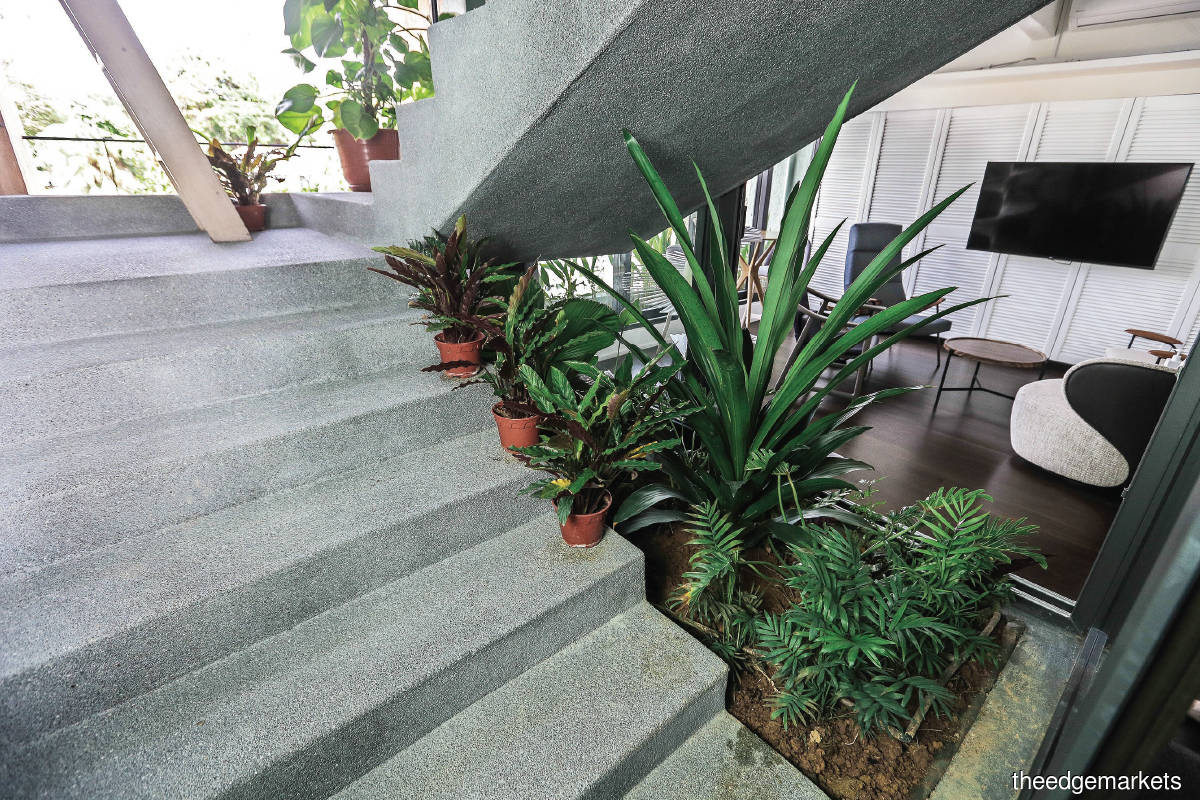 Having been in lockdown and cooped up at home during the pandemic has given people a new appreciation of nature. More than ever, there has been a need to be around greenery and to bask in its serenity. 
"When you told us the topic was about green spaces, we thought the office would be the perfect place to talk about it," says architect Chan Mun Inn upon our introduction recently.
True enough, a copious amount of potted plants line the stairwell and balconies of the shared offices of EDI Architects Sdn Bhd and Essential Design Integrated Sdn Bhd in Petaling Jaya (Chan is a director of both companies), while clear-glass window panes offer unhindered views of the greenery from inside the office.
The two companies specialise in tropical living and focus on what is essential for their clients. They are staffed by architects, interior architects and interior designers.
Chan says the essence of a green space is that it makes you feel like you are outdoors. "When you are sitting in a green space, where do you feel you are? Do you feel like you are indoors or outdoors? ... [A green space should] change your perception of where you are."
Interior designer Wong Pei San, a fellow director, says a green space makes you feel like you are around nature. Pointing to a small green space in the bathroom on the second floor of their office, where the walls have been slightly torn down to let in sunlight and air, she says, "Here, you are still able to see [the sky] and smell [the air].
"This is also a green space. It does not necessarily need to be a full space outside — a green space can be just a part of the building."
On the subject of how green spaces are becoming a trend, Chan has a somewhat reproving opinion. "When it is referred to as a trend, that is where the danger lies. When the owner or the client says, 'It's trendy, I want green', it is almost the same as saying, 'I just want a green space, but I do not care what it is.'"
Wong agrees. "You do not want that to happen. You want that person to really care for [the green space]," she says, pointing out that there is an ecological system that needs to be looked after.
"[When someone wants] to have a green space, that means he or she needs to understand how to take care of it and actually watch the cycle of how the plants grow and blossom," she adds.
Chan says people who are into green spaces as a trend will most likely end up with fake plants, which then defeats the purpose of going green.
"Because all they want is that look. They want to take a picture, and that is it. They do not want to know what happens after that, the grooming, trimming, caring of the soil — all the dirty bits.
"That is the danger of it being a trend. If you want a green space, you really have to embrace it. It is similar to getting a pet — you cannot simply say you want a pet, but you do not want to take care of it."
To him, the best green space is a semi-outdoor one, such as a balcony or verandah.
"Maybe 10 years ago, people would say a balcony or verandah is a waste of space. And there was always this mentality that if there is a balcony or a terrace, the owner would just renovate the room all the way up to fill the balcony.
"That is a bit of a waste because the balcony or verandah is the best space ... it is indoors, but also outdoors. It's a covered area — you're inside, but you're also outside."
Managing expectations
For those who are just trying out the green space "lifestyle", Wong advises them to go at their own pace. 
"Because plants can die, so you need to [be okay with] trying out suitable plant species that can actually grow [in the environment you have]. You need to do it moderately, at your own pace."
Wong notes that for the plants at their office, pruning and fertilising are done every month, and since different plant species have different watering needs, it is very important to know how much water the plants require to hydrate them accordingly.
Chan agrees, recalling how they started growing their own green space in the office. "There is going to be a lot of trial and error. It was the same for us too. 
"So, if you are starting out, just get something simple, a small plant, and watch it grow. If it grows, then you get the next one," he says.
On the other hand, it is inevitable to feel demotivated when the plants fail to grow properly, he adds. Resorting to fake plants is normal for most people, hence the need to start small and slowly build a green collection, he recommends.
For students, potted plants and small terrariums would be a good place to start, say Chan and Wong.
Pets are another factor to consider when planning a green space. Chan, who has cats, says it is not difficult, but some imperfections are to be expected, like "big leaves with holes in them".
"They'll chew and they'll bite," he says of the pets. "You cannot expect the plants to be 100% perfect all the time. You just need to bear with it — your plants are alive, your pets are alive, so you just have to manage. It is the whole idea of managing your expectations; it's not a picture-perfect thing."
Wong concurs, adding that there is also an assimilation of the plants to the surrounding area. "I think another reason for wanting a green space [in the office] is because we want to see the green space growing, and its growth assimilates with the [growth of the business] as well," she says, highlighting how growing greenery can contribute to positive mental health.
The limitless potential of green spaces
In an email interview with Leslie Tan, a design and build consultant at Klaasmen Sdn Bhd, he defines green spaces simply as nature. 
Unfortunately, he notes, "due to urbanisation and industrialisation, we are seeing less and less" of natural green spaces. "Most urbanites, especially, value them."
To him, green spaces are a matter of "just putting together some plants in an organised or random manner to create a feel of nature. It can also be an 'ecosystem', a place for physical activity, relaxation, social interaction and community events."
Klaasmen is an interior design and renovation company that caters for dwellings ranging from small condominium units to bungalows. With a team of 30 designers, it provides a wide range of design offerings for the mid- to high-end market across peninsular Malaysia.
Klaasmen design and build consultant Yvonne Ooi says the demand for green spaces during the pandemic was "about 20%" at the company, but she believes "this will gradually increase".
A contributing factor is that there is no fixed size for an area to be turned into a green space. "It is actually quite limitless. It can be as small as a 3ft by 5ft balcony or even a window ledge," she says.
On its maintenance, Tan says it depends on the plant species you choose to grow. "Some are extremely easy to maintain, but others would need some effort." 
For indoor green spaces, he recommends snake plants, spider plants, aloe veras, ferns and ficus. And for the outdoors, monsteras, foxtails, shrubs and fiddle-leaf figs.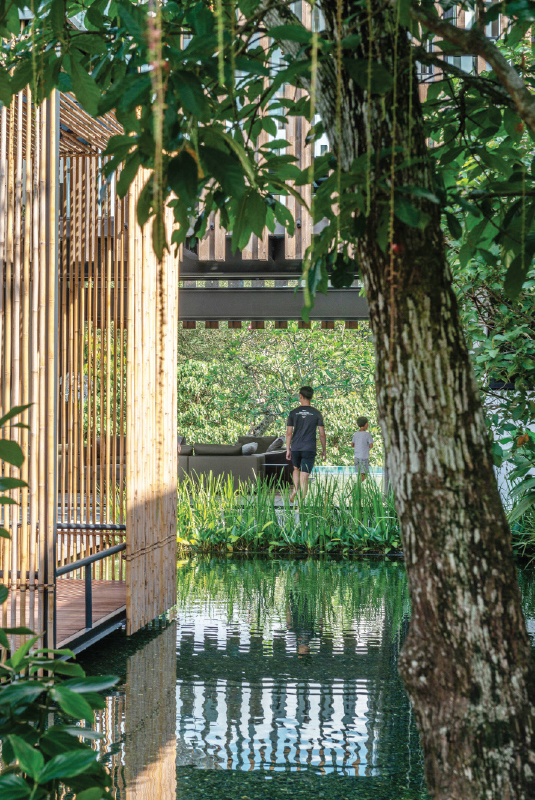 A seamless integration of indoor and outdoor green spaces gives House68, a family residence in Selangor, a tropical living ambience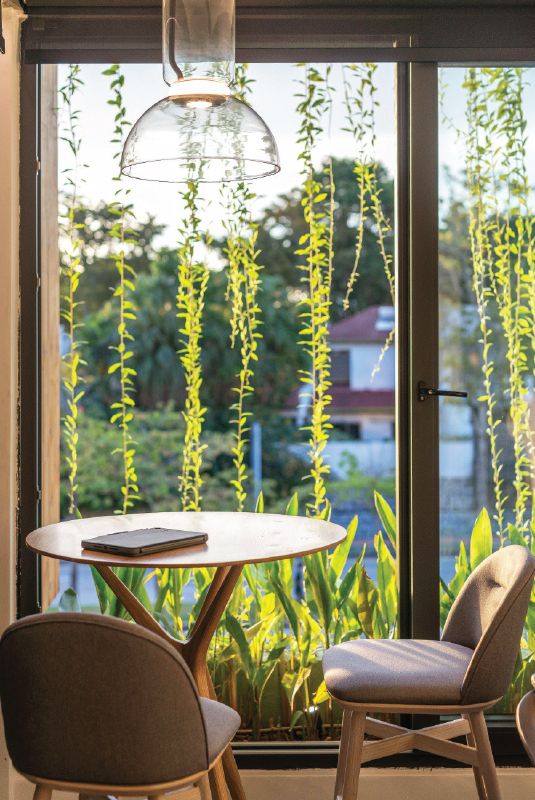 Incorporation of casual high-desk furniture beside a green façade can enhance the functionality of a green space
Ooi notes that most of Klaasmen's clients are concerned with the long-term maintenance that plants need. "As urbanites, they do not have much leisure time," she says, pointing to their typical multitasking lifestyle these days. Hence, they would love it if the company could come up with a "care-free green space solution", which is how Klaasmen plans to move forward, she adds.
Tan says green spaces are becoming the norm in new residential developments. "Most good housing developments nowadays are designed with green spaces in mind as homeowners see value in them. Places with better green space planning typically give better value in property prices."
Ooi adds that it is not only about the outdoors. "We are now seeing a trend where condominium homeowners would ask for indoor plants, as well as to turn their balcony into a small garden. This surely is an ongoing lifestyle, now and in the future."