This article first appeared in Enterprise, The Edge Malaysia Weekly, on June 8, 2020 - June 14, 2020.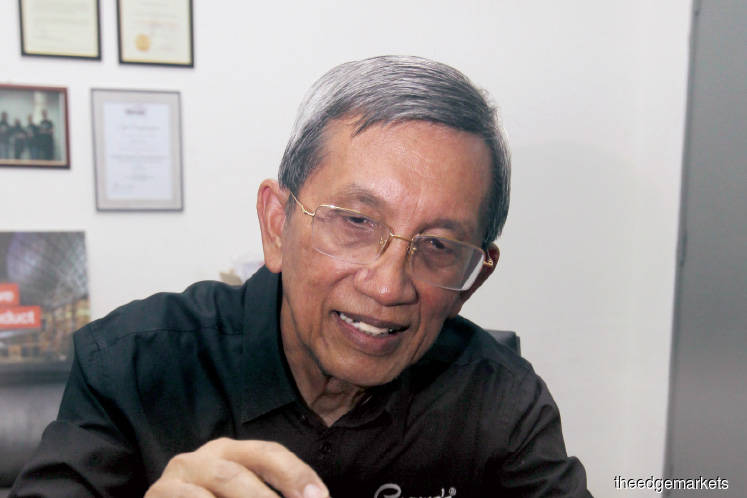 Not many insects pique Nor Rezan Mohamad Noor's interest like the mosquito. For the largest part of his 33-year career as a public health official, he made researching and investigating the insect's anatomy and habits one of his top priorities.
Despite Nor Rezan's ardent efforts to eradicate the pesky bug, commonly regarded as public enemy No 1 in the fight against infectious diseases, he does not speak of mosquitoes with antipathy. Instead, he expresses wonder at the species' genetic makeup, which fortifies its adaptability and resilience.
But as the years passed, it became increasingly apparent that efforts — specifically concerning the use of synthetic-laden insecticides — to curtail the breeding of the pesky bug were inadequate. "The efforts to eradicate mosquitoes have just consumed a lot of time and money, and yielded little success," laments the 68-year-old former chief public health inspector, who served in the Penang Municipal Council's health and licensing department.
However, instead of waiting for the perfect deterrent, Nor Rezan took it upon himself to scrutinise the problem. "If synthetic chemicals — which were all the rage in the early 1970s for their powerful mosquito-killing capabilities — were not delivering results, what would?" he asked himself.
Like many of his generation, Nor Rezan, who received his credentials from the UK's Royal Society for Public Health, was self-sufficient and driven. Leveraging his extensive experience and network within the civil service, he began experimenting.
After four decades of vigorous study, including the years Nor Rezan spent exploring the subject post-retirement, he found that nature presented the best solution. "Mosquitoes are a part of this world, so the means to combat these insects must exist naturally too," he reasons.
It was this epiphany that led Nor Rezan to explore the field of herbalism — traditional remedies that use plants and plant extracts — to search for a way to repel mosquitoes, a known vector for some of humanity's most deadly illnesses. Along the way, he developed a line of natural household and personal products that is marketed today  under the brand, Gramp's Asia, which he set up with his sons Mohamad Reza Fikry and Zulkefli Mohd Yunus, daughters Eza Feizaty and Ezira Feirani and daughter-in-law Norafizah Maidin.
When Nor Rezan got into herbalism, however, he never imagined that he would commercialise his concoctions. In fact, for years the only ones who benefited from what he created were his family and friends. It took years of cajoling before he finally agreed to commercialise his unique formulas, says Eza Feizaty.
It was around this time that his grandson was born and the family found out that the infant was severely allergic to mosquito bites. "My father came up with a mix that kept away all the bugs that were biting my nephew. It was so effective that my sister and her husband convinced him to consider selling it," says Mohamad Reza.
Nor Rezan was hesitant because, while there was plenty of research being done on the benefits of herb-based ingredients and applications for various problems, his friends in the research departments of universities were not all that excited about the prospect of commercialising herb-based inventions. This was partly because of the bad reputation herbalism had acquired due to poorly administered herbal treatments, unrealistic claims practitioners of pseudoscience and ineffective solutions from the use of inferior ingredients.
"When I asked why they [the researchers] did not try to commercialise their findings, the response I got was that people did not trust the efficacy of natural products. At the time, I did not intend to sell my product either, so I did not push for it. The research I was doing was for my grandchild," says Nor Rezan.
Nevertheless, he soldiered on and began immersing himself in the knowledge of herbalism from studies conducted in India, Thailand and the Philippines. He buried himself in books and academic research papers as well as consulted his researcher friends whenever he hit a wall. When he moved to Kuala Lumpur post-retirement, he finally gained access to extensive laboratory facilities and there was never a dearth of ingredients.
"Mosquitoes have an amazing ability to evolve. Most species only live up to two weeks but in that short time, they develop such strong resistance to insecticide," says Nor Rezan.
Even though the base chemical of insecticides, known as pyrethroids, are no longer as efficient, much of the world still relies on these, he says sadly.
"When I started working at the municipal council, it was an era when chemicals were king. Everything we did to prevent the outbreak of diseases involved the use of synthetic chemicals. I could see these were not solving the problem, but we continued using them because that was what our bosses wanted us to do," says Nor Rezan.
"We discovered the first case of dengue in Penang in 1951. But we have not won the battle since. All this got me thinking. I wanted to know why the chemicals were not working as effectively as they should."
He brought home different mosquito species in cages so that he could study their complex biological systems. "It took me five years just to understand mosquitoes and their behaviour. I started to test using synthetic repellents such as N, N-Diethyl-meta-toluamide, also called DEET or diethyltoluamide, which is a chemical in many insect repellents that debilitates the insects' nervous systems. But I found there were plenty of natural alternatives that could do the same work," he says.
Nor Rezan started experimenting trapping mosquitoes in a glass chamber with rooms, and then spraying them with repellents of his own making. "I would open all the exits after that. But instead of rushing out through the gaps, the mosquitoes started banging against the chamber wall. Their reaction showed that their nervous system was collapsing and their navigation senses were off tangent. Before being sprayed with the repellent, they could travel from the top of the chamber to the open doors with no trouble, not a single navigational problem," he says.
In the mid-2000s, Nor Rezan finally nailed the right number of ingredients with the right measurements for his own mosquito repellent. He was using more than 30 environmentally-friendly components.  
Unlike many strong-smelling repellents, Gramp's Bye-bye Nyamuk is a non-toxic water-based formula that has been gently scented with cinnamon, geranium, clove, lemongrass and peppermint, among others.
"The idea is to disarm the mosquitoes' senses. And because there are more than 30 plant-based ingredients in the formula, the bugs do not have the time to become immune to the repellent," says Nor Rezan.
However, he acknowledges that the only way to nip the problem in the bud is to attack the mosquitoes' breeding grounds.
This is not always possible in tropical Malaysia as there more than 3,000 species of mosquitoes. Three of these are the primary cause of the spread of human diseases: the Anopheles mosquito, which is the only species known to carry malaria, filariasis (also called elephantiasis) and encephalitis; the Culex mosquito, which carries encephalitis, filariasis and the West Nile virus; and the Aedes mosquito, which carries yellow fever, dengue and encephalitis.
"This is a colossal problem. The answer is not as easy as we think as mosquito-borne diseases cause millions of deaths worldwide every year, especially in developing countries, not to mention the loss of productivity and money," says Nor Rezan.
After establishing Gramp's Asia, he expanded his research beyond repellents and came up with all kinds of formulas using herbal extracts and essential oils. After extensive R&D, he finalised a series of products to kick-start the company. Its range of 11 products includes cockroach and lizard repellents, dishwashing and floor cleaning liquids, surface wipes and air purifiers.
The dishwashing liquid, made using an extract of the Annona leaf, is one of Nor Rezan's star products. He says the formula is based on the invention of our resourceful forefathers. "For years, some species of Annona have been used in the production of soaps, essential oils and herbal medicines.
"Our great-grandparents used the Annona extract to wash their pots and pans as it has properties to break down oil. It cannot do this effectively on its own, but when combined with ingredients like lemongrass, the outcome is a really strong and effective cleaning liquid.
"We do not even add any fragrance. It is all natural. The extract of the leaf, when combined with citrus oils, is fragrant on its own."
Before marketing the dishwashing liquid, Nor Rezan gave it to a friend who had not done the dishes in years due to severe eczema. "For her, I upgraded the dishwashing liquid to include more moisturising ingredients. Her feedback was so encouraging that we upgraded our line of dishwashing liquid with the same ingredients, so that it is good and safe for all to use," he says.
"Even the wastewater no longer contains oil and it cleanses the drainage as oil is broken down into water and carbon dioxide."
To ensure that the products would be safe for humans and the environment, they were sent to the National Poison Centre to test for poisonous residue, says Mohamad Reza, who manages the day-to-day affairs of the company. "Even natural ingredients can be poisonous if mixed wrongly or in the wrong amounts. When the test results came out, we were relieved that none of the products were toxic. The products have also been lab-tested to kill 99.99% of germs."
To further minimise their impact on the environment, the products are available for bulk purchase at zero-waste store Nude in Petaling Jaya's Section 19. "All you have to do is bring your bottles and refill them. We are working towards being more environmentally friendly, so we are setting up more refilling stations," says Mohamad Reza.
Its products are also available at major pharmacies and supermarkets.
The ever-accommodating Nor Rezan never turns away requests for special blends. At the mention of a stiff shoulder, he came up with a special blend to relieve the stress of an overwhelmed writer and another to ease a photographer's (who is also a hiking enthusiast) aching muscles.
"We recognise that his knowledge is very extensive and we need to preserve it. That is why my father is now training a protégé — my cousin, Alia Abdul Ghani, who is trying her best to learn everything she can from him," says Mohamad Reza pensively, while observing his father shuffling around the table decked with bottles of ingredients, adding a bit of this and that to glass vials for his guests.