This article first appeared in The Edge Malaysia Weekly, on July 13, 2020 - July 19, 2020.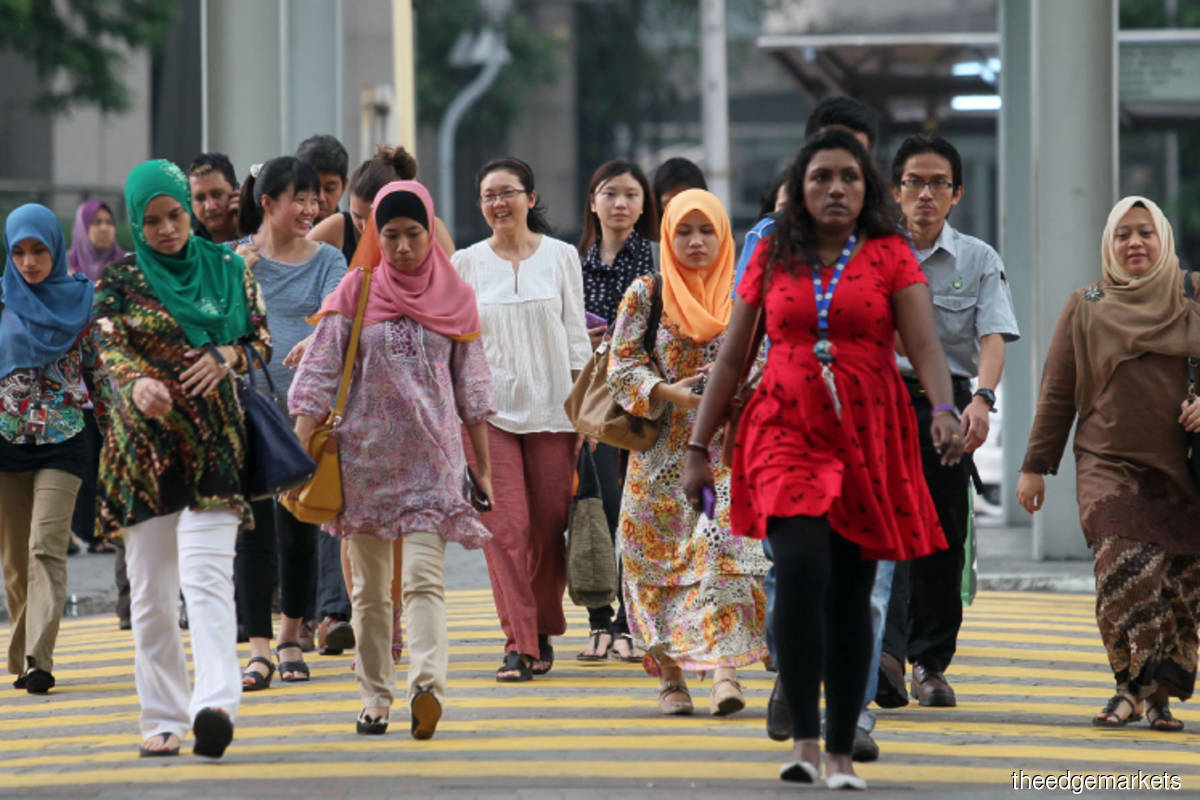 WITH Malaysia's economy growing between last year's 4.3% and as high as 5.8% in 2017, it should come as little surprise that half of the country's households had a higher monthly income of at least RM5,873 in 2019 compared with RM5,228 in 2016.
The much-awaited Household Income and Basic Amenities (HIS&BA) and Household Expenditure (HES) Survey Reports 2019 released last Friday also showed that the number of households earning below RM2,000 a month fell to 5.6% (about 408,800 households) last year from 8.8% (about 607,200 households) in 2016.
The number of households earning below RM4,000 a month also fell to 30.4% (about 2.2 million households) in 2019 from 34.9% (about 2.4 million households) in 2016. That works out to about 200,000 fewer households earning below RM4,000 a month in 2019 compared with 2016, back-of-the-envelope calculations show.
Only 51.2%, or just over half, of Malaysia's 7.3 million households in 2019 have income below RM6,000 a month compared with 57.6% of 6.9 million households in 2016.
The number of households in the country with at least RM20,000 income a month rose by about 130,000 households to 4.9% (about 357,700 households) in 2019 from 3.3% (about 227,700 households) in 2016. The number of single-person households in Malaysia also rose to 7.7% in 2019 from 6.5% in 2016, according to the Department of Statistics Malaysia (DOSM).
Even so, the DOSM noted that purchasing power remains low, with 56.2% of households spending less than RM4,000 (US$937) a month last year — or an average of RM1,000 per person at the average household size of 3.9 persons (4.1 persons in 2016) — although household incomes had generally grown faster than inflation rate.
It is not immediately known how much of the income growth at the lower end of the income spectrum was due to the increase in minimum wage (RM1,000 in 2016 and RM1,100 in 2019) and from direct cash transfers from the government.
It is also not immediately known how much income levels have been affected post Covid-19, with unemployment only increasing to 5% or 778,800 persons in April this year. DOSM is set to release May unemployment figures this Tuesday. Almost all sectors were allowed to reopen from May 4, the first day of the Conditional Movement Control Order (CMCO), a relaxation from the MCO imposed from March 18.
In any case, both independent experts and the government have acknowledged the need for more granular data for better-targeted social policy research, recommendation and action.
New poverty line income
The high-profile discourse on Malaysia's poverty line, for instance, seems to have moved forward last Friday with the government revising higher the country's poverty line income (PLI) from RM980 under the old 2005 methodology to RM2,208 using its new methodology after taking into account the higher nutritional needs and spending pattern of the B20 households in the 2019 HES.
The increase in PLI sees Malaysia's absolute poverty rate rising to 5.6% in 2019 compared with 0.4% in 2016 and the number of poor households rising to 405,441 in 2019 from 24,700 in 2016 using the old definition. At the same time, however, Minister in the Prime Minister's Department (Economic Affairs) Datuk Seri Mustapa Mohamed told reporters last Friday that poverty eradication programmes here had borne fruit as there would have been a poverty rate of 7.6% or 525,743 poor households in 2016 using the new methodology.
The upward revision came just three days after the July 7 tabling of the final report on poverty in Malaysia by Prof Philip Alston while he was United Nations Special Rapporteur on Extreme Poverty and Human Rights. When announcing a summary of his findings in August last year, Alston had noted that Malaysia needed to adjust the poverty line, as this was a first step towards acknowledging that poverty is not an isolated problem for indigenous people in rural areas but a much more prevalent and frequently urban phenomenon that requires more policy action and fiscal spending.
Alston had also called for the government to meaningfully improve access to data, microdata and other information on poverty to aid independent policy research and improve policymaking on inequality and poverty alleviation.
"The statistics that are available are carefully managed and presented in a way that often obscures crucial details. Existing data on poverty and inequality is not presented in a way that disaggregates by gender or that distinguishes between Malay and non-Malay bumiputeras, obscuring the situation of indigenous peoples. Income and poverty statistics are often presented by households, rather than the more common and helpful unit of household income per capita or per adult, obscuring smaller incomes per persons in larger households. That also skews ethnicity figures because the categorisation is based entirely on the ethnicity of the head of households and does not adequately capture multi-ethnic households," Alston wrote in his hard-hitting report, which went as far as to suggest that the lack in data "seems more likely to be motivated by a desire to conceal from the public, information that might not be favourable to the government".
The UN report — whose recommendations include adopting a data transparency policy and tailoring policies to address the needs of the lowest 15% to 20% of the populace that are widely considered to be living in poverty — carries an addendum with comments from the Malaysian government.
According to the government's appended comments, work to revise the PLI had started since at least March 2019 (Alston visited in August 2019) and the need to revise the poverty measurement in tandem with changes in the cost of living was stated in the Mid-Term Review of the Eleventh Malaysia Plan that was tabled in October 2018.
The government also said Malaysia had made progress in eradicating poverty, having tailor-made assistance according to the needs of recipients based on profiling through its e-Kasih database that had 182,707 heads of households as at Feb 29 this year, with 137,852 categorised as "poor" and 44,855 "extreme poor". This is higher than 135,172 (poor) and 43,055 (extreme poor) listed in e-Kasih in 2019 but lower than the 142,958 (poor) and 79,607 (extreme poor) listed in its database in 2015.
The government did acknowledge "the growing demand for data amongst policymakers and researchers, in particular granular data with high ease of access" and said Malaysia "welcomes feedback to improve data collection as well as capacity building assistance" and that it had "worked on many engagements with relevant agencies on data sharing and data integration".
"Malaysia is working on amending the Statistics Act 1965 (Revised 1989) to ease data sharing without compromising on privacy, as well as embarking on many initiatives to improve data quality to meet users' demands while educating users on data usage and limitations. Malaysia also welcomes capacity building assistance in improving statistical processes towards more open and transparent data sharing," the government's comment read, noting that the DOSM currently has a microdata policy of only sharing 30% of microdata with 100% variables or 100% of microdata with 30% variables with researchers outside government agencies. Researchers, however, can obtain access to 100% microdata at DOSM headquarters via its data-dissemination sub-product StatsDW MyLab, it said, adding that users "can always submit their requests for unpublished statistics, subject to data limitations and data availability".
In any case, Wan Ya Shin, research manager of social policy at the Institute for Democracy and Economic Affairs (IDEAS), welcomes the government's upward revision of the poverty line but highlights an underlying gap that needs to be closed to enable better targeting of policy measures to help those with real needs.
"Whilst it is good that the government has adopted this more accurate measure, it also highlights that absolute poverty remains a serious challenge in Malaysia and now the hard work of alleviating poverty must be stepped up to address the plight of those most in need. I also hope that the government will continue in this direction by providing more open access to data, to facilitate a more open discussion about the economic challenges Malaysia continues to face," Wan said in a statement dated July 10.
Bridging the database gap is not only important to eradicate poverty but also key in other social protection efforts, including targeting aid in the current Covid-19 recovery phase. At an online forum in conjunction with the recent release of the World Bank Malaysia Economic Monitor, Mustapa concurred that it is a "challenge to make sure that help (Covid-19 stimulus) reaches the ground", admitting that "data" on the people who need help, especially those in the informal sectors, "is not complete". The World Bank, in its report on Malaysia, had also noted the need for increased spending to expand the social safety net and a more targeted approach to better help the vulnerable groups.
It is hoped that data collection from Census 2020, which was launched on July 7, will provide a more accurate picture of Malaysia's populace for development planning in the coming decade.