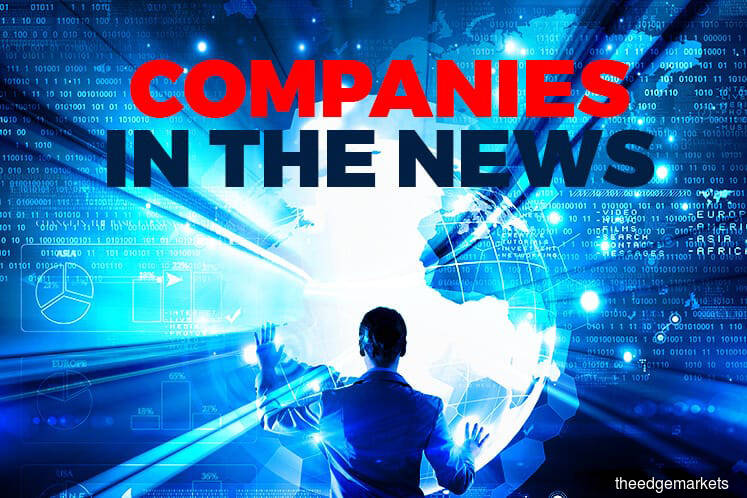 KUALA LUMPUR (July 29): Based on corporate announcements and news flow today, stocks in focus on Wednesday (July 31) may include: Grand-Flo, Sime Darby, Tenaga, Luxchem, Vsolar, DWL Resources, Ecobuilt Holdings, Ancom, Prestar Resources, Xin Hwa and Xidelang.
Grand-Flo Bhd today received an unconditional take-over offer for the remaining shares in the IT company at 26 sen each from YBG Yap Consolidated Sdn Bhd. The offer notice came from AmInvestment Bank Bhd on behalf of YBG Yap.
AmInvestment said YBG Yap has acquired 250.81 million shares or a 53.32% stake in Grand-Flo from the company's shareholders for RM65.21 million or 26 sen a share. Prior to the acquisition, YBG Yap did not own any Grand-Flo shares.
As YBG Yap now owns a stake of more than 50% in Grand-Flo, the offeror is obliged to extend the unconditional take-over offer to acquire the remaining 219.61 million shares in Grand-Flo, AmInvestment said.
Sime Darby Bhd's 36.6%-owned joint venture (JV) company was ordered by China's Maritime Court at Qingdao, Shandong Province to pay 711 million yuan (RM427 million) outstanding sum due to local contractor CCCC Tianjin Dredging Co Ltd.
Sime Darby said the court also ordered the JV company, called Weifang Port Services Co Ltd (WPS), to pay cost of 3.6 million (RM2.2 million) and late payment interests.
Sime Darby said WPS intend to appeal against the decision.
WPS other shareholders are Weifang Port Group Co Ltd (38%) and Shandong Hi-speed Transport & Logistics Investments Co Ltd (25%).
Tenaga Nasional Bhd's board approved a proposed internal reorganisation that divides the group's businesses into power generation and retail electricity.
Therefore, the group said it will group power generation businesses into a newly incorporate subsidiary (GenCo) and retail electricity businesses into another new subsidiary (RetailCo).
Luxchem Corp Bhd's net profit for the second quarter ended June 30, 2019 rose 1.43% to RM9.89 million from RM9.75 million a year earlier, despite a marginal slip in revenue.
Luxchem said revenue for the quarter slipped 1% to RM188.39 million versus RM198.91 million a year earlier, due mainly to lower sales in its trading segment.
For the six months ended June 30, Luxchem posted higher net profit of RM19.49 million compared to RM19.38 million a year earlier, while revenue dipped to RM390.84 million from RM395.56 million previously.
Vsolar Group Bhd said Switzerland-based Credit Suisse Group AG emerged as a major shareholder, with a 5.08% stake in the solar energy specialist after acquiring 8.8 million shares on July 24.
Vsolar said Credit Suisse Group has deemed interest in the 8.8 million shares, which were acquired in two tranches of 1.2 million and 7.6 million units respectively.
DWL Resources Bhd (formerly known as Spring Gallery Bhd) has terminated a masterplan for a commercial development on 216,427 sq metres of lands in Melaka.
The group said its wholly-owned subsidiary Million Rich Development Sdn Bhd has entered into a letter of termination with Titanium Hallmark Sdn Bhd to mutually agree for the termination.
DWL said Titanium Hallmark will refund a deposit of RM20.97 million to Million Rich within three months.
DWL said the termination came after all parties' assessment and evaluation on the risks and feasibility of each proposal and foresee that they may not be able to materialise the plan based on initial planned timeframe.
Ecobuilt Holdings Bhd (formerly known as M-Mode Bhd) is selling three of its subsidiaries to its founder and former managing director Datuk Lim Thean Keong for RM12 million, as it seeks to focus on its core businesses.
Ecobuilt said the company is disposing of M-Mode Mobile Sdn Bhd, Mobile Multimedia Sdn Bhd and Tameko Sdn Bhd, which are involved in the provision of mobile content and data application services. 
Ecobuilt said the contents and value-added services segment continues to face pressure from the increasing uptake of over-the-top (OTT) applications and more intense competition among existing and new industry participants.
Ecobuilt expects a gain on disposal of some RM2.2 million. The proceeds from the disposal would be mainly used for working capital purposes and to fund its existing and future projects.
Ancom Bhd's net profit rose 21.43% to RM10.33 million in the fourth quarter ended May 31, 2019, from RM8.51 million a year ago, thanks mainly to gains from the disposal of its subsidiaries under the media division.
Earnings per share rose to 4.91 sen from 3.95 sen. 
Quarterly revenue fell 17.09% to RM480.92 million, compared with RM580.08 million a year ago.
For the full-year, Ancom's net profit fell 13.05% to RM15.29 million, from RM17.58 million in the previous year, while revenue inched up 1.68% to RM1.99 billion, from RM1.95 billion.
Prestar Resources Bhd's 51%-owned steel products unit Tashin Holdings Bhd recorded a net profit of RM3.50 million or 1.21 sen per share, on the back of RM62.78 million revenue in the first quarter ended March 31, 2019 (1QFY19).
Tashin's managing director Lim Choon Teik said the net profit was attributable to the group's manufacturing segment's performance.
Tashin is slated to be listed on the ACE Market in August this year.
Integrated logistics services provider Xin Hwa Holdings Bhd has pledged to improve its internal control and corporate governance practices within the group after the independent investigation done by KPMG Management & Risk Consulting Sdn Bhd in June this year.
Xin Hwa said this came after it obtain legal opinion from an appointed solicitors that tasked to review KPMG's report.
Xin Hwa said the KPMG report and the legal opinion from the solicitor revealed that there are presence of weaknesses in internal control procedures and processes.
Meanwhile, the group also said these professional opinions pointed out that there is lack of proper and in-depth knowledge of good corporate governance practices.
China-based casual and sports shoemaker Xidelang Holdings Ltd is partnering with Global Int'l Footwear (Hong Kong) Co Ltd (GIF) again, after their first memorandum of collaboration lapsed on May 22. 
Xidelang said its wholly-owned subsidiary HongPeng Fujian Shoes & Garments Co Ltd (HPFS) has signed a memorandum of strategic collaboration with GIF for the purpose of establishing a new strategic collaboration to achieve mutual growth.
Xidelang said its subsidiary would receive original design manufacturer and/or original equipment manufacturer  production orders from GIF, amounting to at least 400 million yuan (RM239.12 million) in value, for a period of 24 months.