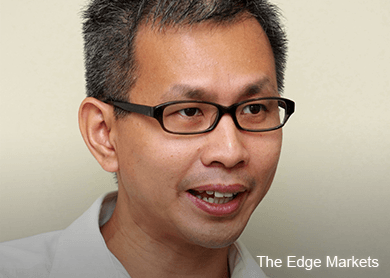 KUALA LUMPUR (Mar 17): Petaling Jaya Utara MP Tony Pua claimed that the federal government had guaranteed loans of over RM16 billion accumulated by debt-ridden 1Malaysia Development Bhd (1MDB).
Pua told reporters at parliament lobby today the figure was higher than the RM5.8 billion indicated by the government.
 
"While all ministers had to date insisted that the federal government guaranteed only RM5.8 billion of 1MDB's loans, the true figure should be more than RM16 billion of total outstanding debt of RM42 billion as at March 31, 2015.
"This is because a government loan guarantee by any other innocuous name like a letter of support remains tantamount to a guarantee," said Pua.
Pua said he arrived at the RM16 billion estimate after Prime Minister Datuk Seri Najib Tun Razak indicated that the government's "letter of support" to 1MDB Global Investments Ltd to borrow US$3 billion (RM9.6 billion) meant that the government would pay the debt if 1MDB Global could not do so.
Najib, who is also finance minister and 1MDB advisers board chairman, had said this in a written reply to Pua's query in parliament last Thursday.
1MDB Global is a wholly-owned subsidiary of 1MDB, which in turn is wholly-owned by the government.
Today, Pua said the money was raised by 1MDB Global in March 2013 to jointly fund the operations of Abu Dhabi Malaysia Investment Co Ltd, a 50:50 joint venture between 1MDB Global and Abu Dhabi-based Aabar Investments.
Pua said he hoped Najib would declare to the people the government's exposure in terms of loan guarantees to 1MDB.