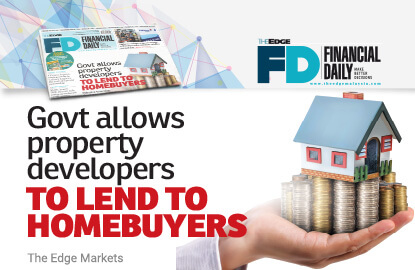 This article first appeared in
The Edge Financial Daily
, on September 9, 2016.
KUALA LUMPUR: Property developers can now offer financing for homebuyers and create a new income stream for themselves as the government has given the green light for them to be issued with moneylending licence to help non-bankable house buyers overcome down payment issues.
The announcement was made by Urban Wellbeing, Housing, and Local Government Minister Tan Sri Noh Omar at the 19th National Housing & Property Summit yesterday. The interest rate is capped at 12% per annum for borrowers with collateral, and 18% without, he said.
"For the developers, this end-financing facility offers a second profit centre … a recurring, long-term income as the loan tenure for house end-finance will be in the range of 10 to 20 years," Noh said during his keynote address.
He said not only homebuilders, but buyers themselves were enquiring about the return of schemes similar to the now-banned Developer Interest Bearing Scheme (DIBS).
"I am proposing to the eligible housing developers, especially those with deep pockets — like Sunway Bhd — to be issued moneylending licence restricted to only providing house end-financing to eligible house buyers who find difficulties getting loans from banks," said Noh.
He clarified later to the press that the ministry had already sanctioned the moneylending scheme, with property developers already being able to apply for a licence beginning yesterday.
Property developers can apply for a licence under the Moneylenders Act 1951 and Pawnbrokers Act 1972, under the purview of the ministry.
"It's up to the developers whom they intend to disburse the loans to, as this scheme is open to all. It is just to help the developers and buyers. Whether they (buyers) want to make a loan from banks or developers, it's up to them. This scheme is more of a second chance for financing," Noh explained.
Developers have been struggling to secure sales over the past two years as Bank Negara Malaysia introduced measures to curb property speculation. But cheap credit, and financing schemes such as DIBS resulted in home prices inflating to levels that many genuine homebuyers could ill afford.
In the wake of the slowdown in sales, property developers have devised various schemes to ease prospective buyers' cash-flow burden. Mah Sing Group Bhd, for example, had a Chinese New Year special which gave buyers an additional RM8,888 cash rebate when they purchased any of its participating properties.
Sunway Bhd has introduced a financing plan through a leasing licence it had secured from years back, its joint managing director of property development division for Malaysia and Singapore Sarena Cheah Yean Tih said at a press conference after the keynote address.
"With the introduction [of the moneylending licence under the ministry], I think it gives more flexibility to developers to help fund buyers," she said.
The conglomerate's "Sunway Property Certainty Campaign", which will expire at the end of this month, offers financial assistance in the form of an 88% guaranteed loan upon property completion, a deferred payment scheme, and a voluntary exit plan. Eco World Development Group Bhd has also been reportedly drawing up a plan to offer business grants to buyers of its commercial properties.
Real Estate and Housing Developers' Association president and Glomac Bhd group managing director and chief executive officer Datuk Seri FD Iskandar Mohamed Mansor told reporters that the property developer financing scheme will not lead to speculation in properties. Homebuilders ultimately want to help first-time homebuyers to bridge the gap in the funds needed for the initial payment.
"The funding of developers is limited; we are not banks. We don't have the capacity to fund RM1 million to RM2 million houses, and provide 100% financing. Our balance sheet is much, much smaller than financial institutions'. What we are trying to do is to help first-time homebuyers, so the speculative element will not arise," he said.
As for Glomac, FD Iskandar said it will study the scheme's viability, given that around 60% of its projects are under the affordable category. "We can see that most of our potential buyers have difficulty in completing the sales."
"When you buy a RM400,000 house, for example, you pay RM40,000 SPA (sale and purchase agreement) deposit. Then you have your stamp duty, legal fees, MRTA (mortgage reducing term assurance) and so forth. So if you only get a 80% loan, then you have to come up with RM80,000 — plus those miscellaneous fees. You will end up paying in the region of RM110,000.
"That's a lot of money for you to come up with," said FD Iskandar.