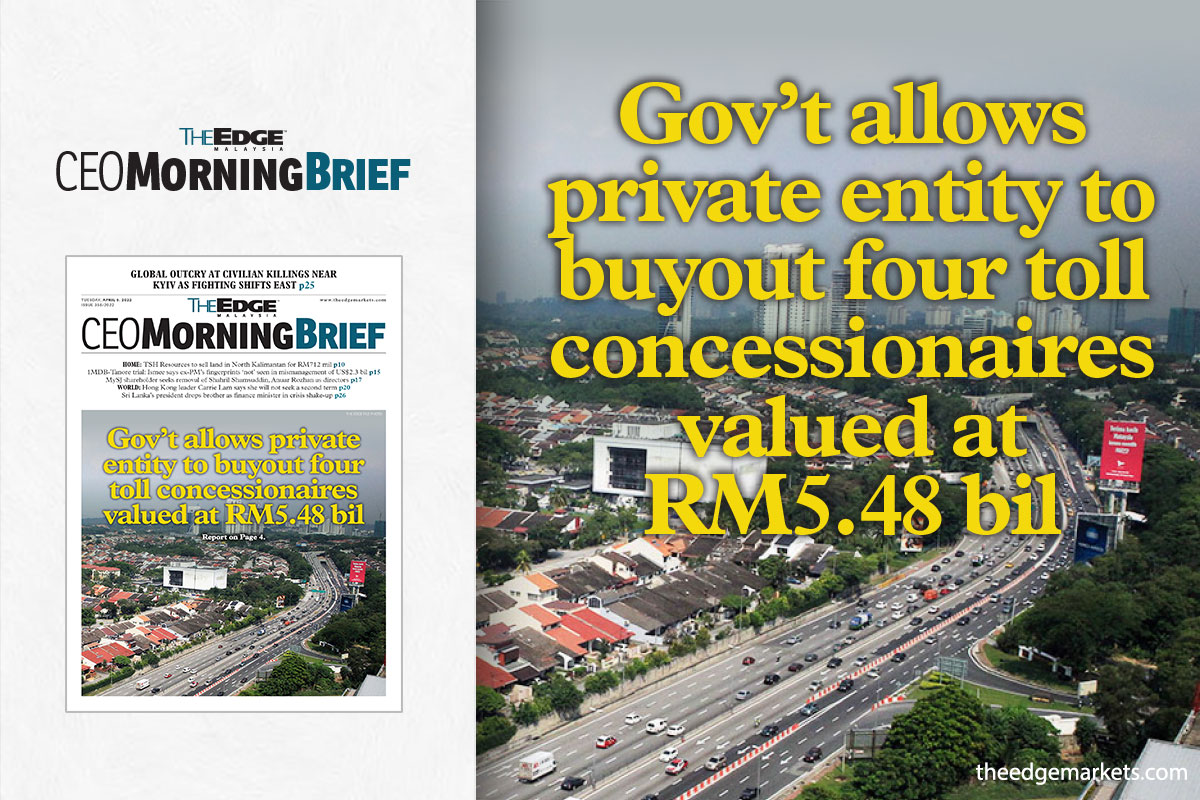 KUALA LUMPUR (April 4): The government has agreed to restructure four Klang Valley highway concessionaires, namely Kesas Sdn Bhd (Kesas Expressway), Syarikat Mengurus Air Banjir dan Terowong Sdn Bhd (SMART Tunnel), Sistem Penyuraian Trafik KL Barat Sdn Bhd (SPRINT Expressway), and Lingkaran Trans Kota Sdn Bhd (Damansara-Puchong Expressway or LDP), according to Prime Minister Datuk Seri Ismail Sabri Yaakob.
In a statement on Monday (April 4), the premier said the restructuring will ensure that toll rates will not be increased until the concession periods end, and will save on compensation costs from Jan 1, 2022 until the end of the concessions.
"The net savings from the toll subsidies for these four highways are estimated at RM4.3 billion at least. This is part of the government's efforts to ensure that Keluarga Malaysia is not burdened, especially by an increase in toll rates as stipulated in the concession agreements.
"The savings can be used for national infrastructure development programmes and other facilities that should be prioritised for the well-being of Keluarga Malaysia. The restructuring is undertaken in line with the government's principles and main objective, that is to reduce the burden of Keluarga Malaysia and not have financial implications for the government," he said.
Trading of the shares in Lingkaran Trans Kota Holdings Bhd (Litrak), Gamuda Bhd and Kumpulan Perangsang Selangor Bhd (KPS) was suspended on Monday as the companies announced that they had received offers from Amanat Lebuhraya Rakyat Bhd (ALR) for their stakes in the concessionaires involved.
According to Gamuda's filing, ALR is established as a private and "not-for-profit" company which has the mandate to assist the government in the restructuring, without the government having to pay compensation to the concession companies.
Kesas is 70%-owned by Gamuda, while Perbadanan Kemajuan Negeri Selangor (PKNS) is holding the remaining 30% stake. Meanwhile, SMART is a 50:50 joint venture between MMC Corp Bhd and Gamuda.
As for SPRINT, Litrak is holding 50% in the highway concessionaire, while Gamuda and KPS are holding 30% and 20%, respectively. Lingkaran Trans Kota Sdn Bhd (Litrak Sdn Bhd), which runs the LDP, is 100%-owned by Litrak.
To note, Gamuda also holds 43.17% in Litrak, resulting in its effective interests in SPRINT at 51.6% and Litrak Sdn Bhd at 43.17%.
Other substantial shareholders in Litrak include AmanahRaya Trustees (15.75%), Amanah Saham Bumiputera (8.45%) and the Employees Provident Fund (EPF) (5.6%).
According to the filing by Gamuda, ALR made the offer based on the enterprise values of Litrak Sdn Bhd (RM2.12 billion) as at the valuation date of Dec 31, 2021, Kesas (RM1.24 billion), SPRINT (RM1.81 billion), and SMART (RM313 million).
This works out to a total enterprise value of RM5.48 billion for the highway concessionaires.
In the filing, Gamuda anticipates the equity value for these four highway concessionaires at RM4.43 billion, while Gamuda's share of the anticipated equity value is RM2.33 billion.
According to Gamuda, the equity value is derived after adjusting for net debt and current assets/liabilities of respective companies.
"Each of the Kesas offer, SPRINT offer, Litrak offer and SMART offer has been given by ALR on a standalone basis and is mutually exclusive from each other," the filing said.
It was reported by The Edge in May 2021 that Gamuda was in talks with the government to put forth its proposal to sell its four highway concessions to a private highway trust.
Gamuda later confirmed the news and affirmed that its proposal to the government does involve the sale of the highway concessions at fair market value, to an independent entity funded entirely by private debt capital markets.
"We also affirm that the proposal involves keeping the current toll rates unchanged with no further increases, with a short concession extension in order to fully recuse the government from paying any compensation (as is legally required of them as per the current Concession Agreements) for keeping the toll rates as they currently are, for the entire proposal period.
"In our proposal, the government would have no stake nor interest in the buying entity, and therefore need not spend any of its own monies in the acquisition and further, need not provide any government guarantee," it said.
In June 2019, under the previous Pakatan Harapan government, the finance ministry had offered RM6.2 billion to acquire the four toll concessions.
Gamuda closed at RM3.49 last Friday, giving it a market capitalisation of RM8.91 billion.
Litrak shares last closed at RM4.03, valuing the company at RM2.15 billion.
KPS shares last closed at 72.5 sen, giving it a market capitalisation of RM389.6 million. 
Shares of the three companies will resume trading on Tuesday (April 5).
Read also:
No toll hike but extension for three highway concessions likely, says minister