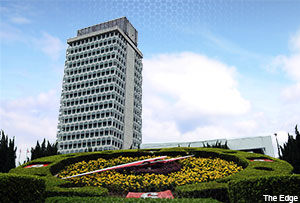 KUALA LUMPUR (Oct 7): The government has scrapped the controversial proposed investment panel to be set up under a revision to the Inland Revenue Board (IRB) Bill.
PKR MP for Kelana Jaya, Wong Chen told theedgemalaysia.com in Parliament today: "I arrived at Parliament at 9am today and was pleasantly surprised to find that the IRB Bill has been amended yet again to remove the creation of the investment panel.
"The decision was a victory for Malaysians. We (PKR) won! This is a timely victory to savour for the rakyat," Wong said.
He said the government had carried out a committee stage amendment to withdraw the investment panel, before Parliament came to session this morning.
A check showed that all four clauses that were previously proposed in the Bill for the setting up of the investment panel had been retracted.
This latest news confirmed a report by The Edge Financial Daily last month that the investment panel would be scrapped in the revised IRB Bill.
The news report, quoting sources, said this was due to the potential public backlash against the investment panel. The report also stated that the Bill that was due for the second and third reading today, would likely be tweaked to allow the IRB to earn better rates instead.
Last June, the government had proposed at Parliament to amend the IRB Act of Malaysia 1995 and set up an IRB investment panel.
Under the proposal which was tabled for the first reading in the last Parliament sitting,
Prime Minister Datuk Seri Najib Razak, who is also finance minister, has the power to remove the powers of the IRB board on investment matters.
Najib also has the power replace the board with a seven-member investment panel, of which, six can be appointed by the minister.
To recap, Deputy Finance Minister Datuk Ahmad Maslan had in June postponed the second and third reading for the IRB (Amendment) Bill 2014.