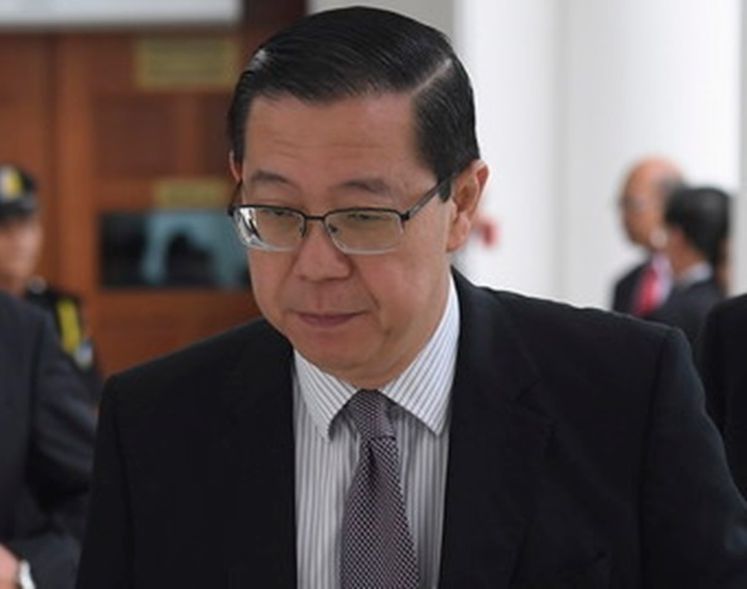 GEORGE TOWN (May 13): Newly appointed Finance Minister Lim Guan Eng said the new government has steady hands to handle any volatility that could affect the Malaysian stock market following Pakatan Harapan's takeover of Putrajaya in the 14th general elections.
"We have steady hands handling this situation. The officers are in place and relevant briefings are being carried out," Lim told reporters after announcing his successor Chow Kon Yeow as Penang Chief Minister today.
He added that he is meeting with the Securities Commission Malaysia (SC) chairman Tan Sri Ajit Singh, and senior officials from Bank Negara Malaysia (BNM), the Employees Provident Fund (EPF) and other relevant bodies.
According to Bloomberg, the stock market is expected to see short-term volatility amid the upset win by Pakatan on Wednesday.
It said investors would wait for clarity on policy changes.
The ringgit closed higher at 3.9497 against the US dollar last Tuesday while the ringgit that traded offshore, or non-deliverable forward (NDF), weakened following the general election results.
Standard Chartered Global Research said that the movements of the ringgit against the US dollar will be driven in the near term by negative asset market reaction and potential measures by the authorities to contain forex volatility.
In a statement on Thursday, Moody's Investor Service Inc said it is closely following the developments around some campaign promises that could have a negative impact on market sentiment and trigger volatility in the financial markets.
"These dynamics will take time to unfold and a lot will depend on what the new government unveils in the coming weeks and months," said Moody's Financial Institutions group vice president/senior analyst Simon Chen.
"However, we acknowledge that the system has weathered challenging periods, in particular, during the 1Malaysia Development Bhd (1MDB) allegations," Chen said.
When asked, Lim said though he cannot comment on the fiscal position and economic policies until he is sworn in, he acknowledged that the government would undertake proper policies to restore confidence in a financial system that has been affected by scandal after scandal such as the 1MDB.
"These policies and positions for the economy are being handled by the Council of Elders although Robert Kuok would not be able to be in Malaysia. Meetings would be via teleconference. We will work very hard to make our economy alive again," he said, adding that he wants to make measured comments as a Finance Minister after he is briefed by his officers.
"I have not been able to meet with the Eminent Persons group yet. I came back to Penang to announce and attend the swearing-in of new Penang Chief Minister Chow Kon Yeow, and pack my things.
"I will spend the next two days here but of course I will get the briefing reports from the relevant agencies such as EPF, BNM and SC, and of course abolish GST. We will not forget our promises. We need some time but we will not forget," he added.
When asked whether the Royal Malaysian Customs Deparment director general Datuk Sri Subromaniam Tholasy had been instructed to start the process of abolishing GST, Lim said, "I cannot give any instructions now but we take note of his spirited defence of the GST."
Yesterday, newly minted Prime Minister Tun Dr Mahathir Mohamad announced Lim's appointment as Finance Minister as well as Tan Sri Muhyiddin Yassin as Home Affairs Minister and Mohamad Sabu as Defence Minister.
Mahathir also announced members of a Council of Elders to advise the government on economic and financial matters.
The Council will be headed by former Finance Minister Tun Daim Zainuddin and the members are former Bank Negara Governor Tan Sri Zeti Akhtar Aziz, former president and CEO of Petronas Tan Sri Hassan Merican, billionaire Robert Kuok and prominent economist Dr Jomo Kwame Sundaram.