Click / Tap image to enlarge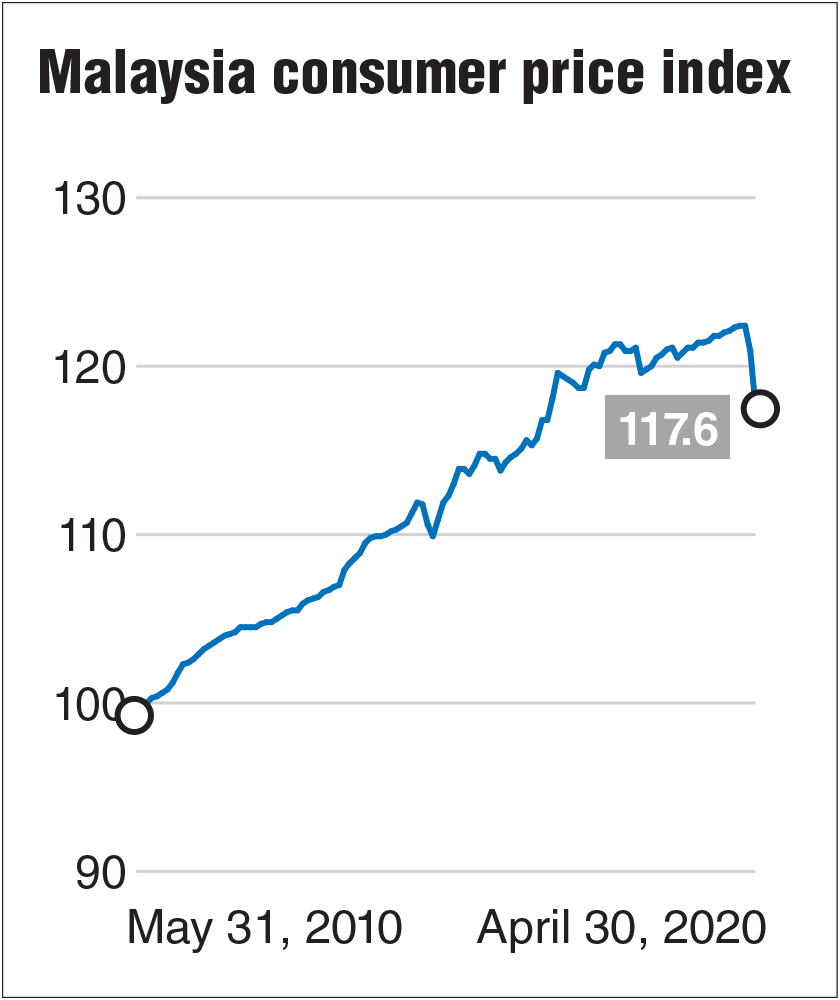 Click / Tap image to enlarge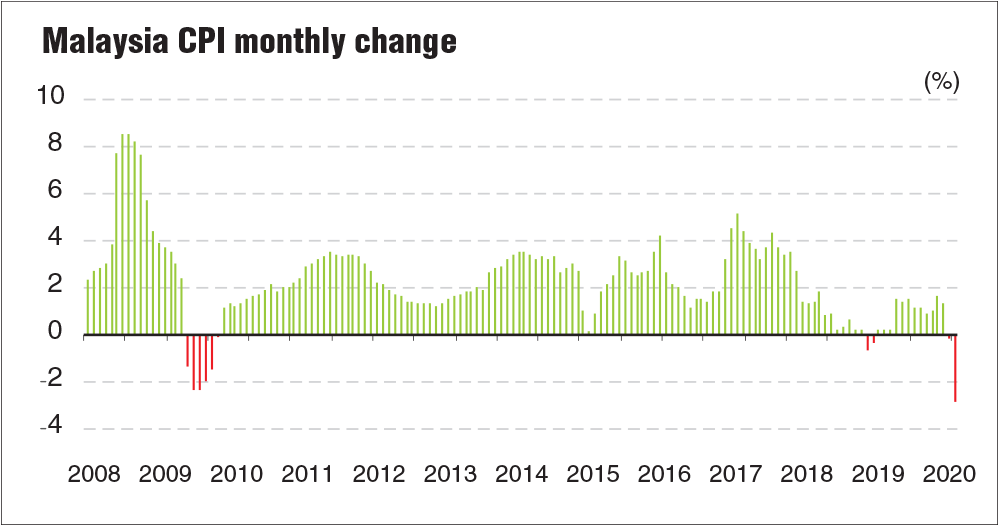 KUALA LUMPUR (May 20): Malaysia's Consumer Price Index (CPI) dropped 2.9% in April - the sharpest drop in 50 years.
This reinforces the expectation of mounting deflationary pressure on consumer item prices as Malaysians have to tighten their belts to spend prudently since the global COVID-19 pandemic is taking a heavy toll on economies on many fronts.  
In view of that, economists are forecasting deflation this year compared with an inflation rate of 0.7% in 2019.  
The 2.9% year-on-year decline in April 2020 was due to the drop in prices of transport, housing, water, electricity and fuel, according to the Statistics Department today.
The deflation figure in April came in steeper compared with the market forecast of -1.5%. Not only is this the second consecutive month of decline in CPI after the 0.2% drop in March 2020, but it is also the sharpest contraction in more than five decades.
Nonetheless, Malaysia is not the rare one which is experiencing deflation; it is an emerging global trend following the outbreak of COVID-19.
UOB Malaysia economists Julia Goh and Loke Siew Ting, in a note today, wrote that price movements are expected to remain muted this coming festive period, saying that the implementation of the Festive Season Maximum Price Scheme between May 20 and June 3 will help to keep food prices in check.
"A total of 11 types of Aidilfitri essential goods will be listed under the Festive Season Maximum Price Scheme for 15 days from May 20 to June 3. For the Kaamatan festival in Sabah, the seven-day price control exercise from May 28 to June 3 will also involve 11 types of goods, while Gawai in Sarawak will involve the control of 12 types of goods for the same period," they noted.
As such, they maintained the 2020 full-year headline CPI projection at -0.5%, noting the volatile global oil prices being a wildcard. As at the time of writing, Brent crude oil futures rose 1.41% to a two-month high of US$35.14 per barrel.
Bank Negara Malaysia (BNM) had forecasted CPI in 2020 to be at the range between -1.5% and 0.5%.
Likewise, MIDF Research has revised the inflation estimate downward to -0.5% from 0.5%.
"Based on the latest development, COVID-19 seems to have taken a big toll on housing prices as consumers move away from discretionary to necessity, avoiding purchases of big ticket items," said the research house, adding that this trend is likely to continue for a substantial period of time as concerns over future personal finances persist.
MIDF opined that the housing and utilities have a significant impact on overall inflation as it is the second biggest component in the overall CPI basket.
MIDF concurred that the high volatility in global crude oil prices that skewed towards the low-side will also influence the estimate.
"Besides that, we do not foresee any major demand-pull inflation due to COVID-19. Some upward pressure could be expected in the food component through imported inflation as Malaysia is a net importer of food and a weaker ringgit will result in the items to be more expensive," said the research house.
Moving forward, MIDF foresees inflation globally to remain benign and may start to increase gradually in 2H20 with more countries easing restrictions. Nevertheless, demand-pull inflation is likely to remain low due to the effect of the pandemic towards the economy, the research house added.
Mixed views on whether BNM will make another rate cut this year
Amid the seemingly bleak economic prospects this year, BNM has left the door open for further rate cuts and economists are having mixed views on the possibility of further interest rate cuts in the second half of the year (2H20).
BNM has cut interest rates three times this year, amounting to 100 basis points (bps), with the most recent cut of 50 bps on May 5. It had earlier cut OPR by 25bps in January and by another 25 bps in March. The current OPR rate stands at 2%.
The next monetary policy committee meeting will be held on July 7, 2020.
MIDF opined that BNM could undertake another 25bps cut in OPR for this year, saying that inflation remains low and there are more downside risks to the economy including COVID-19, global trade tensions, political instability and the US presidential election on top of US Federal Reserves' policy rate at 0.25%.
UOB economists, on the other hand, do not see further rate cuts and expect OPR to stay unchanged at 2% for the rest of 2020 in anticipation that 2H20 will see a modest recovery.
This comes on the back of a progressive pick-up in economic activity with the support of prior interest rate cuts and effective implementation of the RM260 billion fiscal stimulus package, they said.
"However, we think that further rate cuts would be premised on steeper downward adjustments to the growth outlook, potential flare up of infections that warrants a tightening of measures, and weak resumption of activity," said the research firm.
Read also:
https://www.theedgemarkets.com/article/malaysia-april-cpi-down-29-onyear...
https://www.theedgemarkets.com/article/another-opr-cut-july-likely-says-...