This article first appeared in The Edge Financial Daily, on August 1, 2018.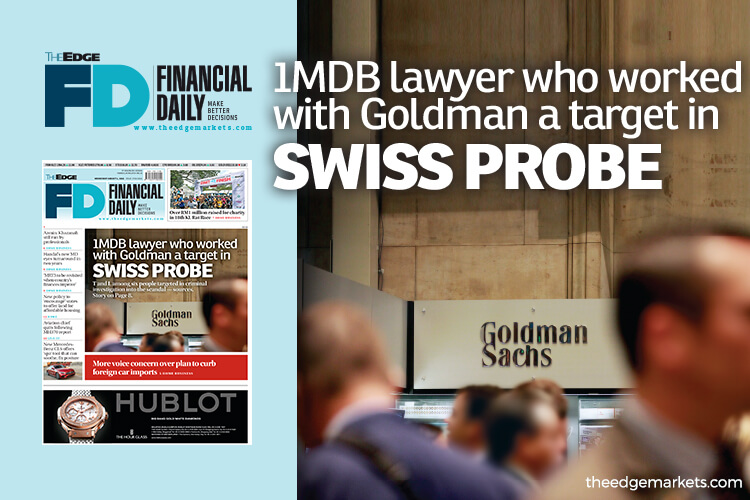 GENEVA/SINGAPORE: A former top executive with 1Malaysia Development Bhd (1MDB) and a senior lawyer at the fund who worked with Goldman Sachs Group Inc are among six people targeted in a Swiss criminal probe into the multibillion-dollar scandal, according to people familiar with the matter.
The executive is suspected of authorising an illicit US$700 million transfer, according to the people, who declined to be identified because the investigation is confidential. The pair is being investigated for bribery, misconduct in public office, money laundering and criminal mismanagement.
T and L, as they can only be identified under Swiss law, were referred to as "two former officials at 1MDB" in a July 10 press release issued following Swiss Attorney-General Michael Lauber's visit with his Malaysian counterpart in Putrajaya. Swiss prosecutors don't typically name any suspects unless they have been formally indicted ahead of a trial.
After years of stalled investigations into how up to US$4.5 billion was diverted from a fund created to develop the Malaysian economy and used to buy a yacht, paintings and luxury properties, the probes are now making progress. Prosecutors in the US, Switzerland and Singapore have been encouraged by the surprise defeat of ex-Malaysian prime minister Datuk Seri Najib Razak in May. His successor Tun Dr Mahathir Mohamad promptly named a new attorney-general, Tommy Thomas, who charged Najib on July 4 with corruption for his role in the affair. Najib has denied the allegations.
Neither L and T were listed in public phone records and attempts to locate any representatives for them were unsuccessful.
Dr Mahathir plans to recoup as much as US$4.5 billion that was potentially lost through 1MDB, including some of what he says was in fees paid to Goldman. Dr Mahathir said in an interview with Bloomberg Television that he would pursue a case against the New York-based bank "if there is a case", adding that the attorney-general would make a decision on whether to proceed.
Goldman has been under scrutiny for the role it played in raising US$6.5 billion in debt for 1MDB with the help of L, who was described as a "main point of contact" with the bank in a US criminal complaint in 2016.
Goldman, which has not been accused of any wrongdoing, says it was only raising funds for 1MDB so it could make investments to benefit Malaysia and could not have foreseen where the money went after that.
"We had no visibility into whether some of those funds may have been subsequently diverted to other purposes by the issuer, members of the Malaysian government or others," said Edward Naylor, a Hong Kong-based spokesman for the bank.
The commissions of nearly US$600 million that Goldman earned for the bond issuance have raised eyebrows but Naylor said that they reflected "the risks we assumed at the time, specifically movement in credit spreads tied to the specific bonds, hedging costs and underlying market conditions".
Six-figure sum
L was not accused of any wrongdoing by US prosecutors in the 2016 complaint but did receive a US$5 million payment for her work that was paid through shell companies into her Swiss bank account. L also sent a six-figure sum to Goldman's Tim Leissner for an investment they were making in a start-up, according to an earlier Bloomberg report.
Leissner was the lead banker on the 1MDB bond sales and left after he was put on administrative leave in early 2016. US prosecutors, in negotiating a possible plea deal with Leissner, are now pressing him for information about whether Goldman turned a blind eye to where the money went, Bloomberg reported earlier this month, citing a person familiar with the matter.
Representatives of Leissner did not return messages seeking comment on the possibility of a deal.
'Ponzi scheme'
Lauber pledged last month to step up his investigation after the new Malaysian government reopened a graft probe. He flew to Malaysia for a July 10 meeting with Thomas, and said in an interview afterwards that 1MDB had been exploited as a " Ponzi scheme". Switzerland is investigating the whole affair because a clutch of Swiss banks and Swiss units of foreign banks were used to wire diverted money, including JPMorgan, Falcon Private Bank and BSI SA.
T had worked with 1MDB until 2011, when it was still known as Terengganu Investment Authority. Malaysian investigators acting on behalf of the country's Anti-Corruption Commission have issued arrest warrants for L and T, according to people familiar with the situation.
Lauber confirmed on July 10 that Swiss authorities also have opened criminal investigations into four other people the attorney-general did not name: two executives at PetroSaudi, an oil-exploration company that partnered with 1MDB, and two former officials from the UAE, who were in charge of Abu Dhabi sovereign funds that received US$3.5 billion from 1MDB.
M, PetroSaudi's former chief investment officer, and O, who co-founded the company with Saudi Arabia's Prince Turki Abdullah, are suspected of criminal mismanagement, fraud, bribery of foreign public officials and aggravated money laundering. Officials at 1MDB and others, under the pretense of investing about US$1 billion in a joint venture between 1MDB and PetroSaudi, instead transferred about US$700 million to an account not associated with PetroSaudi, the US Department  of Justice alleged in a 2016 seizure order.
"PetroSaudi denies any wrongdoing in connection with its joint venture with 1MDB and it rejects any claims that it, or any of its officials, are involved in the misappropriation of funds from 1MDB," Carter-Ruck, the company's law firm, said in an email last week, reiterating comments from March. "PetroSaudi will cooperate fully with investigating authorities."
The last two officials are Q, the former managing director of International Petroleum Investment Co (Ipic) and chairman of its unit Aabar Investments PJS, and H, the former chief executive officer of Aabar. A spokesman for Mubadala Investment Co, which merged with Ipic in 2017, did not respond to a request for comment. — Bloomberg