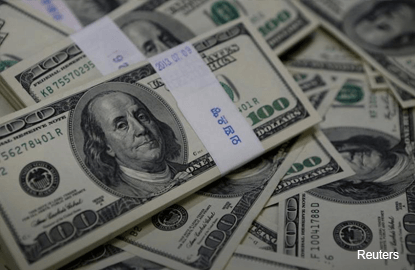 (Feb 2): The dollar's worst start to the year in more than a decade is just a blip on its path to further gains, according to Goldman Sachs Asset Management, which oversees more than US$1 trillion.
The money manager is betting on the greenback and a steeper yield curve as a reflationary era takes hold in the US and other countries, said Philip Moffitt, the Asia-Pacific head of fixed income who is based in Sydney. The dollar will continue to strengthen against the euro and yen as policy makers in Europe and Japan maintain quantitative easing while the Federal Reserve is set to raise interest rates about three times this year, he added.
"It's just a bit of a pause in the new trend," he said in a phone interview. "There's been a profound shift away from fiscal orthodoxy and deflation threats to a more reflationary policy environment globally that's seen most strongly in the US."
The Fed kept policy rates unchanged Wednesday as it waits to see what the flurry of executive orders and remarks from President Donald Trump will mean for US growth. The central bank acknowledged that sentiment has improved, and that inflation will rise to its 2% target even with "gradual" adjustments in interest rates. Treasuries have led a global advance in yields since July with rising factory prices in China adding to signs of a reflationary environment.
Moffitt acknowledged that the dollar will at times be vulnerable to "noise" from Trump's policies on immigration and trade though the US economy will benefit if he delivers on his promises of lower taxes and less business regulation.
The Bloomberg Dollar Spot Index, a gauge of the greenback against 10 major peers, fell 2.6% last month, its worst start to the year since at least 2005. The losses wiped off nearly half the gains chalked up since the November election following Trump's rhetoric on currencies and immigration.
While the Fed is likely to start hiking in June, it may act as soon as March if equity markets remain buoyant and a tightening labour market lifts wages and prices, he said. His fund favors inflation-linked securities to protect against accelerating price growth, Moffitt said, adding that Treasury yields are set to rise 50-to-75 basis points over the next 12 months. The 10-year US yield was at 2.48% as of 8.42am in Singapore.
As for emerging market currencies, the asset manager is seeking to profit from the dollar's advance against the South Korean won as Trump's policies are likely to hurt open economies with substantial exports to the US, Moffitt said. However, he is bullish on the Mexican peso which "has become so cheap that it's attractive and we want to own it." The Russian ruble is set to strengthen as Trump's policies will be positive for Russia, he added.
A Treasury market gauge of inflation expectations has bolstered the case for US rate hikes. The difference between yields on five-year notes and equivalent-maturity Treasury Inflation Protected Securities, known as the break-even rate, climbed for a fifth month in January.
"You might be very long the dollar, you might be just a bit long the dollar, you might be neutral at times," Moffitt said. "But I can't see a situation where we would wake up and say now is the day to go short in this environment."