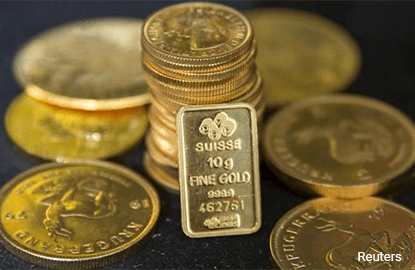 LONDON/BENGALURU (Jan 26): Gold fell to a two-week low on Thursday as the dollar firmed, U.S. Treasury bond yields rose and equity markets rallied, but expectations that the greenback's climb may be coming to an end helped limit losses.
Spot gold prices were down 0.6% at US$1,192.47 an ounce at 1136 GMT, from an earlier low at US$1,191.18. U.S. gold futures fell 0.5% to US$1,191.8.
A stronger U.S. currency makes dollar-denominated commodities more expensive for holders of other currencies, potentially curbing demand, while higher Treasury yields mean U.S. bonds are cheaper for investors who want an alternative to gold.    
"The dollar is a little bit stronger this morning, yields are up a bit and that's why gold is below 1200," said Julius Baer analyst Carsten Menke. "But overall, the appreciation of the dollar seems to have stalled, we could see a reversal."
While equities and Treasury yields have continued to rise, fuelled by U.S. President Donald Trump's signals that he plans to increase public spending, expectations of a boost to growth have recently had a diminishing impact on the dollar.   
"We suspect that gold could come under further pressure again on Thursday, as the follow-through from the U.S. stock rally reverberates through into other global markets," INTL FCStone said in a note.      
Investors abandoning gold can be seen in the holdings of SPDR Gold Trust, the world's largest gold-backed exchange-traded fund, which fell 0.6% to 799.07 tonnes on Wednesday.      
Also undermining sentiment was weak physical demand in India due to higher prices, while Chinese demand is weaker ahead of the Lunar New Year holiday, traders said.
Spot silver fell 0.7% to US$16.83, platinum ceded 0.2% to US$975.99. Palladium slid 0.3% to US$726.9, after earlier touching a three-week low at US$721.35.
It fell more than 7% on Wednesday, its worst one-day fall since April 2013.
Palladium is used in autocatalysts and has been boosted by expectations of stronger demand for cars, but the outlook for growth is now less bright.
"Car ownership rates in the U.S. peaked a couple of years ago, which means most of the cars sold are just replacement demand," Menke said. "China has cut car subsidies so sales there will probably be lower this year."
China's vehicle sales jumped 13.7% in 2016, the fastest pace in three years, thanks to a tax cut on small-engine cars, but growth is expected to slow this year, as the incentive is reduced.