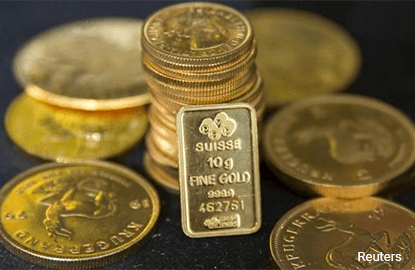 BENGALURU (Jan 24): Gold prices eased as the dollar recovered from seven-week lows on Tuesday, sliding after the yellow metal hit two-month highs earlier in the session amid signs that U.S. President Donald Trump would adopt a protectionist stance on trade.
Trump formally withdrew the United States from the Trans-Pacific Partnership trade deal on Monday and told U.S. manufacturing executives he would impose a hefty border tax on firms that import products, after moving American factories overseas. 
Spot gold slid 0.3% to US$1,214.2 per ounce by 0649 GMT, after hitting its strongest since Nov 22 at US$1,219.59 earlier in the session. 
U.S. gold futures remained steady at US$1,214.20.
"For the time being, we suspect that gold will likely push higher, as improving chart patterns, unease about Trump's policies, growing perceptions that the Fed will be relatively quiet for a while and pressure on the dollar, all provide an element of support," INTL FCStone analyst Edward Meir said.
The dollar index, which measures the greenback against a basket of currencies, inched up 0.1% at 100.210. In the previous session, it hit a more than 7 week low
of 99.899.
"We are looking at gold hitting US$1,250 within weeks. The rationale is very simple. The market was in honeymoon with Trump. With him in power now, the reality starts to bite," said Dominic Schnider of UBS Wealth Management in Hong Kong.
Trump's campaign calls for tax cuts and more infrastructure spending have boosted U.S. shares and the dollar, as well as driving a selloff in U.S. Treasury bills, but his protectionist statements and a flurry of off-the-cuff tweets have kept many investors from adding to risky positions.
"Regardless of Trump, the main story for gold is negative interest rates in the U.S. We are not expecting the Fed to raise rates in March and it's just going to be two hikes and that's roughly priced in to the market," Schnider said.
Spot gold looks exhausted and may again fail to break a strong resistance at US$1,219 per ounce, before retracing towards a support at US$1,196, according to Reuters technical analyst Wang Tao. 
Volumes and buying demand on the Shanghai Gold Exchange are expected to start drying up between now and the week-long Lunar New Year break, MKS PAMP Group trader Alex Thorndike said. 
Among other precious metals, silver shed 0.4% to US$17.13 per ounce, while platinum was steady at US$981. 
Palladium dropped by 0.8% to US$770.50 an ounce, after hitting US$795.60, its highest since May 2015, in the previous session.