Click / Tap image to enlarge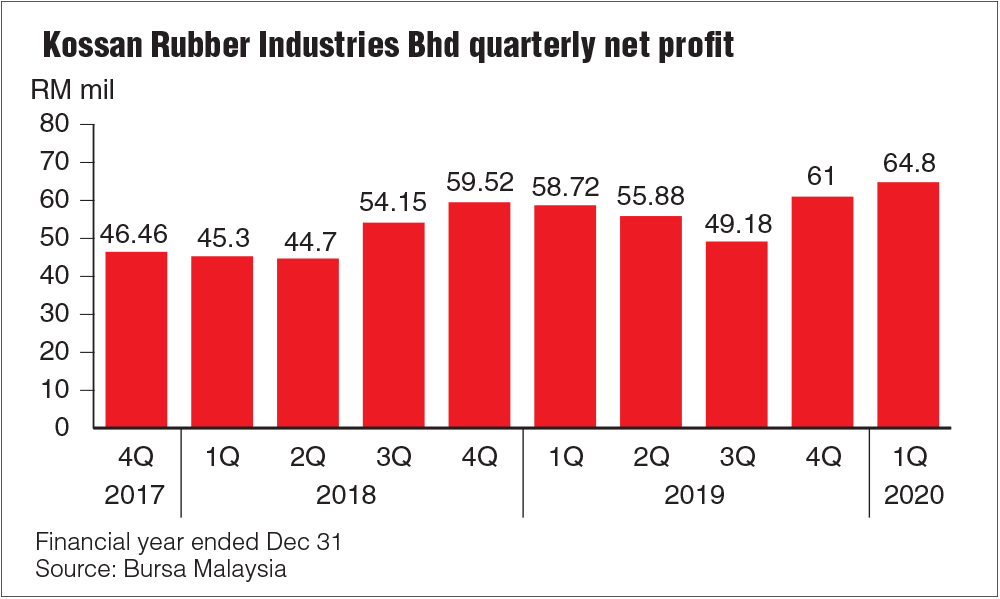 KUALA LUMPUR (May 21): Glove maker Kossan Rubber Industries Bhd posted a 10.35% rise in quarterly net profit to a record high of RM64.8 million for the first three months of its financial year 2020, as it sold more gloves.
The group's quarterly revenue was also at its highest of RM611.47 million for the quarter ended March 31, 2020 (1QFY20), up 8.9% from RM561.47 million a year ago, when it made a net profit of RM58.72 million.
The stronger quarterly profit pushed earnings per share (EPS) up to 5.07 sen, from 4.59 sen. The group proposed a second interim dividend of three sen per share, payable on June 19.
Its main glove business saw revenue rise 10.31% year-on-year (y-o-y) to RM548.25 million from RM495.99 million, while profit before tax (PBT) grew 13.49% to RM77.13 million from RM67.96 million from a year ago, as it sold 7.4% more gloves.
As for its technical rubber product (TRP) division, which supplies technical rubber to the automotive industry and contributes less than 10% of the group's total revenue, the top line fell to RM38.39 million from RM46.68 million, while PBT halved to RM3.46 million from RM6.81 million, mainly due to lower sales deliveries and sales of lower-margin products.
"Cleanroom", another small division where the group supplies products to the semiconductor industry, recorded a 43.36% revenue increase to RM24.53 million from RM17.11 million a year ago, which tripled PBT to RM1.84 million from RM580,000. 
"Cleanroom" refers to an environment with a controlled level of contamination of dust, microbes and aerosol particles, to prevent damage to a product during manufacturing.
On its prospects, Kossan said the ongoing Covid-19 pandemic had caused demand for gloves to increase with a supply shortage in the market, which had driven selling prices higher.
Coupled with the group's continued improvements in operating efficiency, its management is confident that FY20 will be a strong growth year, it said.
Kossan's share price jumped 93 sen or 12.08% to RM8.63 today, giving it a market capitalisation of RM11.04 billion. It saw some 13.21 million shares traded.
Year to date, the stock has more than doubled from RM4.16 on Dec 31, 2019.