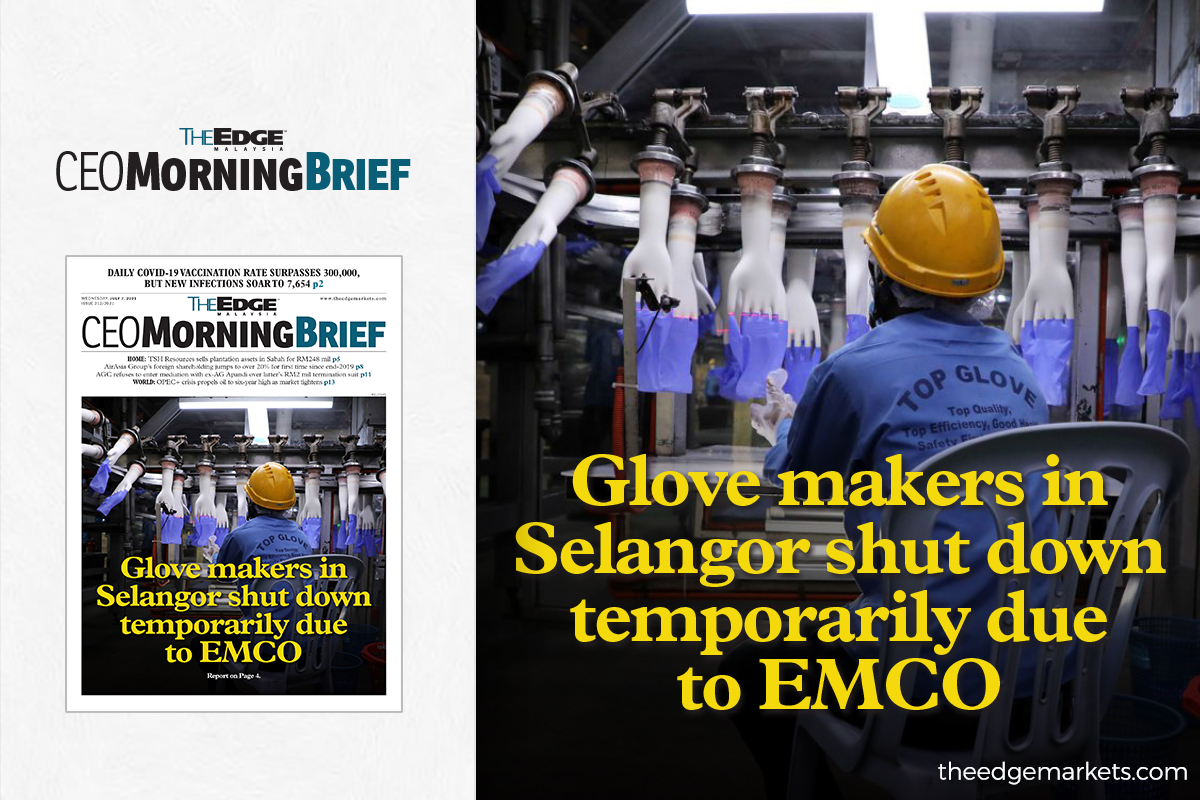 KUALA LUMPUR (July 7): Glove manufacturers have suspended their operations in Klang due to the Enhanced Movement Control Order (EMCO) in several districts in Selangor.
Top Glove Corp Bhd, the world's largest glove manufacturer, said it is temporarily halting the operations of its medical glove factories in Klang, in compliance with EMCO directives.
It added that it is awaiting clarification from the National Security Council on the matter, but did not give further details.
"The company looks forward to safely resuming operations at the appropriate time and continuing to produce its much needed medical gloves for frontliners and healthcare workers in Malaysia and globally.
"The company continues to maintain strict adherence to the relevant rules and regulations, as well as Covid preventive standard operating procedures, and is committed to safeguarding the health and safety of its workforce and the communities in which it operates," said Top Glove.
Its peer Hartalega Holdings Bhd also said it has initiated a full shutdown of all its manufacturing facilities in Bestari Jaya and Sepang.
"Regrettably, this will have a significant impact on both the local and international healthcare value chain in terms of disruption to availability of supply, as Hartalega is a key manufacturer of nitrile gloves for hospitals globally," Hartalega said in a written reply to The Edge.
Likewise, Kossan Rubber Industries Bhd also stated it has implemented temporary stoppage of its glove manufacturing facilities in Klang for the same reason.
Among other glove manufacturers that have operations in Klang include Supermax Corp Bhd and Mah Sing Group Bhd.
The EMCO for 34 districts in Selangor and 14 localities in Kuala Lumpur is in force from July 3 to July 16.
The shutdown came as a surprise to some analysts as rubber gloves are deemed as essential personal protective equipment.
On Sunday (July 4), the Malaysian Rubber Glove Manufacturers Association (MARGMA) urged the government to allow glove factories in Selangor to operate under the EMCO.
"Since the government's announcement on the imposed EMCO on the state of Selangor, global customers of our manufacturers have been calling with great concern on shortage of production and delivery of gloves to them.
"Our members are under tremendous pressure from global hospitals and healthcare workers as the pandemic has now evolved into another variant," said MARGMA president Dr Supramaniam Shanmugam in a statement.
Read also:
Glove makers urge govt to allow their Selangor factories to operate under EMCO to mitigate global glove disruption 
To receive CEO Morning Brief please click here.