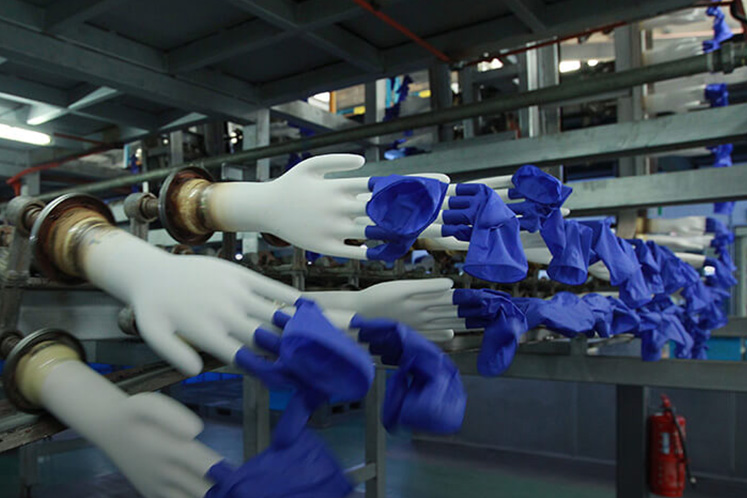 KUALA LUMPUR (Feb 24): Glove counters continued to gain attention from investors today amid the continuing spread of the coronavirus (Covid-19), while the weakening ringgit also further lifted sentiment for glove makers, against the backdrop of the freefall of the broader market on political uncertainties. 
The share price of Top Glove Corp Bhd, which led the surge among glove makers, rose as much as 4.16% or 22 sen at RM5.51, before it pared some of its gains at RM5.45, bringing it a market capitalisation of RM13.90 billion. It was the third top gainer in Bursa Malaysia this morning. The counter also saw some 14.49 million shares exchanging hands. 
Meanwhile, Kossan Rubber Industries Bhd shares climbed 0.86% or four sen at RM4.69, bringing it a market capitalisation of RM5.95 billion. The counter saw about 3.27 million shares done. 
Hartalega Holdings Bhd advanced 0.68% or four sen at RM5.92, valuing it at RM19.91 billion, after some 2.93 million shares were done.
Supermax Corp Bhd rose as much as three sen or 1.89% at RM1.62 earlier today before it pared gains and closed unchanged at RM1.59 at the noon market break, valuing it at RM2.07 billion. The counter saw about 12.187 million shares exchanging hands. 
Reuters reported that Asian currencies slid on Monday as the rapid spread of the coronavirus outside China drove fears of a pandemic and sent investors flocking to gold and the dollar for safety.
"The Chinese, Australian, New Zealand, Singapore and Taiwan currencies were all on the back foot, with the Aussie carving a fresh 11-year low in early trade. The Korean won plunged nearly 1% to a six-month low, the report added. 
On the ringgit front, it slipped to its almost 27-month low of 4.2292 — the lowest point since Nov 8, 2017 — against the greenback in early trade, on domestic political uncertainty. At 1.40pm, the ringgit was at 4.2292 against the US dollar, still, the lowest since September last year.