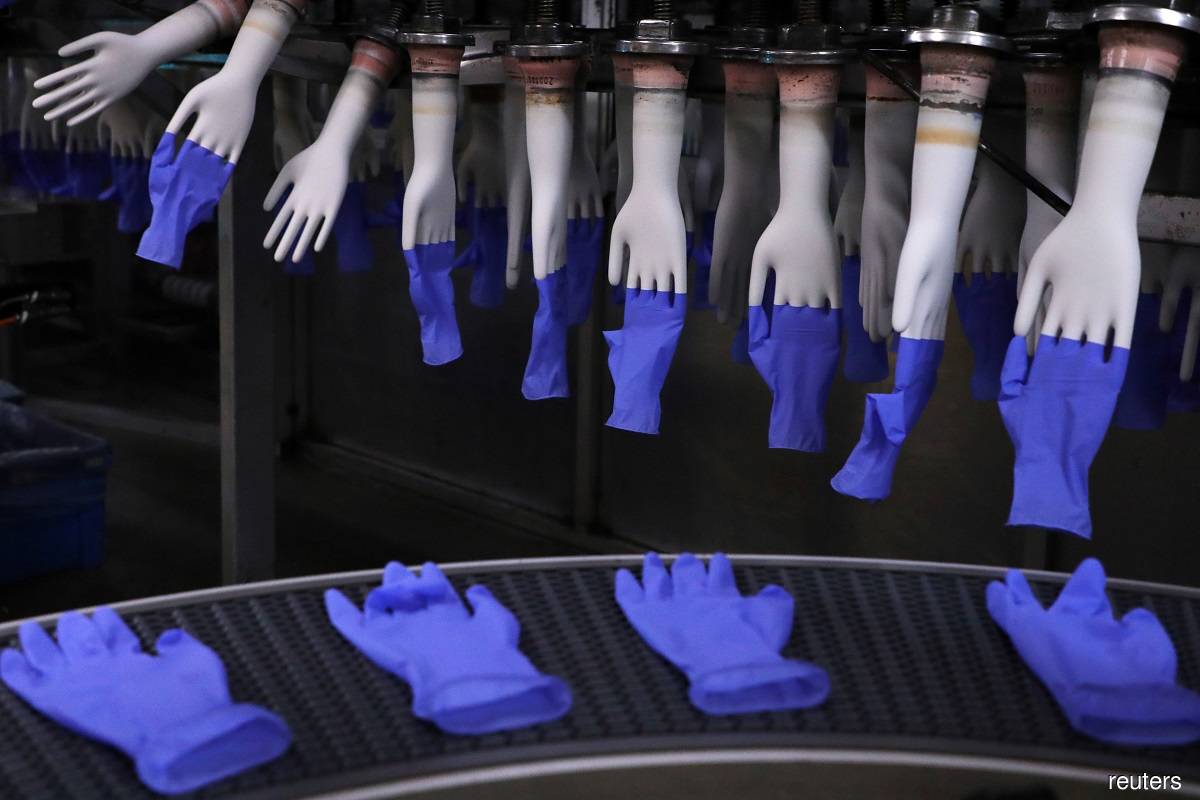 KUALA LUMPUR (Feb 22): Bursa Malaysia-listed glove makers such as Supermax Corp Bhd, Careplus Group Bhd and Rubberex Corp (M) Bhd — which are due to release their October-December 2021 results this month — are set to suffer the same fate as their peers, which saw earnings fall during the latest quarter on lower average selling prices (ASPs) and sales volumes, no thanks to increased supplies from new glove entrants.
Earnings of Hartalega Holdings Bhd and Kossan Rubber Industries Bhd came in below market expectations for the fourth quarter of 2021, despite the consecutive forecast revisions by analysts over the last few quarters.
All eyes are now on Supermax — the smallest of the country's big four glove makers by market capitalisation — which will announce the earnings results for its second quarter of financial year 2022 (2QFY22) ended Dec 31, 2021 soon. Supermax booked earnings per share (EPS) of 24.6 sen for 1QFY22, which represented 61% of the group's consensus FY22 forecast of 40.3 sen EPS.
Already, some analysts had revised their earnings forecasts for Supermax last month amid mounting labour allegations and termination of contracts with the Canadian government for the supply of its gloves.
"We are negative on this matter (Canada contract cancellation) as we believe that orders from the Canadian government make up a significant portion of Supermax' sales to Canada (9% of FY21's total revenue)," said CGS-CIMB Research in a Jan 20 note.
The research house, which downgraded the counter to "hold" with a RM1 target (TP), said its valuations had "not accounted for ongoing environmental, social, and governance concerns (foreign labour aspect) and our view of an even sharper-than-expected decline in FY22-FY24 profitability".
MIDF Research in its Jan 19 note said it believed Supermax might overcome its labour-derived contract termination faster than its competition, following its response of introducing the foreign worker management policy on Jan 3, 2022 to promptly meet the labour standards of the International Labour Organization.
MIDF Research expected the issue, which was the reason for its ban in the US and Canada, would "have a substantial impact on the group's future expansion plans and hence, earnings" if not resolved soon. It had a "neutral" call on the counter with a TP of RM1.39.
Investors are also keeping an eye on the prices of raw materials for nitrile gloves. In Southeast Asia, spot price for butadiene has climbed back up since the start of the year to erase its losses in the third quarter of 2021.
Last week, Kossan's consensus EPS forecast for its FY22 ending Dec 31, 2022 was revised downwards by 27% to 14.3 sen, after missing its FY21 EPS forecast by 5.82%.
Hartalega, which also missed the EPS forecast for its FY21 ended March 31, 2021 by 5.67%, saw its FY22 forecast revised downwards by 6.86% to 96.2 sen.
Meanwhile, Top Glove Corp Bhd's EPS for its 1QFY22 ended Nov 30, 2021 came in at 2.32 sen, representing 21.09% of its consensus full FY22 EPS forecast of 11 sen apiece.
Earnings nearing levels at start of pandemic
From their latest peak on Nov 30, 2021, shares of the four glove makers — Hartalega, Top Glove, Kossan, Supermax — have seen their share prices fall by between 19% and 35.4% each. Supermax's share price has fallen 22.45% year to date to close at 1.14 on Monday (Feb 21), bringing a market capitalisation of RM3.1 billion.
This was as investors brushed off the impact of the Omicron variant outbreak towards demand for gloves, amid a faster-than-expected decline in ASPs, coupled with risk of oversupply in the medium term following the industry expansion that accelerated during the pandemic.
Both the big-cap glove makers and the lower-liners have seen their latest quarterly earnings revert to levels last seen at the start of the global outbreak, although still above pre-pandemic levels. For Hartalega, its 4QFY21 net profit of RM259.1 million was 17.9% higher compared with RM219.7 million recorded in its 2QFY20. Quarterly revenue was higher by only 8.68% at RM1 billion from RM920.1 million.
Kossan's 4QFY21 net profit of RM218.7 million was 66.82% higher than the RM131.1 million recorded in its 2QFY20. Revenue for the quarter was at RM924.6 million, up 31.76% from RM701.7 million a year ago, whereas lower-liner Comfort Gloves Bhd's latest quarterly net profit was back to pre-pandemic levels, coming in at RM10.4 million on revenue of RM124.3 million.