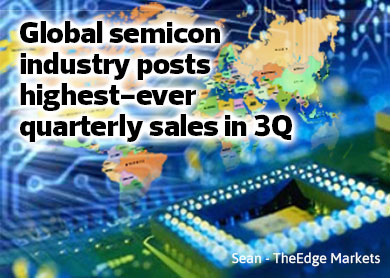 KUALA LUMPUR (Nov 4): Global semiconductor sales rose 8% year-on-year in the third quarter of 2014 to US$87 billion, and was up 5.7% quarter-on-quarter, according to the US-based Semiconductor Industry Association (SIA).
In a statement on its website Nov 3, the SIA said the third quarter sales outperformed the latest World Semiconductor Trade Statistics (WSTS) forecasts.
It said global sales for the month of September 2014 reached $29 billion, 8% higher than the September 2013 total of $26.9 billion and 1.9% more than last month's total of $28.5 billion.
All monthly sales numbers are compiled by WSTS and represent a three-month moving average. 
SIA president and CEO Brian Toohey said through the third quarter of 2014, global semiconductor sales remained strong and well ahead of last year's pace.
"The industry has now posted seven consecutive months of sequential monthly growth, and year-to-year growth has been strong across nearly all semiconductor product categories, with DRAM and Analog leading the way," he said.
Regionally, sales were up compared to last month in the Americas (2.8%) and Asia Pacific (2.5%), but down slightly in Europe (-0.1%) and Japan (-1.3%).
Compared to September 2013, sales increased in Asia Pacific (12%), Europe (7.9%) and the Americas (3.7%), but decreased in Japan (-3.7%).
All four regional markets have posted better year-to-date sales through September than they did through the same point last year, said the SIA.