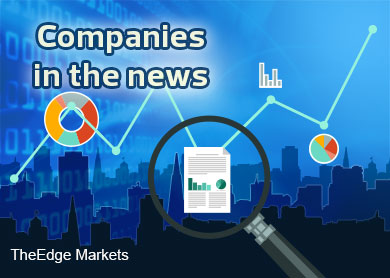 KUALA LUMPUR (Nov 4): Based on corporate announcements and newsflow today, the companies that may be in focus tomorrow (Wednesday, Nov 5) could include the following: Global Oriental, Tower REIT, Tasek Corp, Century Logistics, Fajarbaru Builder, Petronas Gas, Petronas Dagangan, YFG and MGRC.
Global Oriental Bhd (GOB) will pocket RM142.35 million cash from disposal of two parcel of leasehold land, measuring 15.56 acres in Taman Equine, Sri Kembangan.
GOB announced its wholly-owned subsidiary, Taman Equine Industrial Sdn Bhd, has entered into a conditional proposed sale and purchase agreement (SPA) for the land disposal.
In a filing with Bursa Malaysia, GOB said the tracts have an estimated gross development value of RM740 million, with estimated development costs of RM557 million, resulting in an estimated gross development profit of RM183 million.
A majority of the disposal proceeds is expected to be utilized for working capital (RM103.85 million) and to repay bank borrowings (RM35 million). The company is able to realize a net gain of approximately RM85.22 million, upon completion of the disposal.
GOB closed 1.5 sen or 1.60% down at 92.5 sen today, giving it a market capitalization of RM210.29 million.  
Tower Real Estate Investment Trust (REIT) net income fell 49% to RM4.3 million in the third quarter ended Sept 30, 2014, from RM8.4 million in the corresponding quarter.
The REIT is part of Tan Sri Quek Leng Chan's stable of Hong Leong Group companies.
Revenue dropped 24% to RM10.1 million, from RM13.3million previously, which the REIT blamed on lower occupancy rates in Menara ING and Menara HLA, and hikes on assessments and electricity tarff.
Tasek Corp Bhd declares special dividend of 50 sen, in conjuction with the company's 50th anniversary. The cement maker saw its net profit fall 7.1% to RM21.47 million in the third quarter ended Sept 30, 2014, down from RM23.12 million a year ago, mainly due to thinner profit margins from the cement segment arising from intense price competition.
It said the lower sales volume from the concrete segment, lower share of profit from the group's associated company, as well as drop on interest income, had also affected its net profit.
The group's quarterly revenue grew 3.3% to RM148.68 million, up from RM143.93 million a year ago, amidst stronger demand for cement in the domestic market.
Century Logistics Holdings Bhd's wholly owned subsidiary, Century Total Logistics Sdn Bhd, has entered into sale and purchase agreements yesterday, to acquire two adjoining parcels of vacant industrial land, totalling 358,108 square feet in Klang, for a combined RM38.68 million.
In a filing with Bursa Malaysia, Century Logistics said the proposed acquisitions — which will be funded by internal funds and bank borrowings — are to facilitate the expansion of its distribution centres in the Klang Valley.
The group also said it is formulating plans to construct warehouses and office buildings, with construction cost estimated at RM40-50 million. Construction is targeted to commence in the first half of next year, upon completion of the proposed acquisitions, and slated to be completed in the second half of 2016.
Century Logistics closed down 0.5 sen or 0.68% at 73 sen today, giving it a market capitalization of RM267.32 million.
Fajarbaru Builder Group Bhd (FBG) announced that it has been awarded a contract worth RM45.1 million by the East Coast Economic Region Development Council, for package 2 of the construction of the KPC Port Link Road in Kuantan Port City, Pahang Darul Makmur.
In a filing to Bursa Malaysia, FBG said the construction duration spans 66 weeks from Nov 15 this year, and is for the main access road, primary infrastructure and utilities for the Malaysia-China Kuantan Industrial Park (MCKIP) development.
"The contract is expected to contribute positively to the earnings and net assets of the FBG Group, for the financial years ending June 30, 2015 (FY15) and June 30, 2016," it said.
FBG closed 0.5 sen or 1.08% down at 46 sen today, giving it a market capitalization of RM151.29 million.  
Petronas Gas Bhd's (PetGas) net profit for the third quarter ended Sept 30, 2014 (3Q14) rose 10% to RM418.63 million, from RM379.81 million in the previous corresponding quarter.  
Revenue came in at RM1.12 billion, up 9.8% from RM1.02 billion a year ago, primarily due to higher utilities revenue, as a result of higher off-take by customer and the upward revision of electricity tariff effective Jan 1, 2014.
The group also announced a second interim single tier dividend of 20 sen per share, in respect of the financial year ending Dec 31, 2014.   
Year-to-date profit however, dropped 24.5% to RM1.27 billion, compared to its previous corresponding period, due to the recognition of deferred tax assets (DTA) arising from the investment tax allowance that it was granted for the LNG re-gasification segment. Excluding the impact of the DTA, profit for the period increased by RM220.9 million or 21%.
PetGas closed down 14 sen or 0.64% at RM21.80 today, giving it a market capitalization of RM43 billion.
Petronas Dagangan Bhd (PetDag) recorded a 29% year-on-year drop in its net profit to RM160.40 million in the third quarter ended Sept 30, 2014(3QFY14), from RM226.21 million.
Revenue for the period under review slipped a marginal 2.2% year-on-year to RM8.23 billion, from RM8.41 billion, mainly due to a decrease in sales volume by 4%, despite an increase in average selling price by 2%.
The group said that its operating profit for 3QFY14 was at RM230.7 million, down 26.8% on year from RM315.3 million, mainly as a result of lower gross margin by RM100.9 million, which is primarily a result of higher product cost due to unfavourable timing differences of the prices on the Mean of Platts Singapore, which is a measure of fuel oil pricing in Singapore, compared to the previous corresponding quarter.
YFG Bhd's audited financial statements for the financial year ended June 30, 2014 (FY14) will be revised, due to the adjustment on the quantum of impairment made on a project, which is temporarily suspended.
In a filing with Bursa Malaysia today, YFG said the revised audited financial statements will be released to Bursa Malaysia on Nov 5, 2014.
YFG had initially submitted its FY14 audited financial statements to the local bourse on Oct 31, 2014.
In an earlier announcement, YFG said there was a deviation of RM10.137 million in the loss for the year, attributed to equity holders figure in the unaudited fourth quarter results ended June 30, 2014, which had been announced on Aug 29, 2014, with the audited financial statements for FY14.
Malaysian Genomics Resource Centre Bhd (MGRC) has been awarded a project relating to research and development of plant-derived compounds, worth RM19 million, from Felda Wellness Corporation Sdn Bhd.
MGRC said it had signed a project agreement on Nov 3 with Felda Wellness, for the provision of services relating to the research and development of plant derived compounds, for commercial applications in human health, cosmetics and nutrition.
It has been reported that Felda Wellness, a wholly owned subsidiary of Malaysia conglomerate Felda, is eyeing to be listed on the US Nasdaq stock exchange in the first quarter of 2015.