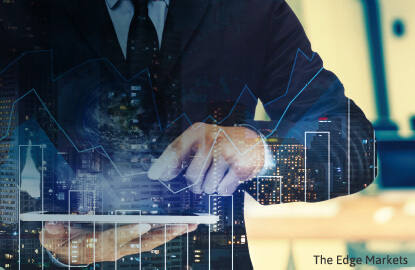 SINGAPORE (Feb 23): Asian financial technology (fintech) investment hit a new high of US$8.6 billion (S$12.2 billion) in 2016 even as total global funding fell 47.2% to US$24.7 billion, according to KPMG International's latest quarterly report, The Pulse of Fintech.
In a Thursday release, the professional service company emphasises that the 2016 global figure was still significant compared to the pre-2015 investment levels, as its decline was in comparison to a record-setting US$46.7 billion in total global funding registered in 2015.
Global merger and acquisitions (M&A) and private equity (PE) fintech deals dropped considerably in 2016, while venture capital (VC) investment reached a new high of US$13.6 billion compared to US$12.7 billion in 2015.
KPMG has also noted that blockchain investment reached "a tipping point" over the past year based on the deceleration in deal count of 132 versus 191 deals closed in 2015, which "likely signifies that some initial hype in blockchain is fading, and greater evidence of robust applications will be required for future investment".
In Asia, fintech deal funding grew slightly on-year to reach a new record high of US$8.6 billion invested compared to US$8.4 billion in 2015, which was largely attributable to three Chinese mega-rounds which accounted for over half of the year's total deals.
Although the number of deals in Singapore only fell by two to 28 last year, the overall investment in fintech companies within the city state saw a drop from US$605 million to just US$214 million in 2016 – indicating a sharp overall fall in average deal value.
"In 2016, we saw the Monetary Authority of Singapore (MAS) driving the evolution of Singapore into a prominent fintech hub. However, we've yet to see an impact on the levels of VC funding here. Looking to 2017, I believe MAS will fast-track the proposals to simplify authorisation process for VC funds to address this and attract more VCs to Singapore," says Chia Tek Yew, head of financial services advisory, KPMG in Singapore.
Brian Huges, co-leader, KPMG Enterprise Innovative Startups Network, and national co-Lead partner, KPMG Venture Capital Practice, KPMG in the US, believes 2017 is nevertheless "shaping up to be a pivotal year for fintech globally" based on corrected valuations.
As such, Huges says the market has "set up a perfect storm" for initial public offerings (IPOs) and M&A to occur during the year ahead – while an increase number of exits will likely only stimulate demand for new investments, thanks to "the dry powder already present in the market".