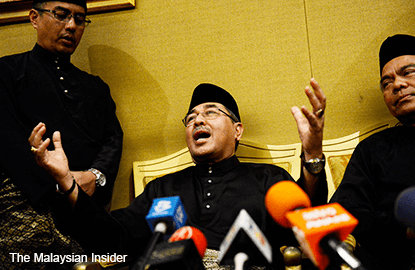 KUALA LUMPUR (Feb 4): Malaysians should give Datuk Seri Ahmad Bashah Md Hanipah 100 days to prove his abilities as the new Kedah menteri besar, Datuk Seri Dr Ahmad Zahid Hamid was quoted as saying by The Star Online.
The deputy prime minister said today Kedah might even see extra money pouring in from the federal government because Ahmad Bashah was close with Putrajaya.
"Because of his good ties with the federal government, perhaps extra allocations that were not budgeted for can be given (to Kedah).  
"Maybe, I can also ask the prime minister to help develop Kedah," Zahid was quoted by the English-language daily as saying during his Beijing visit.
Zahid added that Malaysians should not judge Ahmad Bashah based on his academic qualifications.
Ahmad Bashah admitted that he had never stepped foot in university, earning brickbats from social media users.
"His other positive attributes have to be taken into consideration as well," Zahid was quoted as saying in the report.
"Ahmad Bashah has served as a state executive councillor and a deputy minister, so he has experience at both state and federal levels.
"Don't forget that he was already in politics for more than 35 years."
The political tussle in Kedah ended when Ahmad Bashah was appointed as menteri besar, replacing Datuk Seri Mukhriz Mahathir, who quit yesterday after losing the majority support of the state assembly.
Ahmad Bashah spearheaded the Umno Kedah division chiefs' press conference on Jan 20, where they declared they had lost confidence in Mukhriz and wanted Umno president Datuk Seri Najib Razak to intervene.
Ahmad Bashah took his oath as the 12th Kedah menteri besar at Istana Anak Bukit in Alor Star this morning.