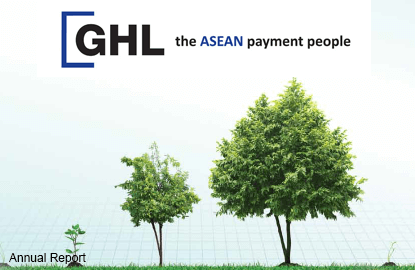 KUALA LUMPUR (March 31): Shares of GHL Systems Bhd ended the day 7% lower after its new largest shareholder, international investment firm Actis, made a mandatory general offer (MGO) for the company at RM1 apiece.
The counter dipped as much as 12 sen or 10% to touch an intraday low of RM1.07, before regaining some losses to close 7.56% lower at RM1.10, after trades of 6.08 million shares.
Prior to the MGO announcement, GHL saw a rally in its share price that began since December last year, and gained as much as 53% to touch a 22-month high of RM1.24 on March 23, compared with its closing of 81 sen on Dec 1.
Earlier today, the payments services provider announced Actis had offered to acquire all the remaining shares it does not own in the payments services provider at RM1 per share.
The offer represents a 16% discount to the counter's closing of RM1.19 yesterday, and a 15.3% discount to the five-day volume weighted average market price up to March 30.
The MGO was triggered after Actis' acquisition of a 28.3% stake from Cycas — a unit of private equity firm Creador — marking the fund's exit from GHL, and another 16.1% stake from GHL executive vice chairman Simon Loh, leaving Loh with a 19.1% stake in the company.
In the event Actis ends up with 75% or more of GHL's shares, Actis does not intend to maintain the listing status of GHL.
In a statement, Loh said the entry of Actis as a shareholder was in line with GHL's push towards becoming a leading payment service provider in ASEAN, based on Actis' impressive track record in the payments sector.
"Together, we are fully aligned in our ambition to become the leading end-to-end payment service provider in ASEAN by deploying world-class payment infrastructure, technology and to further expand our growing footprint into new ASEAN markets," he said.
Actis has a growing portfolio of investments across Asia, Africa and Latin America and has raised over US$12 billion since inception.