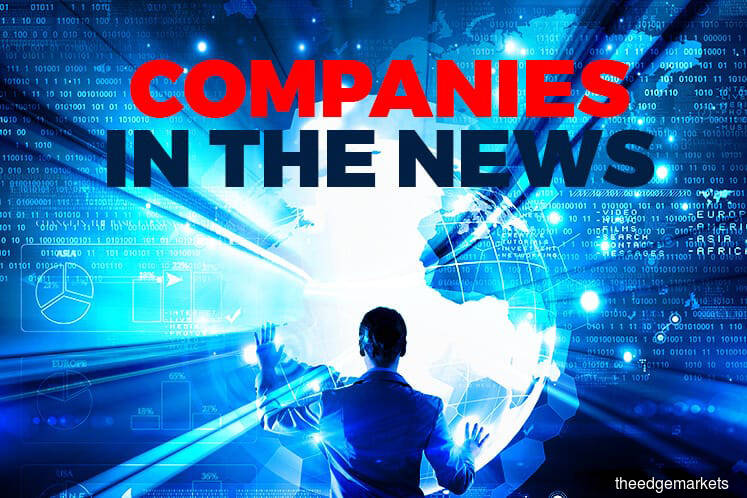 KUALA LUMPUR (Aug 13): Based on corporate announcements and newsflow today, stocks in focus on Wednesday (Aug 14) might be as follows: George Kent (M) Bhd, Malaysian Resources Corp Bhd (MRCB), Axis REIT, Complete Logistics Services Bhd, Dagang NeXchange Bhd (DNex), GHL Systems Bhd, Malaysia Airports Holdings Bhd (MAHB), Sime Darby Bhd, Vertice Bhd and Uni Wall APS Holdings Bhd.
George Kent (M) Bhd  has served a notice of arbitration on Malaysian Resources Corp Bhd (MRCB) over a dispute on financing requirements for their joint venture (JV) company MRCB George Kent Sdn Bhd, which is undertaking the construction of the Light Rail Transit Line 3 (LRT 3). The two had signed a shareholders agreement (SHA), setting up their joint venture on a 50:50 basis to tender for the LRT3 from Bandar Utama, Petaling Jaya to Johan Setia, Klang.
Axis REIT is to acquire two industrial properties for RM55.8 million in Taman Teknologi Nusajaya. The REIT said the acquisitions will be funded using existing bank financing, and that the proposed acquisitions would strengthen its portfolio of industrial properties, which is expected to benefit the REIT in the long term, due to economies of scale.
One property is worth RM42 million and has a land area of 1.4674 hectares (ha), with a lettable area of 104,694 sq ft. It is currently leased to GKN Aerospace, with the lease expiring on July 15, 2024, with extension options for another two terms of three years each.
The second property is worth RM13.8 million, with a land area of 0.6585 ha and lettable area of 42,067 sq ft. It is currently leased to Sternmaid Asia Pacific Sdn Bhd, with the lease expiring on Aug 14, 2022, with an option to renew for another five years.
Complete Logistics Services Bhd is to sell 80% of its shareholdings in Dolphin Shipping Agency Sdn Bhd (DSA), Guper Integrated Logistics Sdn Bhd (GIL) and Gems Logistics Sdn Bhd (GEMS) to SH Cogent Logistics Pte Ltd for RM85.6 million. This will result in a gain of RM57.27 million. The disposal is also inclusive of two pieces of leasehold land in Johor and Selangor, measuring 14,961 sqm and 10,667 sqm respectively, with a warehouse attached on both pieces of land. Of the proceeds, RM20.32 million be used for a dividend for shareholders, with the rest used for future investment, working capital and to pay off costs of the disposal.
Dagang NeXchange Bhd (DNeX) has inked a memorandum of understanding (MoU) with Johor government-owned Perbadanan Islam Johor Sdn Bhd (PIJ), to work on the Johor halal certification blockchain system (JHCBS) for the application and verification of halal and marriage certificates, as well as the development and implementation of a digital halal hub and an e-commerce halal platform.
GHL Systems Bhd has obtained an operating license to lend money in Malaysia and Thailand. The license permits money lending services to both individuals and businesses.
Malaysia Airports Holdings Bhd (MAHB) registered a 5.3% increase in passenger traffic in July 2019 to 12.53 million passengers, from 11.90 million passengers in the same month last year.  Both its international and domestic sectors grew 5.3% y-o-y to 6.04 million passengers and 6.49 million passengers, respectively. The group attributed the higher passenger numbers to domestic passenger growth in Malaysia and high international passenger growth for its Istanbul Sabiha Gokcen International Airport (SGIA).
Sime Darby Bhd is acquiring New Zealand's Gough Group Ltd for NZ$211 million (RM572 million). The Gough Group has the Caterpillar dealership with service territory in New Zealand and interests in transport and materials handling business in Australia and New Zealand. The group said its acquisition will enhance its relationship with Caterpillar, and gain exposure to the construction and forestry sectors in New Zealand.
Vertice Bhd has bagged two contracts worth RM22 million for works on the Mass Rapid Transport Sungai Buloh-Serdang- Putrajaya (SSP) Line (MRT 2). The two contracts were awarded by Tri-Arch Sdn Bhd and TA Decke Sdn Bhd. The contract from Tri-Arch is worth RM12 million and is for the supply and installation of a roofing system. The contract from TA Decke is worth RM10 million and is for the supply and installation of aluminium box fin and cladding works. The contracts are to start on Aug 16 and are to be completed within 12 months.
Uni Wall APS Holdings Bhd has bagged a contract from Global Façade Sdn Bhd for sub-contract works worth RM83.5 million. The contract involves the design, supply, fabrication and installation of aluminium and glazing works for office towers in Damansara Heights, Kuala Lumpur. The contract is to last from May 16, 2019, to Nov 24, 2020.