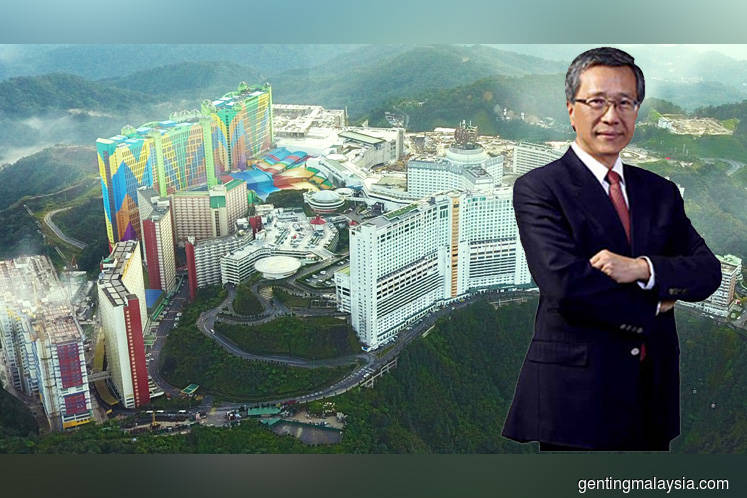 KUALA LUMPUR (June 19): Genting Malaysia Bhd chairman and chief executive, Tan Sri Lim Kok Thay, has reportedly announced he would take a 20% pay cut to offset the effect of heavy gaming taxes which have weighed on the group's financial performance.
Last year the group posted a weaker set of results that it attributed to higher gaming taxes and Lim's intended pay cut is expected to help reduce costs.
According to Sin Chew Daily, Lim made the announcement at the group's annual general meeting (AGM) today, prompting cheers and applause from minority shareholders.
Even so, the daily also pointed out certain minority shareholders had opined that Lim should be taking a 50% pay cut.
In the last Budget, Putrajaya raised casino duties to 35% from 25%, while increasing gross gaming income and gaming machine duties to 30% from 20%.
On top of that, annual casino licence renewal fees were bumped up by RM30 million to RM150 million, and machine dealer's licence fees to RM50,000 a year from RM10,000 a year.
The Edge Weekly in its June 10 – 16, 2019 issue reported that Lim was the best paid CEO of all Bursa-listed companies in 2018, taking home RM183.07 million based on Genting Bhd's annual report disclosures.
It is not clear if Lim's intended 20% pay cut refers to his remuneration at Genting group, or more specifically to its subsidiary Genting Malaysia.
At the Genting group level, the 20% reduction would amount to RM36.61 million, leaving him with RM146.46 million.
According to Genting Malaysia's 2018 annual report, Lim's remuneration amounted to RM93.52 million. After 20% cut of some RM18.7 million, he would be left with RM74.81 million.
Had the pay cut been effected in 2018, a reduction at either Genting or Genting Malaysia would still result in Lim being the top paid CEO amongst Bursa-listed companies as the second highest paid CEO was Sapura Energy Bhd's Tan Sri Shahril Shamsuddin, who was remunerated RM71.92 million in 2018.