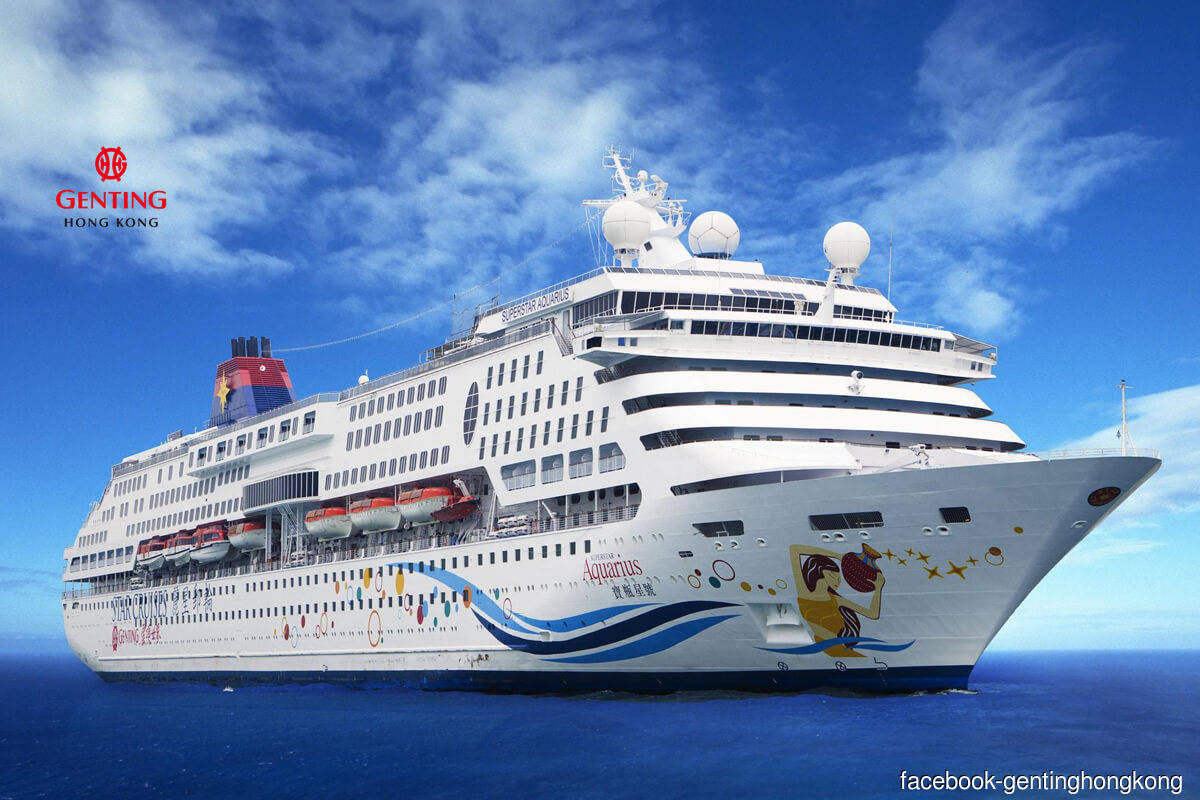 KUALA LUMPUR (April 1): Cruise ship operator Genting Hong Kong Ltd reported a bigger net loss of US$973 million (about RM4.035 billion) for the second half of the financial year ended Dec 31, 2020 (2HFY20), versus US$102.1 million a year earlier, mainly due to continued suspension of its cruise operations caused by Covid-19, non-cash impairment losses and other adjustments.
Revenue fell to US$140.6 million, from US$831.8 million for 2HFY19, due to the suspension of cruise operations except for two ships operating in Taiwan and Singapore since July 2020 and November 2020 respectively, the group said in a filing with the Stock Exchange of Hong Kong.
For the full year, Genting HK reported a net loss of US$1.72 billion, compared with US$158.59 million for FY19. Total revenue was reduced to US$366.8 million, from US$1.56 billion for FY19, as a result of the suspension of cruise operations since February 2020.
The group's total borrowings amounted to US$3,384.1 million, while its capital commitment amounted to US$1.16 billion, and its cash and cash equivalents (excluding bank overdrafts) amounted to US$242.8 million.
Genting HK, part of Malaysia's Genting Group, said its shipyard operations recommenced in October 2020 with limited utilisation to continue the construction of its cruise ships, namely Global Dream and Crystal Endeavor, upon the release of a short-term bridging loan of €193 million (about RM938.56 million) from Germany's Economic Stabilisation Fund.
However, construction of certain cruise ships in the pipeline were suspended, it added.
The group pointed out that significant events affecting travel, including Covid-19 and the suspension of operations, would typically have an impact on the booking pattern for cruise vacations.
"In view of the above Covid-19 impact on its cruise and shipyard operations, the group obtained debt holiday on borrowings in 2020 amounting to US$151.4 million that were originally due and payable during the year ended Dec 31, 2020. Without further extension of the debt holiday, these borrowings are to be paid from April 2021," said Genting HK.
The group said that with the resumption of cruise operations of Explorer Dream in Taiwan from July 2020 and subsequently World Dream in Singapore from November 2020, its overall business performance is expected to improve.
"Pending announcements in the month of April 2021, the company expects that more than 80% of its fleet capacity over the three brands will be operational by August this year," it added.
Genting HK also said that there will be a delay in publication of the group's FY20 annual results and the dispatch of the group's annual report because it needs more time to complete the audit procedures due to travel restrictions imposed over the pandemic, and that it is in final negotiations with relevant financial creditors and stakeholders.
It expects the results to be published  by June 30.