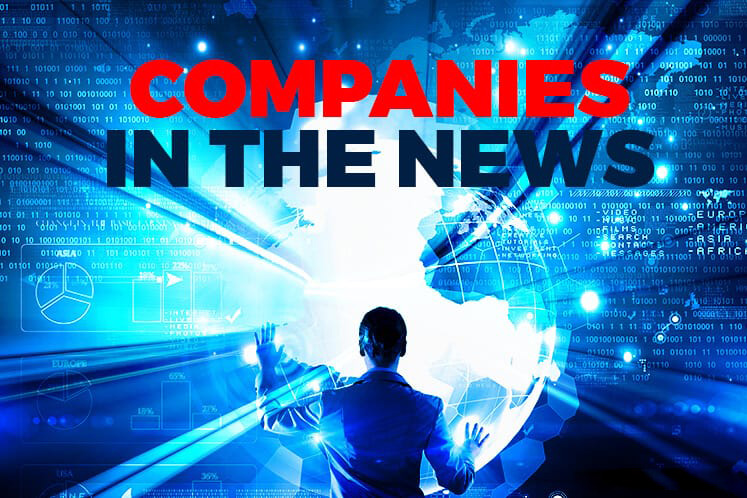 KUALA LUMPUR (April 3): Based on corporate announcements and news flow today, companies that may be in focus tomorrow (April 4) may include the following: Genting Bhd, Genting Malaysia Bhd, Can-One Bhd, Kian Joo Can Factory Bhd, Sino Hua-An International Bhd, MMC Corp Bhd, AWC Bhd, KIP Real Estate Investment Trust and Willowglen MSC Bhd.
Genting Bhd's indirect wholly-owned subsidiaries Resorts World Las Vegas LLC and RWLV Capital Inc had on Tuesday (April 2) priced their US$1 billion (about RM4.0815 billion) 4.625% senior notes to finance the construction of the Resorts World Las Vegas casino and integrated resort.
The 10-year notes due in 2029 are expected to be listed on the Official List of the Singapore Exchange Securities Trading Ltd.
The net proceeds will be used to fund the remaining costs associated with the design, development, construction, equipping, financing and opening of the Resorts World Las Vegas casino and integrated resort, including all furniture, fixtures and equipment therein or attached thereto, and related amenities, all to be located in Clark County, Nevada, pay transaction fees and expenses associated with the offering and the senior secured credit facilities, and for working capital and other general corporate purposes.
The acquisition of the Equanimity superyacht will provide Genting Malaysia Bhd (GenM) with a unique and competitive edge and will allow the casino operator to differentiate itself from its competitors.
GenM is acquiring the Equanimity, together with bunkers, fuel, lubricants and other existing consumables on board, for a total of US$126 million (about RM514.6 million).
The acquisition will be undertaken by its wholly-owned subsidiary and the completion of the sale is expected to take place by end of April 2019.
The Admiralty Court in Kuala Lumpur had today approved the offer by GenM on the Sheriff's Terms and Conditions.
Can-One Bhd's subsidiary Can One International Sdn Bhd has extended the deadline for its mandatory general offer for Kian Joo Can Factory Bhd to April 30 from April 8.
This is the second extension for the MGO. However, Can-One did not reveal the rationale for the extension of the deadline.
As of today, Can One controls an 82.9% stake, or 368.64 million shares, in KJCF. The Employees' Provident Fund, which owned a 10.13% stake, accepted the MGO last month.
The substantial shareholder who has yet to take up the offer is likely to be See Teow Chuan who is holding an 8.97% stake.
Metallurgical coke manufacturer Sino Hua-An International Bhd is planning to diversify into the food and beverage and mobile app segments by acquiring two companies for a total of RM14 million cash.
The red-chip company had signed a share purchase agreement with Chaswood Resources Sdn Bhd (CRSB), which owns TGI Friday in Malaysia and Teh Tarik Place, to acquire the entire stake in Bistromalones (PJ) Sdn Bhd for RM8 million.
Sino Hua-An also signed a sale and purchase agreement with Wavetree PLT, Ng Chee Seng and Cindy Wong Ling Ping to purchase the business and asset building, plus intellectual property rights owned by Wavetree — an internet of things technology solutions provider — for RM6 million.
MMC Corp Bhd, via its indirect wholly-owned JP Logistics Sdn Bhd (JPL), is seeking arbitration to get, among others, a payment of RM52.08 million, together with costs and interests, from a client for on-shore services rendered that have yet to be paid for.
The client is CCJV P1 Engineering and Construction Sdn Bhd. JPL has filed a notice of arbitration to commence arbitration proceedings against CCJV today.
JPL's claim in the arbitration proceedings is premised on the payment due and owing to JPL for services rendered to CCJV in respect of the Subcontract Agreement for Project Customs Broker Service (on shore) dated May 5, 2015.
Engineering services group AWC Bhd's wholly-owned subsidiary Qudotech Sdn Bhd has bagged a RM29.87 million contract from Lendlease Projects (M) Sdn Bhd to provide hydraulic services.
The works under the trade contract is to be completed by June 21, 2021.
KIP Real Estate Investment Trust (KIP REIT) is set to save about RM1.2 million a year on its electricity bill after successfully installing a 2.73 megawatt (MW) peak solar photovoltaic (PV) system at six of its assets in December last year.
The assets are KIP Marts in Tampoi, Kota Tinggi, Masai, Senawang and Melaka, as well as KIP Mall in Bangi.
Its chief executive officer (CEO) Chan Heng Wah said the green initiative, a 25-year agreement with Pekat Solar Sdn Bhd, was on an 80:20 basis at a total cost of about RM9.26 million, funded via bank borrowings.
Willowglen MSC Bhd has been awarded a contract worth RM9.76 million by Tenaga Nasional Bhd for the supply of a Remote Terminal Unit and Field Terminal Unit for TNB's Distribution Network.
The contract, which commenced yesterday will be completed by April 1, 2022, and is expected to contribute positively to the group's earnings and net assets per share for the two financial years ending Dec 31, 2019 to 2021.