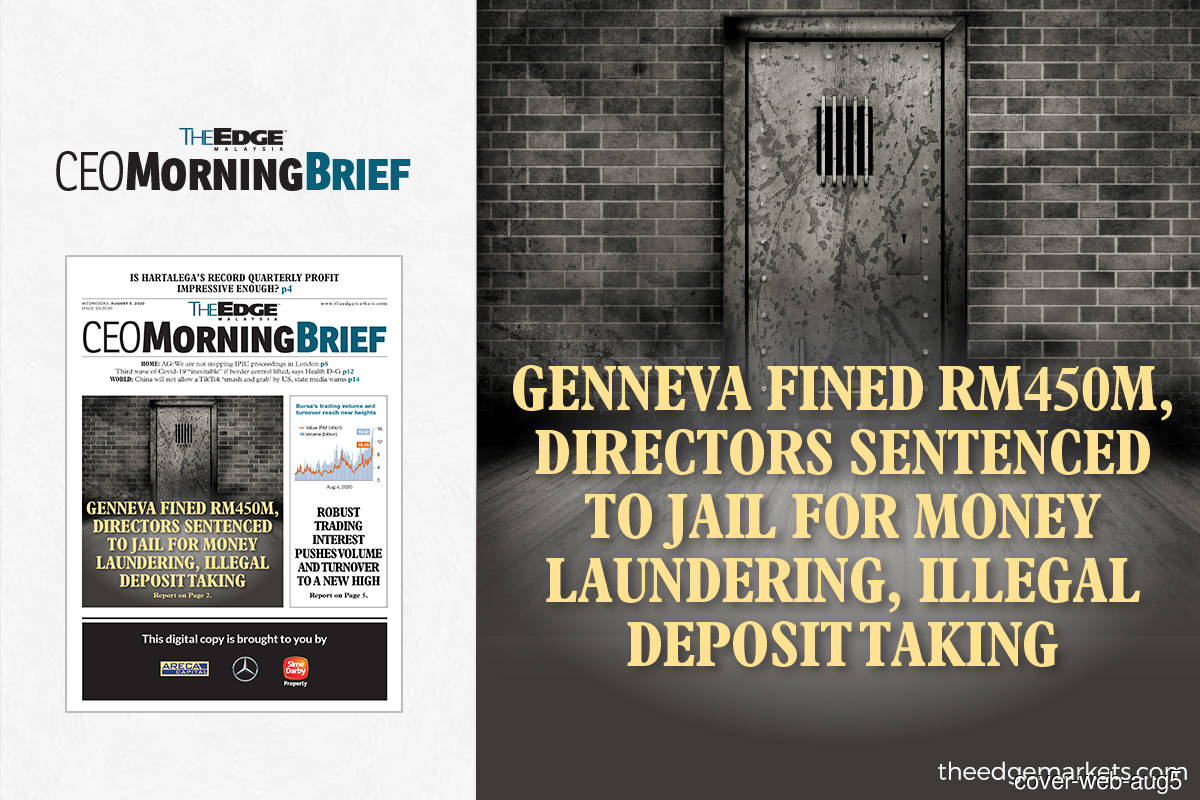 KUALA LUMPUR (Aug 4): Genneva Malaysia Sdn Bhd was fined RM450 million after it was found guilty of money laundering and illegal deposit taking by the High Court today.
Judicial Commissioner Datuk Ahmad Shahrir Mohd Salleh also imposed a RM1 million fine each on two other companies, namely Success Aptitude Sdn Bhd and Ng Advantage Sdn Bhd, after they, along with Genneva Malaysia, were found guilty of money laundering.
All in all, eight individuals, who are either former directors or advisers of Genneva Malaysia, Success Aptitude and Ng Advantage, were today sentenced to between four and nine years' jail in addition to being fined between RM1 million and RM4 million each.
The individuals are Tan Liang Keat, Lim Kah Heng, Ng Poh Weng, Philip Lim Jit Meng and Ahmad Khairuddin Ilias, who were all charged with illegal deposit taking under the Banking and Financial Institution Act 1984.
Tan, Kah Heng, Ng, Jit Meng, along with Marcus Yee Yuen Seng, Chiew Soo Ling and Yao Kee Boon, were also found guilty of separate money-laundering charges under the Anti Money Laundering, Anti Terrorism Financing and Proceeds of Unlawful Activity 2001.
The three companies and eight individuals, who were charged in 2013, were found to have illegally collected some RM7 billion in deposits and laundered RM4.5 billion.
Ahmad Shahrir ordered those who were convicted of both illegal deposit taking and money laundering to have their prison sentences run consecutively, which means some of them sentenced for six years for illegal deposit taking and three years for money laundering will have to face a total of nine years' imprisonment.
Bank Negara Malaysia (BNM) deputy public prosecutor (DPP) Alvin Ong appeared together with DPP Hardeep Kaur.
Meanwhile, all the accused, except Ng and Ng Advantage, were represented by Gooi Soon Seng and Mohd Irzan Iswat. Ng and Ng Advantage were represented by Datuk Gobinath Mohanna @ Datuk Gobinath.
Ahmad Shahrir allowed them to pay bail tomorrow pending appeal to the Court of Appeal.
It was previously reported that BNM began probing Genneva since 2009 for illegal deposit taking. They were acquitted by the Sessions Court but today were found guilty on charges of illegal deposit taking and money laundering.