This article first appeared in The Edge Malaysia Weekly, on February 5, 2018 - February 11, 2018.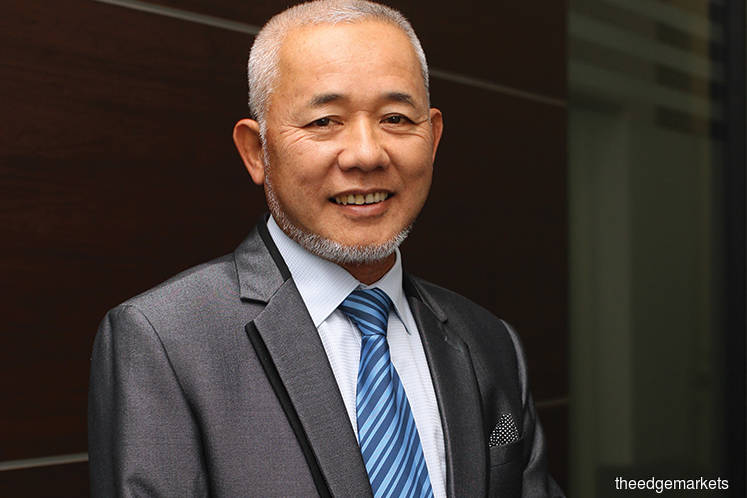 IT has been a little more than five years since Censof Holdings Bhd acquired 45% of TIME Engineering Bhd (now known as Dagang NeXchange Bhd) for RM69 million or 20 sen a share from state-controlled investment arm Khazanah Nasional Bhd.
Since then, Censof has trimmed its stake to 17%, but that holding is worth in excess of RM150 million, based on DNeX's market capitalisation of RM842.6 million.
According to DNeX executive deputy chairman Datuk Samsul Husin, who is also a non-independent non-executive director and a 35% shareholder in Censof, there is still more to come from DNeX. Here is an excerpt from the interview:
The Edge: Your recent acquisition, the 51% in Genaxis [Group Sdn Bhd] for RM10 million, what does it mean for Dagang NeXchange (DNeX)?
Datuk Samsul Husin: It means quite a lot actually. There's Genaxis and Innovation Associates Consulting [Sdn Bhd]. It's basically serampang dua mata (killing two birds with one stone) ... we acquire two consultancy companies at one go.
Genaxis and IAC (Innovation Associates Consulting) ... how are their financials?
Their financials are quite okay. They have been in the industry for so long and previously, they were more of a consultancy, but the project [is an SI (solution integrator)] ... it's based on their competency.
When will the acquisition contribute to DNeX's bottom line?
This year, it will contribute to the bottom line. Also, there is a lot of growth potential for the company, given the synergy that we have in terms of expertise and backing by a public-listed company. I think they can grow much faster and better in the future.
Any indication of the impact on your bottom line or revenue?
It will [have an] impact. I expect it to be quite significant on our bottom line.
You have a 51% stake now in Genaxis, any indication of whether you will take up more in time?
Not currently. We are comfortable with 51% [of Genaxis] and 60% of IAC. I'm comfortable with the numbers, and the most important thing is, we can bring the company (Genaxis) up to a new level in the future.
Where do you see the company in, say, three years? What are your hopes for the company?
I think for us, trade facilitation will still be our forte, and we will still be doing a lot of things in that space ... we created an ecosystem for trade facilitation by entering the ecosystem with the latest technology, leveraging the data that we have ... we are creating another ecosystem for accounting systems, for the government of Malaysia through IAC and at the same time, we will create an ecosystem for vehicle entry permits.
I like the idea of not only integrating solutions for one project or one kind of project but also spinning off the project through the acquiring of more knowledge and integration and collaboration with other systems — either ours or someone else's — and coming up with our own solutions.
Any profit guarantees from Genaxis? How much?
Yes, there is a profit guarantee. We will announce it when we complete the transaction.
So, it is quite a safe acquisition?
Yes, because from my background, I know the company well. We used to compete when I was in Censof. I know their projects well, so I know their customers. It's something that I can manage.
What is the breakdown like at present for IAC — between the government and private sectors?
More than 80% or around that is government. They were very focused on that project, so they did not look at the private sector. When we take over, we will try to balance up between the private and government.
Datuk, 45% of your profit in FY2016 was from NSW, so is this a way of diversifying your earnings base?
Yes, this is one of our strategies. Actually, NSW is just a part of the whole system of trade facilitation.
Some — like your IT platform — are supposed to start contributing in the second half of this year. Now with Genaxis, do you see this year being a good one for DNeX?
God willing, this year should be better than last year. 1Trade is a one-of-a-kind project that leverages technology. It's a web-based portal and the value is actually more on the integration of the countries where we created the platforms for cross-border transactions.
Within the country, the forwarders — our clients — have one solution for the whole operations. And it's connected to NSW, it's all web-based.
On the vehicle entry permits, Singapore is completed. What about Thailand? Is it still pending?
It's still pending. I think the government is [still] deciding, and we are waiting for the decision.
What are the challenges you are facing now?
The challenges are more about moving out of Malaysia, growing our businesses abroad, in Asean and Africa.
Basically, the concept of National Single Window has been accepted all over the world and there are a lot of opportunities for this outside Malaysia.
Considering the product belongs to us, we own the IP (intellectual property) rights. So, it's time for us to move forward and try to sell the solutions to other countries.
Datuk, whenever people talk about politically connected stocks, DNeX always surfaces …
I don't think it's true. I don't think it's accurate. In Censof, it is the same ... we build capacity, we build our technical capability, I think we win projects based on our technical capability and offerings. So, I don't think it's accurate, but, for sure, in every business, you need to have connections, otherwise pun susah juga.
Save by subscribing to us for your print and/or digital copy.
P/S: The Edge is also available on Apple's AppStore and Androids' Google Play.