This article first appeared in The Edge Financial Daily, on December 7, 2018.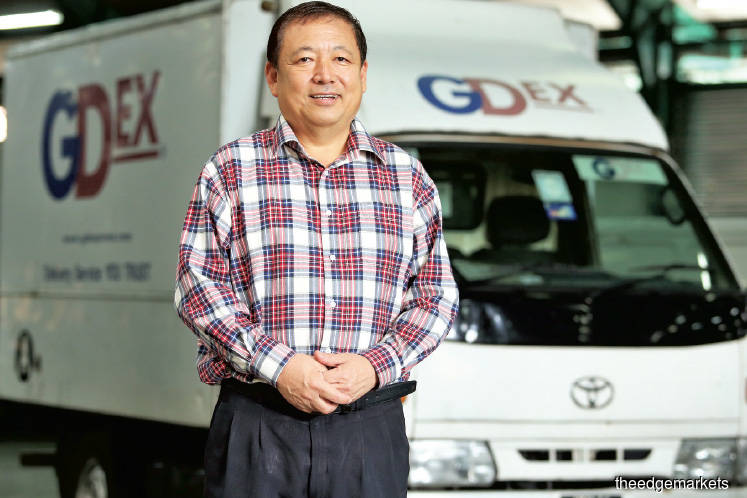 SHAH ALAM: GD Express Carrier Bhd (GDex) is allocating a record-high capital expenditure (capex) of up to RM50 million for its financial year ending June 30, 2019 (FY19), to expand its capacity in the face of rising e-commerce demand, to grow its business. The sum is more than double the RM23.67 million net profit it made in FY18.
The money will be used to, among others, modernise the group's shipment hub, expand its vehicle fleet, open new distribution networks, and invest in technological advancements, according to managing director cum chief executive officer Teong Teck Lean. In FY18, the group spent close to RM30 million on capex.
The group is also planning to convert one of its old warehouses into a new shipment hub, said Teong. He said it was necessary to ramp up handling capacity quickly as the group hit its maximum capacity of 180,000 parcels a day for the "Singles Day" shopping event on Nov 11.
Notwithstanding the aggressive capital spending planned, FY19 will be a "very challenging year", Teong said, mainly due to intense competition and rising pressure on operating costs from the increasing minimum wage. With a workforce of 4,200 people, labour costs now make up over 50% of the group's operating costs.
On top of that, the group's pioneer status tax incentive expired in September 2017. Thus the tax rate has normalised.
In its 1QFY19 ended Sept 30, the group reported an 18% year-on-year decline in net profit to RM6.47 million from RM7.89 million despite an 8.35% rise in revenue to RM74.51 million from RM68.77 million, mainly as taxation doubled to RM2.89 million from RM1.43 million. The RM5.7 million increase in operating expenses also almost entirely offset the revenue growth achieved.
Amid such challenges, GDex is looking to improve its ecosystem to improve customers' experience for further growth. "The strategy is to invest in businesses that can provide us synergy, like Web Bytes [which specialises in retail management solutions]. We will continue to look into opportunities to strengthen our ecosystem to provide better services to customers," Teong said. GDex bought a 30% stake in Penang-based Web Bytes Sdn Bhd for RM5.5 million in 2016.
"Once all my plans are in place, we hope [to see] higher growth kick in from 2020," he added. GDex will also continue to increase its footprint in Southeast Asia, and is keeping its interest open in markets with huge populations like Vietnam, the Philippines and Thailand, according to Teong.
As recently as Oct 3 this year, GDex acquired a 44.5% stake in Indonesian courier company PT Satria Antaran Prima Tbk (SAP Express) — via subscription in its initial public offering. The stake was bought for 92.71 billion rupiah (RM26.52 million). Teong said SAP Express' operations have been improving significantly despite still making losses. Thus, he expects SAP Express to turn around soon.
"We are now advising them on how to have a better strategy by using technology, and guiding them on how to expand their business to ensure they can deliver positive cash flow and results," Teong said.
GDex shares closed unchanged at 30 sen yesterday, giving it a market capitalisation of RM1.6 billion. Year to date, the stock has fallen near 51%.