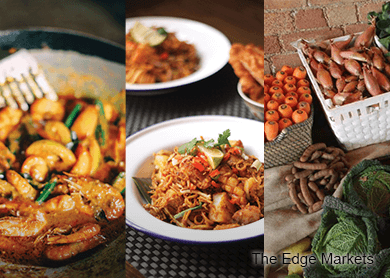 The inaugural KL Big Kitchen Festival brings Malaysian cuisine of sorts to the big city
JAPANESE sushi and Thai tom yum – these are arguably two of the most famous Asian dishes in existence, and can be found in cities thousands of miles from where they originated, prepared by chefs who aren't Japanese or Thai. As much as Malaysia is known around the world for its delicious cuisine, it's a wonder that not more people from far-flung countries are able to name a dish that embodies Malaysian cuisine the way sushi and tom yum do. 
This is exactly what the KL Big Kitchen Festival is trying to accomplish — create an identity for local food, and a major part of the event is a competition called the KL Signature Dish Competition, in which all Malaysians can participate to create an iconic dish that will be showcased in local restaurants around Klang Valley. 
Taking place this weekend (May 29 to 31),  the KL Big Kitchen Festival will bring together gastronomic delights from the 13 Malaysian states, making local and international foodies spoilt for choice with the range of over 60 food counters serving up only the best. 
"The KL Big Kitchen Festival is a great way for local and foreign foodies to get together and share their passion for food. In addition, we can promote eateries around Kuala Lumpur — from street food, cafes to casual and fine dining," says Noraza Yusof, head of tourism at the KL City Hall. 
The three-day festival curated by chef Norman Musa, the KL food ambassador, will transform Dataran Merdeka into eight quarters to include every facet of Malaysian food — Negeri, Warung, Manisan, Food Trucks, Warisan, Samplings, The Dulang and Mayor's Courtyard. Each quarter will be set up in a unique presentation serving everything from one's favourite childhood dish to science-defying "molecular gastronomy" dishes.
The festival will also showcase some interesting pop-up stalls such as the Fama market selling tropical Malaysian fruits and fruit juices, The Spices and Malaysian purees "on the go" stalls and Tuck shops selling snacks like kerepek, coconut candy and dodol. These shops will also hold demonstrations for tourists on heritage foods like kuih bangkit, kuih bakar and kuih bahulu which will be handmade by "makciks". 
Food items may be purchased using "kupang"— a specially designed token inspired by the traditional Malay coin currency that was used in the Malay Peninsula centuries ago — which will replace cash at the festival. The kupang will be available in denominations of half Kupang, one Kupang and five Kupang. They can be purchased at the ticketing booth near the main entrance to the festival venue. 
The KL Big Kitchen Festival will also see some of Malaysia's most celebrated chefs take the centre stage — from chef Wan, Datuk Ismail Ahmad and Isadora Chai to chef Malcolm Goh and Firdaus Hanan, all of whom  will be making appearances, conducting seminars as well as cooking for guests. There will also be some foreign chefs such as Will Meyrick from the United Kingdom who is a Top Chef Indonesia judge, Clair Ptak from the UK, as well as chef Cyril Rouquet from France, famed for being a Masterchef France finalist in 2011. 
Two other competitions are the KL Big Kitchen, Big Race and the KL Signature Mocktail competition. The former is a cooking competition which includes racing against time to buy ingredients at KL's oldest market, Chow Kit Market, and returning to the Big Kitchen site at Dataran Merdeka to cook a dish. The second competition being the KL Signature Mocktail Competition, open to Malaysian amateurs or professional mixologists to create KL's signature mocktail, which will be premiered alongside the KL Signature Dish.
So head on to the Dataran Merdeka this weekend for a true Malaysian culinary adventure. 
For further information on the KL Big Kitchen Festival, log onto www.klbigkitchen.com or call (03) 2698 0332.
Event highlights
The eight quarters at Dataran Merdeka are:
Negeri — This zone will feature the various signature cuisines that represent the 13 states of Malaysia. 
Warung — This zone features handpicked stalls or "warung" that offer some of the country's best street food fare such as nasi lemak, roti canai and char kway  teow. 
Manisan — This zone will have all kinds of sugary delights from traditional ice creams and candy to more localised sweet treats like cendol.
Food Trucks — Food trucks have become a growing trend in modern KL's food offerings. These mobile eateries serve up interesting combinations of dishes, from fusion dishes to traditional delicacies that are prepared from inside a food truck. 
Warisan — This zone showcases the many traditional preparation techniques and instruments preserved for generations as well as recipes handed down from elders.   
Samplings — The zone will have a list of five-star hotels in the city serving up some of their signature menus in bite-sized portions. 
The Dulang — Dulang is the Malay word for a tray used to serve nasi ambeng — a traditional communal dining and bonding experience that is popular in Johor. 
The Mayor's Courtyard — Guests are in for a special experience in the Mayor's Courtyard, which is set in an indoor air-conditioned space. Top chefs and culinary experts will prepare their signature gourmet dishes. Participating restaurants and establishments in this area will showcase nothing but the best in the world of fine dining.
Cooking demonstrations 
May 29: Chef Christian Mittermeier will be holding a cooking demonstration at 6.30pm and at 8.30pm Chef Ismail Ahmad will make an appearance. 
May 30: Meyrick will hold a cooking demonstration at 4.30pm, followed by Chef Chsitian Mittermeier at 5.30pm, Chef Cyril Rouquet-Prevost at 6.30pm and Chef Claire Ptak at 8pm. 
May 31: Goh will be holding a cooking demonstration at 10.30am followed by Chef Andrew Nutter at 1.30pm and finally at 6.30pm, Tengku Puan Pahang, Tunku Hajah Azizah Aminah Maimunah Iskandariah Al-Marhum Sultan Iskandar Al-Haj will showcase her cooking skills.  
This article first appeared in The Edge Financial Daily, on May 27, 2015.