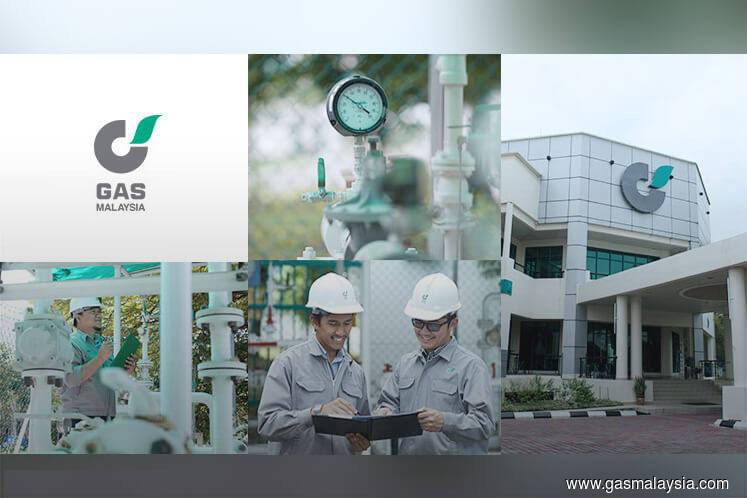 KUALA LUMPUR (May 16): Gas Malaysia Bhd, having reported an encouraging set of earnings in its first quarter, expects continued growth for the rest of its financial year ending Dec 31, 2019 (FY19).
It also plans to ramp up its capital expenditure (capex) for the next three years by at least 20%, compared with the RM500 million it spent collectively in the last three years.
Gas Malaysia chief executive officer Ahmad Hashimi Abdul Manap told reporters after the group's annual general meeting here today that the group, which is a member of MMC Corp, has similar — if not better — outlook for FY19, and that demand from the industrial sector will continue to drive its earnings growth this year. 
"Our outlook is going to be at least similar to last year, if not better… We are quite optimistic for 2019, based on our first quarter results, which is a good start for us. 
"We look forward to the building of [gas] pipeline [network] and customers to sustain the growth in our business. We have been building pipelines and know that by year-end, we are going to complete over 190 kilometres of pipelines, which means we will have more customers this year. 
"The main pipelines are actually to cater for the big volume from the industrial customers," Ahmad Hashimi said, adding that the industrial sector currently contributes to over 98% of the group's total volume sold.
Commenting on the Third Party Access (TPA) framework, which allows third parties to access gas facilities they do not own or operate, Ahmad Hashimi said an open market as a result of the framework's implementation could, in a way, help improve the group's profitability.
"Under the TPA, we will be able to weigh different options from where we want to procure the gas from, [compared with] a single source with no options currently. People should be able to sell at more competitive prices to us. This is good for the nation and the customers.
"It is also an opportunity for us to look into our current margin, because everything is almost fixed under a regulated business. But, in the open market, we believe that [with] our experience, technical competencies, and relationships with customers, we should be able to factor in certain level of margins which will result in better profitability for the company," he added.
Ahmad Hashimi said the group intends to ramp up its capex for the next three years by between 20% and 30%.
"We are seriously looking into expanding our current new businesses — CHP (combined heat power), virtual pipeline, and biogas. These are the businesses that would support us in the future. Although they are currently still at early stages, we are excited. 
"Over the last three years, we spent about RM500 million. We intend to spend as much (for the next three years), if possible we'll add another 20%-30% more.
"The 196km [pipeline expansion by year-end] is worth about RM150 million to RM200 million and has already been catered for," he said.
On Wednesday, Gas Malaysia announced its net profit came in 2.4% higher at RM41.17 million in the first quarter ended March 31, 2019 (1QFY19), from RM40.21 million a year ago, on higher other operating income, share of profit of joint ventures and lower operating expenses.
The gain was offset by a slight decline in gross profit, which resulted from higher other cost of sales recognised during the current quarter under review.
This resulted in Gas Malaysia posting a higher earnings per share of 3.2 sen for 1QFY19, compared with 3.13 sen for 1QFY18.
Quarterly revenue grew 19.5% to RM1.72 billion from RM1.44 billion in 1QFY18, primarily driven by the increase in volume of natural gas sold and revision in gas tariffs.
Shares of Gas Malaysia closed four sen or 1.38% lower today at RM2.85 apiece, for a market capitalisation of RM3.66 billion.