This article first appeared in The Edge Malaysia Weekly, on July 1, 2019 - July 07, 2019.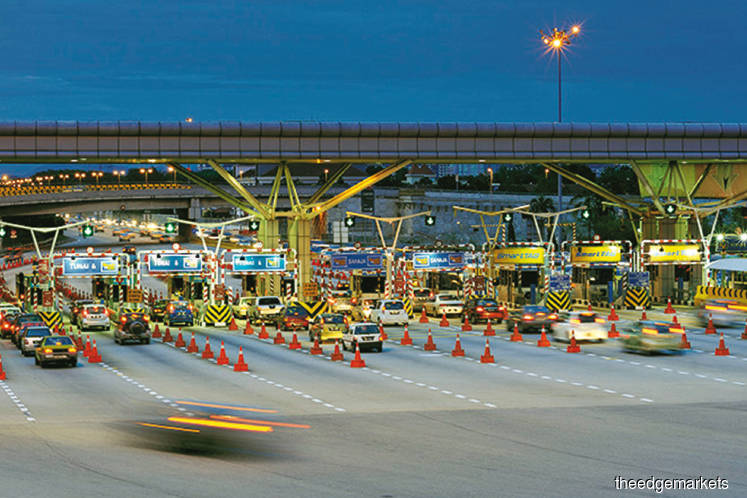 The Damansara-Puchong Highway, which is owned by Litrak — one of the four highway concessionaires that MoF Inc has offered to take over. Photo by Litrak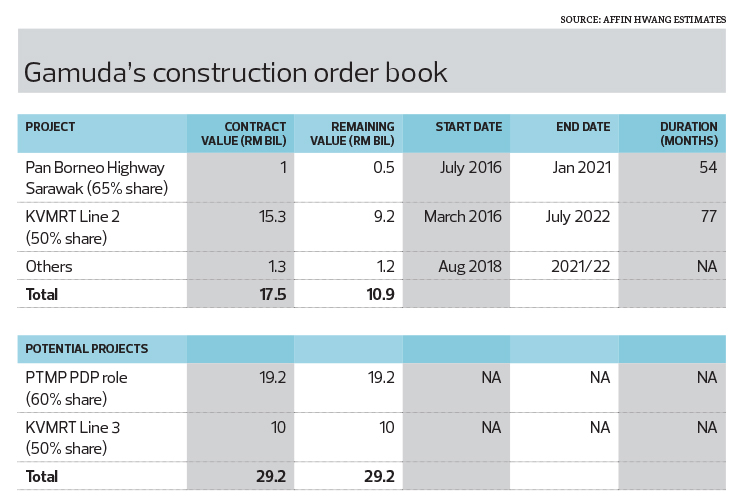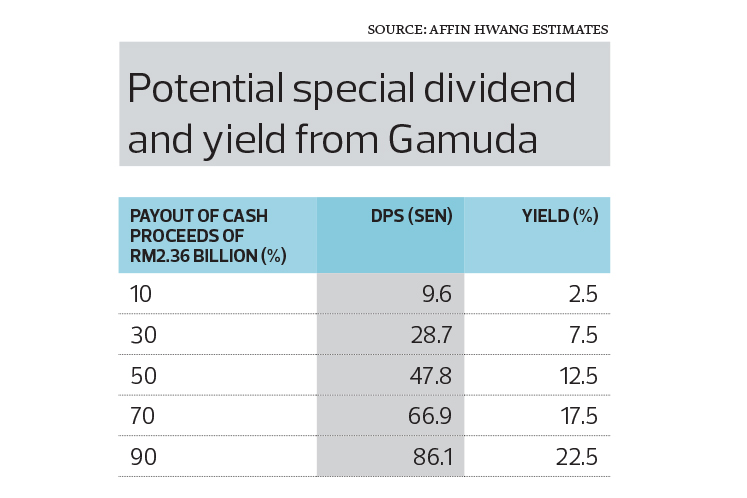 GAMUDA Bhd's substantial shareholders — those that own more than 5% of the issued shares of the construction and property development company — are concerned about the takeover offer from the Minister of Finance Inc (MoF Inc) for the four highway concessionaires that the company has stakes in.
This is because the water and expressway concessions business accounts for about a third of Gamuda's profit before tax (PBT). Without it, the company's earnings would become cyclical and lumpy as it would be left with the engineering and construction and property development businesses.
"If you look at Gamuda's balance sheet, the net book value of its expressway assets is about RM1 billion and the business contributes about RM200 million to earnings every year. That is a return of about 20%, which is a very good return," says an analyst.
"Some of the major shareholders are wondering what kind of business Gamuda would be able to quickly invest in and build up to supplement its earnings and provide it with middle to high-teen returns annually."
The analyst adds that the major shareholders are aware of the risk of not taking up MoF Inc's offer. They think that if the offer is rejected, there may be persistent regulatory pressure in the future — for example, the government might not allow the concessionaires to raise toll rates.
The Pakatan Harapan government is committed to fulfilling its election manifesto, one of which is the abolition of tolls. However, since taking over Putrajaya in May last year, the coalition has had a difficult time fulfilling many of its promises due to the financial and economic conditions of the country.
On June 21, Gamuda and its public listed associate Lingkaran Trans Kota Holdings Bhd (Litrak Holdings) announced to Bursa Malaysia that they have received letters of offer from MoF Inc to acquire their respective stakes in four highway concession companies.
MoF Inc is offering RM1.377 billion cash less any outstanding indebtedness for all the securities in Kesas Sdn Bhd; RM1.984 billion for Sistem Penyuraian Trafik KL Barat Sdn Bhd (SPRINT); RM2.47 billion for Lingkaran Trans Kota Sdn Bhd (Litrak); and RM369 million for Syarikat Mengurus Air Banjir dan Terowong Sdn Bhd (SMART).
Gamuda has a stake of 70% in Kesas Holdings Bhd, the holding company of Kesas; 52% in Sistem Penyuraian Trafik KL Barat Holdings Sdn Bhd, the holding company of SPRINT; 44% in Litrak Holdings, the holding company of Litrak; and 50% in Projek SMART Holdings Sdn Bhd, the holding company of SMART.
Based on its effective interest in these toll highways, Gamuda expects its share of anticipated equity value of the concession holders to be RM2.36 billion. On June 27, the company announced that its board of directors has resolved to accept the offers.
Gamuda will need to present the deal to its shareholders to approve the acquisition. An extraordinary general meeting is expected to be called before November. Meanwhile, MoF Inc will need to conduct due diligence and present the deal to the Cabinet for its approval.
"The shareholders' concern is valid as Gamuda had already sold its water concessions to the Selangor government. If the highway concessions are sold as well, the company would have lost all the assets that have been providing it with stable, recurring income all these years.
"There are not many businesses in Malaysia that can provide the kind of stable, high returns of the water and highway concessions. Gamuda might have to look outside of the country to find such investments," says another analyst whom The Edge spoke to.
Analysts covering the counter have reduced their projection of the company's earnings for the financial year ending July 31, 2020 (FY2020) and FY2021, reflecting the loss in toll highway earnings contribution post-disposal.
Loong Chee Wei, an analyst at Affin Hwang Capital, has cut his projected core earnings per share (EPS) for Gamuda by between 16% and 28% to 21 sen for FY2020 and FY2021.
Public Investment Bank analyst Nurzulaikha Azali has projected that Gamuda's FY2020 and FY2021 earnings could be lower by an average of 30.1% upon the completion of the disposal.
Out of the RM2.36 billion cash that Gamuda is expected to receive, at least RM1 billion could be declared as special dividends, say analysts.
They add that its shareholders would be more likely to approve the sale of the assets if a big carrot is dangled in front of them. RM1 billion worth of special dividends translates into a dividend yield of 10.77%, based on Gamuda's market capitalisation of RM9.28 billion as at last Friday.
The rest of the proceeds will either be ploughed back into its property development business or used to acquire new businesses that could give it high returns and recurring income, say the analysts.
One analyst tells The Edge that to replace the lost recurring income, Gamuda would have to invest at least RM800 million into new businesses that yield annual returns in the range of mid to high teens.
Assuming a return of 15% annually, an RM800 million investment would give Gamuda earnings of about RM120 million a year. Gamuda's non-concession businesses contributed about RM600 million to its PBT in FY2018.
"An investment of RM800 million with a return of 15% per annum would be able to contribute about 20% of profits to Gamuda's PBT. A good range for the company to have is between 20% and 40% of profits derived from a stable, recurring income business," says the analyst.
As new concessions — or at least those with high and stable annual returns — are hard to come by, investments in power plants or other utilities can be ruled out, he says, adding that Gamuda has also ruled out investing in airports.
"Solar investment does have a good potential," says the analyst.
In the meantime, Gamuda will be busy with its engineering and construction and property development businesses going forward. In the construction segment, the group is expected to be busy with the multibillion-ringgit Penang Transport Master Plan (PTMP) project.
Gamuda is part of the SRS Consortium, the project delivery partner (PDP) for the project. It has a 60% stake in the SRS Consortium, with Loh Phoy Yen Holdings Sdn Bhd and Ideal Property Development Sdn Bhd holding 20% each.
According to Nurzulaikha, the PDP work has already started and is progressing at full steam. Furthermore, there have been positive indications from the federal government in regard to the funding of the project.
She says reclamation works of Island A is likely to start in the second half of next year with other key infrastructure components of the PTMP, such as the George Town-Bayan Lepas light rail transit and Pan Island Link 1 highway, following suit three to six months later.
Another analyst whom The Edge spoke to says Gamuda stands to earn more than just the PDP fee from the PTMP project. He adds that the group has been appointed as development manager for the reclaimed land, whereby it will help the Penang government sell the land.
"While the reclaimed land will remain with the Penang government, Gamuda will help it sell the land in return for a certain fixed fee," the analyst explains. Payment will be in the form of cash rather than land transfers.
However, Gamuda will have to fork out money to kick-start the reclamation works, he says, adding that proceeds from the sale of its water concession assets to Pengurusan Air Selangor Sdn Bhd will be used for this purpose.
Gamuda's share price has been on an upward trajectory since the start of the year, rising 60% to RM3.76 per share as at last Friday. Analysts have mixed views on the stock, with nine "buy", eight "hold" and five "sell" calls and an average target price of RM3.78 per share.
The company's largest shareholder is the Employees Provident Fund with a 12.1% stake, followed by Kumpulan Wang Persaraan (Diperbadankan) (6.07%) and Skim Amanah Saham Bumiputera (5.64%).