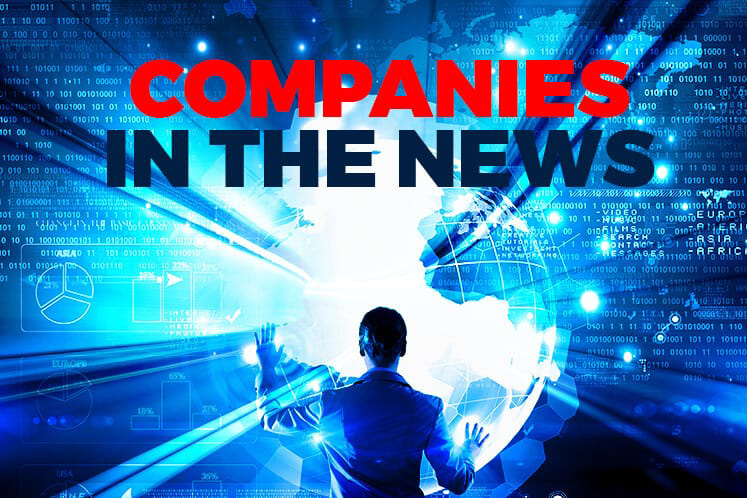 KUALA LUMPUR (Oct 31): Based on corporate announcements and news flow today, companies in focus on Friday (Nov 1) may include: Gamuda Bhd, Public Bank Bhd, Kronologi Asia Bhd, Scomi Energy Services Bhd, Pharmaniaga Bhd, Sunway Bhd, Mesiniaga Bhd, T7 Global Bhd, Sime Darby Bhd, Majuperak Holdings Bhd, Lotte Chemical Titan Holding Bhd and British American Tobacco (Malaysia) Bhd.
The details of the proposed acquisition of four Gamuda Bhd toll concessionaires, which were supposed to be finalised today between the company and the Government, has been extended for another two months, with the latest completion date set no later than March 31 next year.
In June, MoF Inc offered to pay RM4.5 billion cash and to shoulder the liabilities of the four toll concessionaires in the Klang Valley that Gamuda holds equity interest in.
The concessionaires are Kesas Sdn Bhd (KESAS), Sistem Penyuraian Trafik Kl Barat Sdn Bhd (SPRINT), Lingkaran Trans Kota Sdn Bhd (LITRAK) and Syarikat Mengurus Air Banjir & Terowong Sdn Bhd (SMART).
Public Bank Bhd's unit Cambodian Public Bank Plc (Campu Bank) has signed a Memorandum of Understanding with China Construction Bank (M) Bhd to jointly develop business opportunities across Cambodia, Malaysia and China.
Meanwhile, Public Islamic Bank Bhd (PIBB), a unit of Public Bank has issued RM500 million nominal Subordinated Sukuk Murabahah. The proceeds will qualify as Tier 2 regulatory capital for PIBB as well as Public Bank and its subsidiaries.
ACE Market-listed on-site and off-site enterprise data management (EDM) and data storage solutions firm Kronologi Asia Bhd aims to grow its customer base by at least 40% to 50% year-on-year (y-o-y).
Its chief executive officer Edmond Tay said the group, which now has a diversified customer base of 650 clients, is banking on its services segment to propel this next stage of growth.
He said this includes acquisitions of new customers through seeding programmes, which allow them to test out services offered before onboarding, as well as retaining customers with its new and innovative services solutions.
Scomi Energy Services Bhd's external auditor Messrs KPMG PLT has expressed material uncertainty over the group's ability to continue as a going concern based on its financial statements for the financial year ended June 30, 2019 (FY19). It also triggered the Practice Note 17 (PN17) criteria as its shareholders' equity on a consolidated basis has fallen below 50% of its issued share capital as at June 30, 2019.
Pharmaniaga Bhd's share price dived to its six months low after the Health Ministry announced that the company's 10-year concession will not be renewed. The stock plunged 32 sen or 12.8% to RM2.18 — the lowest in six months since mid-April this year. At the closing bell, the counter pared some of its losses to settle at RM2.21, lower by 29 sen or 11.6% from previous closing price.
Health Minister Datuk Seri Dr Dzulkefly Ahmad was quoted by the media as saying that there would be no more concessionaires for logistics and distribution services for medical supplies and an open tender system would be introduced instead.
Sunway Bhd is buying three purpose-built student accommodations in the UK, collectively worth some RM202.8 million, via its recently established private trust, the Sunway Residence (Guernsey) Ltd (SRG).
Mesiniaga Bhd has been awarded an RM261.56 million contract to build new infrastructure for the Accountant General's Department of Malaysia (AGD) under the Ministry of Finance (MoF).
T7 Global Bhd announced it secured three new jobs worth an approximate RM50 million from Petronas Carigali Sdn Bhd, Petrofac (Malaysia-PM304) Ltd and SapuraOMV Upstream (PM) Inc and SapuraOMV Upstream (Sarawak) Inc.
Datuk Abdul Rahman Bin Ahmad, former president-cum-group chief executive officer of Permodalan Nasional Bhd, has been appointed non-independent and non-executive chairman of Sime Darby Bhd.
Majuperak Holdings Bhd has appointed Nizran Noordin — a former private secretary to the Perak Chief Minister — as the group chief executive officer. In the course of two and a half years, the Perak State Development Corp (PKNP) subsidiary has had four different CEOs.
He replaces Mohd Ariff Yeop Ishak, 55, who had tendered his resignation as managing director-cum-group CEO, but who has now been redesignated executive chairman.
Lotte Chemical Titan Holding Bhd's (LCT) net profit fell 58% to RM91.3 million in the third quarter ended Sept 30, 2019 (3QFY19) from RM216.89 million in the same period a year ago, as the group continued to face margin squeeze due to sliding average product selling prices of polymer products.
The lower selling prices are mainly due to the diversion of cheaper polyolefin supply from the US into Southeast Asia that pressured regional product prices — no thanks to the US-China trade war — as well as a softening of global economic growth, it said.
The group's quarterly revenue decreased 10% year-on-year to RM2.17 billion from RM2.42 billion. Earnings per share declined to 4.02 sen from 9.54 sen.
British American Tobacco (Malaysia) Bhd (BAT Malaysia), which said it is extremely concerned about the lack of progress on the reduction of illegal cigarette trade, saw its third-quarter earnings drop 42% year-on-year on lower volume.
Net profit for the quarter ended Sept 30, 2019 (3QFY19) fell to RM84.8 million from RM146.27 million a year ago. This resulted in lower earnings per share of 29.1 sen for 3QFY19 compared with 51.1 sen for 3QFY18. Quarterly revenue was 20.6% lower at RM584.34 million compared with RM735.53 million in 3QFY18.