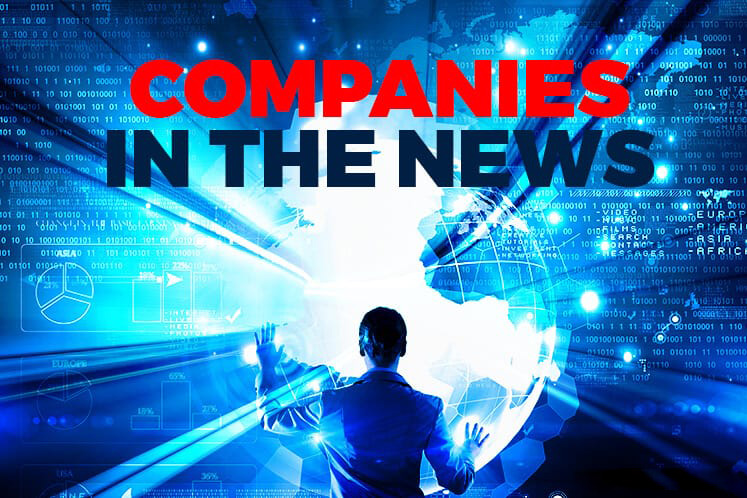 KUALA LUMPUR (March 28): Based on corporate announcements and news flow today, companies that may be in focus tomorrow (March 29) may include the following: Gamuda Bhd, Eco World Development Group Bhd, Eco World International Bhd, Boustead Heavy Industries Corp Bhd, Mah Sing Group Bhd, Berjaya Corp Bhd, Kenanga Investment Bank Bhd, CIMB Bank Bhd, Berjaya Assets Bhd and Malaysian Resources Corp Bhd.
Gamuda Bhd has bagged a contract worth NT$3.95 billion (RM521.75 million) from Taiwan's state-owned energy company, CPC Corp, to construct a 1.23km marine bridge and related works in Taiwan.
The contract, which will commence from April this year and is expected to be completed by November 2022, was awarded to both the group and a Taiwanese construction company, Dong-Pi Construction Co Ltd, and the job will be undertaken via an unincorporated joint venture company in which Gamuda will hold a 70% stake and Dong-Pi will have 30%.
Eco World Development Group Bhd's net profit for the first quarter ended Jan 31, 2019 (1QFY19) came in three times higher at RM30.32 million or 1.03 sen per share, against the RM9.77 million or 0.33 sen per share a year ago, thanks to higher share of profit from its joint ventures.
Quarterly revenue came in at RM491.23 million, 5.4% lower than RM519.22 million in the previous corresponding quarter.
Notably, its share of profit from JVs, both locally and abroad, came in at RM24.02 million, versus a share of loss of about RM3 million in the year-ago quarter.
Eco World International Bhd achieved a net profit of RM22.76 million or 0.95 sen per share for the first quarter ended Jan 31, 2019 (1QFY19), versus a net loss of RM10.17 million or 0.42 sen per share last year, thanks to the share of profits from its joint ventures.
Its revenue was nil for 1QFY19, because the developer's revenue and earnings were mainly derived from its joint venture projects in the UK following completion and commencement of handover of units sold to customers, according to its filing with Bursa Malaysia.
Boustead Heavy Industries Corp Bhd's (BHIC) indirect unit has bagged an RM150 million contract from the Defence Ministry for the provision of in-service support for prime minister-class submarines for the Royal Malaysian Navy.
The contract awarded to Boustead DCNS Naval Corp Sdn Bhd (BDNC) is for a 13-month period from Dec 1, 2018.
BDNC is 40%-owned by French shipbuilder Naval Group and 60% by BHIC Defence Technologies Sdn Bhd, which in turn is a wholly-owned subsidiary of BHIC.
Mah Sing Group Bhd's wholly-owned unit Mah Sing Properties Sdn Bhd has sealed a deal to buy a parcel of 4.63 acres of freehold land in Kuala Lumpur for RM90.3million, and the land cost is inclusive of development charge.
It is planning for a residential project with an estimated gross development value (GDV) of RM500 million, which the project is targeted to commence in the second half of 2019 and developed over a span of up to five years.
The latest land purchase will increase Mah Sing's prime landbank to 2,109 acres, with total remaining GDV and unbilled sales of RM26.2 billion.
Berjaya Corp Bhd (BCorp) has narrowed its net loss to RM62.9 million in the third quarter ended Jan 31, 2019 (3QFY19), versus RM92.5 million a year ago, on improved contribution from its marketing of consumer products and services segment.
Revenue, however, slid 7.39% to RM2.01 billion from RM2.17 billion previously.
For the cumulative nine months ended Jan 31, 2019 (9MFY19), its net loss shrank to RM98.88 million or 1.66 sen per share, compared with RM281.88 million or 4.87 sen per share a year ago, despite revenue slipping 6.29% to RM6.14 billion from RM6.56 billion.
Kenanga Investment Bank Bhd's asset management subsidiary, Kenanga Investors Bhd (KIB), has proposed to acquire ECM Libra Financial Group Bhd's wholly-owned fund management arm, Libra Invest Bhd, for a provisional purchase consideration of RM50.1 million.
The final price tag will be based on the net asset value of Libra Invest on the last day of the month preceding completion date and a premium of RM35 million.
CIMB Bank Bhd has been committed to disburse at least RM15 billion in the next two years to help finance 100,000 small and medium enterprises (SMEs) in the country.
The bank will focus on helping SMEs to have easier access to loans below RM500,000 in support of the Government's push for an entrepreneur-friendly enabling environment to boost the country's economy.
CIMB Bank disbursed RM17.8 billion in 2016 to 2018 to support the growth of 17,000 Malaysian SMEs by providing working capital, asset financing and trade finance.
Berjaya Assets Bhd (BAssets) has disposed of 27.7 million shares or a 2.45% stake in 7-Eleven Malaysia Holdings Bhd via a direct business transaction, for RM41.55 million or RM1.50 per share.
Following the disposals which were done by its subsidiaries Berjaya Bright Sdn Bhd and Berjaya Times Square Sdn Bhd on March 8 and 26, BAssets is left with 39.9 million shares or a 3.53% stake in 7-Eleven. BAssets did not provide details of the buyers of the shares.
The disposal price was at a 4.17% premium above 7-Eleven's five-day volume weighted average market price (up to March 22) of RM1.44 per share.
The cash proceeds from the share sale will be utilised for repayment of borrowings and working capital.
Malaysian Resources Corp Bhd's (MRCB) wholly-owned subsidiary MRCB Builders Sdn Bhd has been served with a winding-up petition by Southern Builders (J) Sdn Bhd.
A dispute had arisen between the two parties and it was referred to adjudication under the Construction Industry Payment & Adjudication Act 2012.
An adjudication decision was entered against MRCB Builders on Dec 13, 2017 for the sum of RM10.7 million by Southern Builders.
Having said that, MRCB Builders has fully settled the outstanding amount, subject to disputing the same in arbitration and reserving all its rights in the arbitration proceeding.