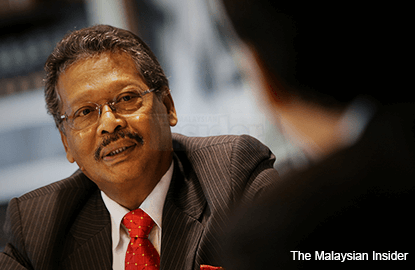 (Oct 9): The decision by the Attorney-General's Chambers (AGC) to clear 1Malaysia Development Berhad (1MDB) of false disclosures despite a request for a review by Bank Negara investigators raises more suspicions, an anti-corruption lobby group said today.
The Centre to Combat Corruption and Cronyism (C4) said Attorney-General (A-G) Tan Sri Mohamed Apandi Ali should instead convince the public on 1MDB's innocence, more so because the central bank said that charges should be filed against the state investor.
"As the country's top legal officer and prosecutor, there is a compelling need for Apandi to prove his professionalism and independence by revealing why and how 1MDB is cleared of any wrongdoing," C4 executive director Cynthia Gabriel said.
She said that any further delay in booking the "culprits" in the 1MDB scandal would only lend credence to a "massive cover up".
"This pushes Malaysia towards the brink both economically and politically. We can ill afford a prolonged crisis.
"The latest developments surrounding the 1MDB scandal over the last few months have been shocking, and we have qualms with the timing of the A-G's announcement."
AGC announced yesterday that 1MDB was in the clear for making incomplete or inaccurate disclosures in getting permissions to invest abroad.
The public prosecutor said that although it had considered a request by Bank Negara investigators to review the decision, it did not because there was no new evidence.
The AGC's statement came two days after a decree by the Conference of Rulers urging that all wrongdoing in 1MDB be resolved quickly and that culprits be dealt with.
But Bank Negara today said it had revoked three permissions to invest abroad that were granted to 1MDB, because the company had made inaccurate disclosures.
The central bank said it had also ordered the Finance Ministry-owned firm to repatriate the investments, which totalled US$1.83 billion (RM7.53 billion).
"(The A-G's statement) comes a day after the Conference of Rulers urged that the culprits involved in the 1MDB scandal be punished accordingly, and amid arrests and detention 1MDB's fiercest critics – former Batu Kawan Umno deputy chief Datuk Seri Khairuddin Abu Hassan and his lawyer Matthias Chang under Sosma (Security Offences [Special Measures] Act) – an act specifically designed to target terrorists," Cynthia said.
She added that the A-G could not "simply put a lid" on 1MDB investigations without revealing details on how he had arrived at such a decision. – The Malaysian Insider