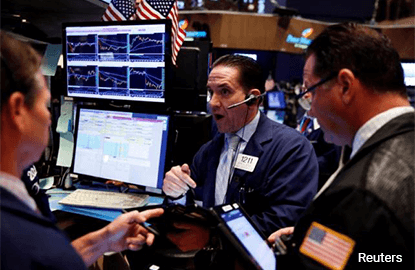 (March 6): US stock index futures slipped on Monday as President Donald Trump's accusation that his predecessor, Barack Obama, wiretapped him cast a shadow on the market.
Some investors believe that the latest development could distract Trump from his economic agenda of introducing tax cuts and simplifying regulations.
The S&P 500 and the Nasdaq have risen for six straight weeks, extending a post-election rally that started in November.
Investors are focusing more on politics and have become more selective in what they buy, the Bank for International Settlements said on Monday in its latest signal that markets may be breaking free from a dependence on central bank support.
The shift was evident on Friday when Wall Street barely budged after Federal Reserve Chair Janet Yellen signaled a rate hike at the central bank's meeting on March 14–15.
Rising geopolitical tensions in East Asia also weighed on risk appetite after North Korea fired four ballistic missiles.
Investors are wary of inflated market valuations. The S&P is trading at about 18 times forward earnings estimates against the long-term average of 15 times, according to Thomson Reuters data.
A flurry of economic data, culminating with Friday's nonfarm payrolls report, will demonstrate the strength of the US economy this week.
A Commerce Department report on Monday is expected to show factory goods orders increased 1% in January after a 1.3% rise in December. The data is due at 10:00am ET (1500 GMT).
Netflix rose nearly 2% to US$141.90 in premarket trading after UBS raised the stock to "buy" from "neutral".
Tyson Foods was down 3.6% at US$61.30 after a strain of bird flu was detected in a chicken breeder flock on a Tennessee farm contracted with the company.
Futures snapshot at 6:57am ET:
Dow e-minis were down 26 points, or 0.12%, with 26,176 contracts changing hands.
S&P 500 e-minis were down 5.5 points, or 0.23%, with 151,580 contracts traded.
Nasdaq 100 e-minis were down 8.5 points, or 0.16%, on volume of 25,882 contracts.