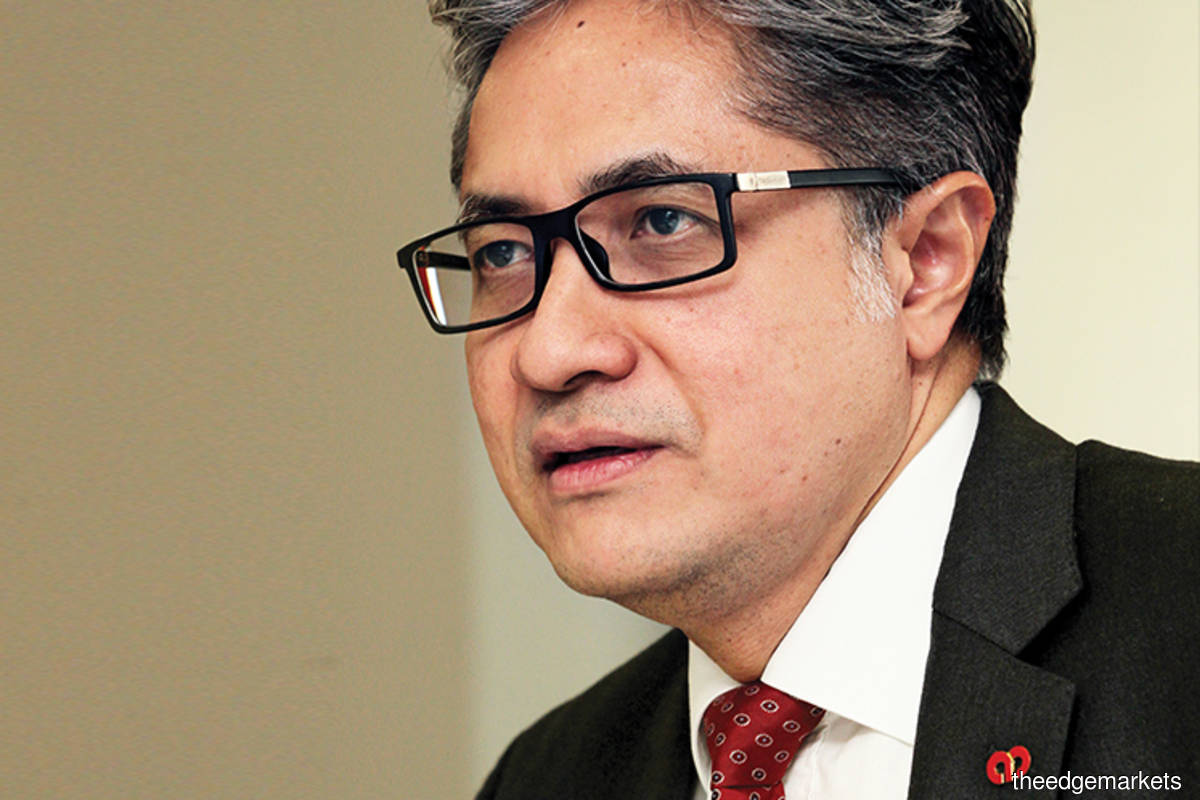 KUALA LUMPUR (Aug 27): AMMB Holdings Bhd's chief executive officer Datuk Sulaiman Mohd Tahir foresees another overnight policy rate (OPR) cut in the near term.
"We think there should be another cut, the question is how much is the cut? The range [we expect] is about 25bps or as much as 50bps in the near term," he told the media in a virtual press conference today after the banking group's virtual annual general meeting.
"When we have an OPR cut, we need to reprice our deposits. Every single cut in OPR it will hit us RM1 million on earnings. The good thing is that we have a bond book — it is fixed in price so it will help cushion the impact a bit and soften the blow of the OPR cut," he added.
Malaysia has had three OPR reduction rate cuts this year with its latest cut on July 7 of 25bps. The OPR is now at a record low of 1.75%.
AMMB's group chief financial officer Jamie Ling said 25bps is RM25 million a year impact directly into profits.
"That is the kind of sensitivity on the interest rate reduction for us. The supportive nature of the interest reduction is also to help borrowers service their loans, therefore the cash burden on them is also relieving that pressure and that helps banks in terms of avoiding any defaults... So you have to balance out both the monetary easing which is designed to make money cheaper and yes that will impact margins but there is cushioning impact on the credit cost as well," he noted.
Like all banks, AMMB saw net interest margins (NIM) compression due to the OPR cuts.
AMMB's NIM fell to 1.59% in its first quarter ended June 30, 2020 (1QFY21) from 1.95% in the preceding quarter.
In its latest 1QFY21, AMMB's first quarter net profit dropped 6.72% to RM365.17 million from RM391.46 million a year earlier on lower net interest and Islamic banking income.
In the midst of Covid-19-driven uncertainties, revenue was lower at RM2.21 billion in 1QFY21 from RM2.39 billion a year earlier.
Moving forward, Sulaiman is also expecting slower loans growth this year.
The banker now projects loan growth to be about 2% in FY21, which is in line with industry expectations but below his previous projections of 3% to 5% just two months ago.
However, the bank posted a loan growth of 6.5% y-o-y at end-June, above the industry's 4.1%.
Sulaiman said the banking group wants to continue to grow the bank's businesses organically as it continues to look into strategic and cost initiatives.
He revealed that AMMB is undertaking an evaluation process on what is core and non-core to the group but decline to give specifics until the plan is more concrete.
Aside from its banking businesses and fund management, AMMB is also in the insurance sector. It has been in talks with a couple of parties in recent years for a potential sale of this business segment.
Just today, Bloomberg reported that the owners of AmMetLife Insurance Bhd are exploring options for their Malaysian life insurance business, which could fetch as much as US$600 million in a sale. AMMB has a 50% minus one share in AmMetLife.
When asked about mergers and acquisitions (M&A), Sulaiman said today it is not so much about M&A, but collaborations and partnerships.
"Sometimes you don't need to merge or acquire to expand your business, it's about how you leverage on each other's strength. We don't have the visibility of any M&A at the moment but certainly we have good visibility on which partners and who we want to work with so that we can achieve the significance," he noted.
Moving forward, AMMB will focus on future-proofing and creating new frontiers for the bank. It launched its latest initiative — Focus 8 — to help the group achieve this.
The four-year strategy aims to achieve return on equity of at least 10% as well as build digital capacity and efficiency.
Sulaiman noted that while the bank sees some recovery in the economy, he remains cautious on its outlook, as the extent of the recovery is uncertain given that the times are unprecedented.
He added that AMMB is reaching out to its customers and working with them on their loans.
About 13% of the banking group's customer base is in the vulnerable segments.
It has about RM65 billion in loans under moratorium, with repayments by about 650,000 individuals and SMEs temporarily frozen.
Malaysia has a six-month loan repayment moratorium period from April to September on selected loans.
In 1QFY21, AMMB had a RM57.5 million net modification loss.
AMMB registered an allowance amounting to RM42.75 million for impairment on loans, advances and financing during 1QFY21 compared to a writeback of RM44.91 million in 1QFY20.
Its gross impaired loans ratio was at 1.66% as at June 30, 2020 compared to 1.73% on March 31, 2020.
Edited by Lam Jian Wyn