This article first appeared in Personal Wealth, The Edge Malaysia Weekly, on April 27, 2020 - May 03, 2020.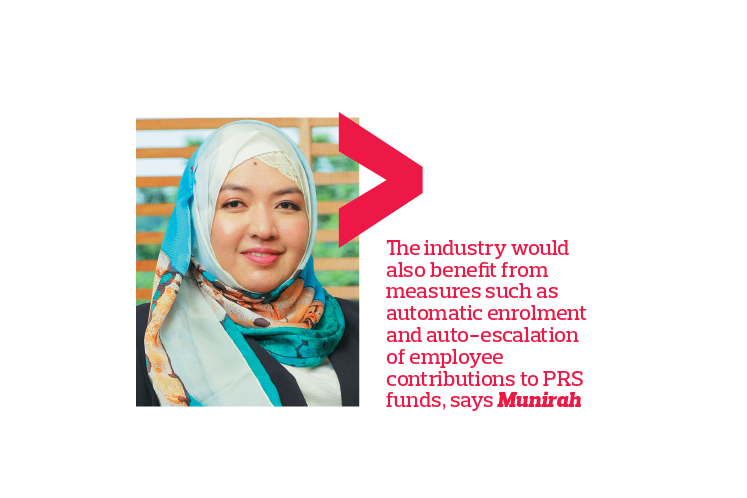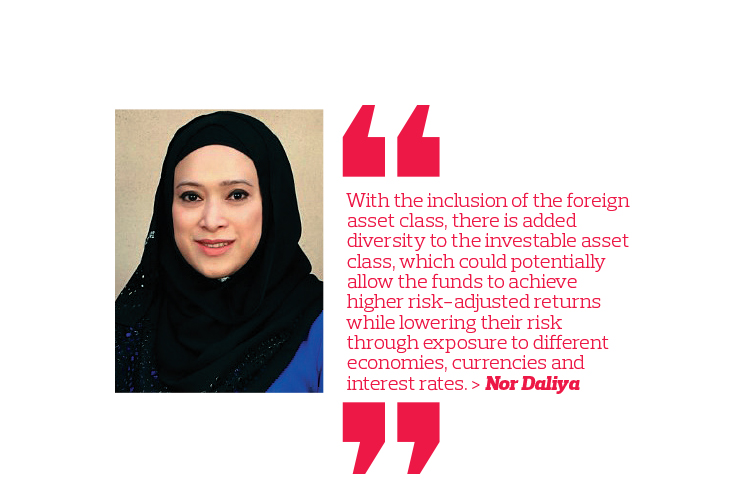 Industry players have welcomed the recent liberalisation measures for the Private Retirement Schemes (PRS) industry. These measures, announced by the Securities Commission Malaysia (SC) and the government over the past few months, will provide greater flexibility to PRS providers and investors.
The measures include allowing PRS funds to invest in exchange-traded funds (ETFs) that are backed by physical gold and PRS conservative funds to invest in foreign markets. These will enable their portfolios to have greater diversification and potentially allow investors to get better returns in the long term.
Nor Daliya Mohd Daud, general manager at AIA Pension and Asset Management Sdn Bhd (APAM), says these measures come at a time when the PRS industry has made significant progress since its inception in 2012. "Prior to this, PRS conservative funds were only allowed to invest in local equities, and there were other asset limit restrictions. PRS conservative funds were achieving annualised returns of between 3% and 4% since their inception — slightly higher than the one-year fixed deposit rate under the old guidelines.
"With the inclusion of the foreign asset class, there is added diversity to the investable asset class, which could potentially allow the funds to achieve higher risk-adjusted returns while lowering their risk through exposure to different economies, currencies and interest rates."
Chan Ai Mei, chief marketing and distribution officer at Affin Hwang Asset Management Bhd (AHAM), says the firm is optimistic about these developments as the SC had actively engaged the PRS industry over the years in an attempt to differentiate PRS funds from unit trusts.
"Usually, only sophisticated or qualified investors are allowed to participate in alternative investments. By allowing PRS funds to invest in alternative asset classes, investors will gain more diversified exposure to [possibly] obtain better long-term returns," she adds.
Ismitz Matthew De Alwis, executive director and CEO of Kenanga Investors Bhd, foresees more people investing in PRS funds following the implementation of the new measures. "Prior to this, investors who are perhaps more savvy than the average new-to-investing person may have looked upon PRS as a low-return investment vehicle. But a more flexible or aggressive asset allocation comes with expectations of higher returns. This will undoubtedly attract more PRS members to diversify their investible funds," he says. 
Along with these measures, announced by the SC on Feb 21, PRS providers are now required to gradually move their members' investments to a less risky fund according to their age and risk profile. The fund providers have to implement these changes within a year.
As a result, PRS accounts will experience a gradual shift towards less risky funds, carried out progressively and proportionately over five years, starting 10 years before one's retirement age. This is to minimise the risk of loss of returns over time while increasing the possibility of achieving one's retirement savings goal.
Under Budget 2020, PRS members are now permitted to make pre-retirement withdrawals for healthcare and housing purposes without incurring a tax penalty. Previously, the tax penalty was 8% of the withdrawal sum. 
PRS members are allowed to make withdrawals from their sub-account B for themselves or their immediate family members to cover 91 types of illnesses, including paying for medical equipment or medication for approved illnesses. The withdrawal for housing purposes can be used to finance the purchase of a residential property or to reduce one's housing loan.
Principal Asset Management Bhd CEO Munirah Khairuddin discourages PRS members from making pre-retirement withdrawals, saying that the lack of a tax penalty under the new guidelines will affect investors adversely in the long run. "It is important to highlight that as a society, Malaysians are not adequately prepared for retirement. The oldest age group is projected to be 14.5% of the total population by 2040. With longer lifespans, inflation and rising healthcare costs, Malaysians will require additional retirement savings to complement their mandatory savings," she adds.
"We would caution investors to use this pre-withdrawal option as a last resort. Taking money out of their accounts during periods of market volatility can lead to loss of initial principal as well as the opportunity for future growth and earnings."
However, others like Nor Daliya welcome this move because investors now have the flexibility to access their retirement funds in times of financial need, which will encourage more Malaysians to use PRS as an alternative savings method for their retirement needs. According to the SC's Annual Report 2019, pre-retirement withdrawals accounted for 18% of all withdrawals from PRS funds last year. 
An additional measure was announced by the government in its RM250 billion economic package aimed at easing the financial burden of individuals and businesses as a result of the Covid-19 pandemic. Members will now be allowed to make pre-retirement withdrawals of up to RM1,500 without a tax penalty from their sub-account B between April and December.
Chan believes that the measure will help provide PRS members with immediate liquidity relief to meet any basic needs or expenses, especially during this turbulent period. But the measure will not affect the firm's PRS fund performance or its investment strategy going forward, she says.
The PRS industry saw sustained growth last year, with its total net asset value reaching RM3.5 billion, up 30.6% from RM2.7 billion in 2018, according to the SC's report. The number of PRS members increased to 455,000 in 2019 from 416,000 in the previous year.
The number of PRS providers remained unchanged at eight. Two PRS funds were launched while one was terminated last year, bringing the total number of funds in operation to 57 as at end-2019.
Using these tools
With these liberalisation measures in place, PRS providers say they intend to use some of these new investment tools to better navigate the market landscape in the coming months. For instance, Nor Daliya says investors can expect changes to APAM's asset allocation strategies over time. This particularly applies to its conservative fund as the firm intends to increase its exposure to foreign markets.
"Looking at the past 10 years, the MSCI World index has registered annualised returns of 10% per annum, outperforming the FBM KLCI's annualised returns of 3.4% per annum. With the greater potential for higher returns from investments in foreign markets, PRS members will eventually be able to enjoy further growth in their investments," she says.
"We are looking to increase exposure to Asia due to the stronger long-term growth prospects. Economies in the region, particularly our North Asian counterparts, have witnessed positive earnings revision over the past five years, supported by strong earnings growth, margin expansion and improved balance sheets."
She adds that the allocation to foreign markets could be between 10% and 60%, depending on the investors' risk profile. For instance, PRS growth funds may allocate as much as 60% to foreign investments while conservative and moderate funds could see allocations of 10% to 40%, with currency risk being a key consideration when investing in these markets. 
AHAM's Chan says the firm will continue to focus on both Malaysia and Asia. The fund house has been steadily building its investment expertise abroad and leveraging the expertise of its investment partners through its World Series funds. 
"Our PRS growth and moderate funds are invested in some of these World Series feeder funds. Investing in foreign markets does come with its own set of unique risks and also exposes investors to foreign exchange movements. Thus, there is the perception that it is riskier, which is why PRS conservative funds were not allowed to invest in foreign markets until recently," says Chan.
"But we believe the benefits of diversification outweigh that risk. A geographically diversified multi-asset portfolio can help smoothen and generate consistent returns. Today, more investors are looking at building global multi-currency portfolios as the markets are increasingly interlinked."
While PRS conservative funds are allowed to have exposure to foreign markets, there are still limits to what they can invest in. In its supporting documents on the revised guidelines, the SC advises PRS providers to abide by certain principles when formulating their asset allocations such as focusing on conserving capital and investing mainly in income-generating assets.
Some industry players say the move to allow PRS funds to invest in gold-backed ETFs bodes well for them when they need such an instrument to help them diversify. Chan says that while this will not be part of AHAM's core strategy for its PRS funds, it will allocate some investments to these securities to gain tactical exposure. She describes gold-backed ETFs as safe-haven assets that will be able to cushion the losses of a portfolio due to their lower correlation with other asset classes.
Nor Daliya points out that the prices of gold-backed ETFs are usually not very volatile and can be used to hedge against inflation. These financial instruments certainly have a part to play in a diversified portfolio. In cases where the US dollar weakens or the stock market does not perform well, gold prices are likely to strengthen, she adds.
More can be done
While most of the liberalisation measures have been welcomed by industry players, they believe more can be done to grow the PRS industry.
Principal's Munirah encourages automatic enrolment and auto-escalation of employee contributions to PRS funds. She points out that, according to case studies from the UK and New Zealand, automatic enrolment can deliver a significant improvement in employee participation.
"In the UK, the participation of the labour force increased to 78% in 2017 from 55% in 2012 as part of an employee pension plan. In New Zealand, participation grew to 76.5% in 2015 from 23.7%, one year after the KiwiSaver programme was introduced," says Munirah.
"Subsequent to auto-enrolment should be auto-escalation, a pension scheme design that automatically and gradually increases contributions to the PRS fund at regular intervals. Principal's past experience in developed markets shows that auto-escalation helps maximise savings once workers are enrolled in a voluntary pension plan."
Chan says the main challenge PRS providers are currently grappling with is increasing the awareness of proper financial planning among Malaysians and educating them on the importance of putting aside a comfortable nest egg for retirement. "Today, PRS schemes are still widely viewed as tax relief tools, as opposed to its core purpose, which is to serve as a voluntary long-term savings and investment scheme for one's retirement.
"Over time, we expect that as PRS providers continue to build up their track records for their respective funds, we think there will be greater confidence among investors in the schemes' ability to deliver on returns expectations. We believe this approach will be more self-sustaining for the industry to move beyond its reliance on the use of tax relief and incentives."
Nor Daliya believes that the industry still has a long way to go because the awareness of PRS is higher in urban areas than in rural ones. On the regulatory front, she says it will be beneficial to offer subsidies or tax credits to companies that match their employees' contributions to PRS funds up to a defined limit. This will not only encourage employees to invest in PRS funds but also help them develop a long-term savings habit for retirement, she adds.
De Alwis highly encourages people to invest in PRS fun ds as a portfolio diversification tool when it comes to retirement funds, especially in the current market conditions. "It used to be that PRS was just another layer of security to complement our Employees Provident Fund (EPF) savings. But with the current state of events, it seems that PRS is one of the lower-risk investment vehicles one can utilise to hedge against volatility in an increasingly unpredictable market," he says.
"By splitting up your investible funds, you minimise the risk of loss to your overall portfolio, which then allows you more opportunities for return. And with the recent change to the guidelines, fund managers now have more flexibility to take advantage of profit opportunities while hedging against volatility with more alternative products such as ETFs.
"As an added bonus, PRS members are now permitted to make pre-retirement withdrawals for healthcare and housing purposes without incurring a tax penalty. So, they do not need to exhaust their EPF funds."
Non-core funds outperform their core counterparts
The Private Retirement Schemes (PRS) industry showed improved performance year on year for the 12 months ended Feb 29. According to data provided by independent investment research firm Morningstar, more PRS funds across various categories delivered better returns for the one-year period.
Non-core funds outperformed their core counterparts (classified as aggressive, moderate and cautious funds). The former generated returns ranging from -4.62% to 12.36% while the latter saw returns of -6.38% to 10.39%.
Core funds in the conventional growth category witnessed returns of -6.38% to 7.20% while core funds in the shariah growth category registered returns ranging from 2.09% to 8.88%. Core funds in the conventional moderate category recorded returns of -3.72% to 6.86% while those in the shariah moderate category saw returns of 2.25% to 10.39%. Core funds in the conventional conservative and shariah conservative categories registered returns of 4% to 6.44% and 2.82% to 5.45% respectively.
The AmPRS-Tactical Bond Class D Fund was the top performer, having recorded a return of 12.36% for the 12 months ended Feb 29. The non-core fund feeds into AmTactical Bond, which primarily invests in sovereign, quasi-sovereign and corporate bonds, according to the fund's prospectus.
All of the PRS funds provided by Kenanga Investors Bhd, AIA Pension and Asset Management Sdn Bhd (APAM) and Affin Hwang Asset Management Bhd (AHAM) recorded positive returns. 
The Kenanga OnePRS Shariah Equity Fund was one of the top performing funds in the non-core category, having registered a return of 8.74% for the one year ended Feb 29. Kenanga Investors executive director and CEO Ismitz Matthew De Alwis says the fund has been able to perform due to its overweight position in sectors with long-term structural growth such as technology, manufacturing and gloves.
"These sectors provided core outperformance [within the fund] while timely trading in sectors such as oil and gas and construction also contributed [to the performance]. The fund also held key positions in high-dividend-yielding companies such as real estate investment trusts, which benefited from the falling interest rate environment," he adds.
AHAM's PRS funds recorded returns of between 2.21% and 7.2% during the period. Chief marketing and distribution officer Chan Ai Mei describes 2019 as a volatile year for markets due to the US-China trade conflict, recessionary fears and geopolitical risks such as the protests in Hong Kong, tensions in the Middle East and Brexit.
"During periods of high market volatility last year, we raised more cash as a defensive measure for our underlying funds to preserve capital. The on-again, off-again trade negotiations between the US and China were a bane for markets. So, many asset managers such as ourselves adopted a wait-and-see approach and stayed defensive," says Chan.
"Our underlying funds made tactical allocations to the China A-share market, which rebounded strongly in the early part of last year, when trade tensions diffused and easing measures announced by China temporarily buoyed the market."
APAM general manager Nor Daliya Mohd Daud says its PRS funds performed relatively well last year, having recorded returns of 5% to 7% for the 12 months ended December 2019. She attributes their performance to the better global investment climate relative to 2018.
Financial planners offer their views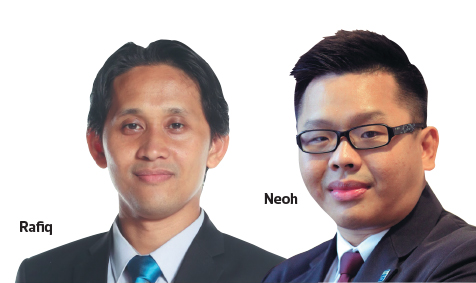 While there is a widespread view that Private Retirement Schemes (PRS) funds should be used solely for retirement purposes, financial planners say these funds can serve other financial objectives depending on how they are structured.
Kevin Neoh, a licensed financial planner at VKA Wealth Planners Sdn Bhd, believes that investing in PRS funds is an excellent way to build fiscal discipline in the current market environment. "The PRS is quite a suitable choice since it helps us to 'protect' this pot of money from unplanned withdrawals. When it is easy for us to make withdrawals, savers may end up sabotaging their own plan to keep the money for old age," he says.
Neoh is not optimistic about the near-term outlook for PRS funds in general. Like other unit trust funds in the market, most PRS funds are managed using a benchmark, which mirrors their performance. "So, when markets are bearish, the performance of PRS funds will follow suit," he says.
"The advantage [that PRS funds provide] is the design of PRS accounts, which do not allow savers to exit even if their emotions run high or they panic after reading news that the market has dropped by a certain percentage, for example. It ensures that they stick to the investment plan and perhaps be able to average down, which may be beneficial in the long run."
Rafiq Hidayat, a licensed financial planner and managing director of Wealth Vantage Advisory Sdn Bhd, sees PRS funds as more of a tax relief tool than an investment tool. "My advice to most clients is to take advantage of the RM3,000 a year tax relief that the government provides, instead of investing all of their free cash flow or savings in PRS funds," he says.
"The biggest issue with PRS is the liquidity that it provides, or lack thereof, because it is supposed to be a retirement-funding instrument. The fact that PRS funds are basically similar to unit trust funds [since most of them feed into these funds] defeats the purpose of investing in PRS beyond the tax relief of RM3,000 a year."
According to the Private Pension Administrator Malaysia's website, individuals who contribute to PRS funds are allowed to claim a tax relief of up to RM3,000 a year from the Inland Revenue Board. The tax exemption also covers income received by the funds under the scheme. This incentive is set to expire in 2021.
"My recommendation to those interested in investing in PRS in the current environment is to continue with their regular savings plan to take advantage of the lower prices without trying to time the market. Being similar to unit trust funds, they will have higher diversification of their investments compared with directly investing in equities," says Rafiq.
While there are policies allowing PRS members to make early withdrawals from their accounts, both Neoh and Rafiq believe that it would be extremely unwise to do so. Rafiq says investors should not prematurely withdraw their PRS investments unless there is an extreme need for funds for better cash flow or emergencies.
"Do you have a monthly cash flow deficit or credit card debt? Do you have insufficient emergency funds of up to six months' worth of expenses? Do you feel that your main source of income will be affected due to recent events? If the answer is no, please leave the money in your PRS account."
Neoh says early withdrawals from PRS accounts will defeat the entire purpose of investing in a retirement fund. "At the end of the day, it is about what the savers plan to do with the PRS funds. If they are going to use the money for other life goals apart from retirement, then no matter how many liberalisation measures are announced, they should consider investing in other instruments that are not specifically created for retirement purposes.
"For me personally, I would say that no circumstances would justify investors making an early withdrawal from the sub-account B of their PRS fund."