This article first appeared in Personal Wealth, The Edge Malaysia Weekly, on December 4, 2017 - December 10, 2017.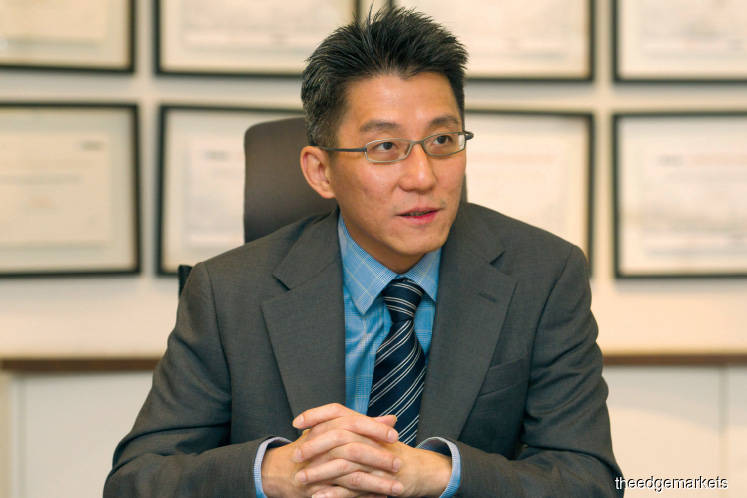 For years, investors have been eager to tap the opportunities in China and India, which have experienced the highest economic growth in Asia. However, with the ongoing volatility and many risks of investing directly in these markets, many are cautious about investments in these countries.
Recognising the demand from investors with lower risk appetites, Eastspring Investments Bhd combined exposure to Chinese and Indian equities with Malaysian fixed-income securities in its Eastspring Investments Asia Select Income Fund in 2005.
The fund's performance has been encouraging. According to Lipper data, it has delivered returns of 14%, 32.42% and 53.82% over one, three and five years respectively (as at Nov 17). The Lipper Leaders Ratings has the fund as a leader in total returns, consistent returns and preservation in the mixed asset Malaysian ringgit conservative category (as at Oct 31). It topped the table in the six-month, one-year, three-year and five-year categories.
The fund's equities portion (minimum of 30%) is invested in the target fund Eastspring Investments — Dragon Peacock Fund, which is incorporated in Luxembourg. The exposure to the target fund is mainly to provide an opportunity for capital appreciation. A minimum of 40% is invested in a portfolio of fixed-income securities to lower the risk of the equities portion and provide a potential income stream for the fund. 
"We believe that China and India will be among the largest economies in the world and investors would want to have exposure to these markets. However, some investors may perceive direct investments in such markets to be more volatile and may not fit their risk profile. Thus, we believe the combination of higher-risk Chinese and Indian equities with lower-risk Malaysian fixed income is a solution for investors with slightly moderate risk appetite but who want exposure to these two great economies. Such a combination also makes us unique as the only China-India mixed-asset fund in the market," says Eastspring chief investment officer Rudie Chan. 
He adds that the overall performance of the fund was due to its holdings of select corporate bonds and the Dragon Peacock Fund outperforming its benchmark. "During the year under review, stock selection in both China and India was a key contributor. Specifically, the stock selection and being overweight in consumer discretionary stocks in China boosted relative performance the most. Stock picks in India's financial sector also helped, although being overweight on, and the stock picks in, the energy sector hurt relative performance."
PICKING THE RIGHT STOCKS
Some of the key contributors to the fund's performance for the year ended June were China-based Geely Automobile and India-based Rural Electrification Corp Ltd (REC). The fund was overweight in both stocks during this period.
Chan says Geely's share price has seen a steady increase since the second half of last year due to solid sales of its new car models in China and abroad, which exceeded the company's sales forecast. "The Chinese company reported a 126% increase in net profit last year, marking the largest annual profit growth in eight years. Its robust earnings was driven by engineering and product design enhancements and cuts in purchase tax subsidies that take effect from this year," he adds. 
Geely has seen a share price appreciation of 224% year to date. "In addition, as the markets continued to push up the share price of Geely, we took full advantage of the strong price appreciation and continued to take profit from our holdings that we accumulated in 2015," says Chan. 
REC is a state-owned company that finances electrification projects in rural areas as part of the government's push for renewable energy. The company has seen its share price recover after declining for several months before July last year. 
"The company benefits from lower wholesale interest rates as it provides loan assistance to various state and central power and utility projects. In addition, the Indian government's continued thrust on infrastructure and electrification in this year's budget has kept the positive sentiment afloat for the company's share price," says Chan.
However, two companies that the fund missed out on were China's Alibaba Group Holding Ltd and India's Dr Reddy's Laboratories. It was underweight on e-commerce giant Alibaba, which produced strong earnings that beat analysts' estimates. 
"The company also raised its revenue guidance for FY2017 and now expects a 53% increase, compared with its previous outlook of a 48% increase. Being underweight on this stock hurt the relative performance of the fund," says Chan.
On the other hand, the fund was overweight on Dr Reddy's Laboratories, a pharmaceutical multinational corporation, which dragged down its performance. "The company's share price was affected after it was hit with three observations from the US Food and Drug Administration, related to violation of good manufacturing practices at one of its plants. The US market accounted for nearly half of the company's total revenue for the year ended March 2016," says Chan.
In the past six months, the fund has taken the opportunity to acquire more shares in certain companies. Some of its biggest trades year to date has been its position in Li Ning, a China-based sports athletic apparel company; India-based Hindalco Industries, an integrated 
aluminium and copper producer; as well as Alibaba, when the company saw some share price weakness.
As at Sept 30, the fund's top bond holdings were Affin Bank Bhd, Lebuhraya Duke Fasa 3 Sdn Bhd and RHB Bank Bhd. The top holdings in the Eastspring Investments — Dragon Peacock Fund were Alibaba, Tencent Holdings Ltd, China Construction Bank Corp and Infosys Ltd.
MORE GROWTH EXPECTED DESPITE GLOBAL EVENTS
In recent months, much global attention has been on bond yields as the US Federal Reserve seeks to tighten its monetary policy. In Malaysia, the central bank has decided to maintain its overnight policy rate and boost foreign-exchange and fixed-income liquidity. These events, along with the tax reform proposals in the US, have influenced the fixed income market this year, says Chan.
"The fund positions itself around short to neutral durations to cushion any rise in yields. However, the volatility in the market due to these events has provided some trading opportunities for the fund," he adds.
While events such as North Korea's missile launches, US President Donald Trump's trade dispute with China and border violence between China and India are sources of geopolitical tensions, they have not influenced the selection of equities made by the Eastspring Investments — Dragon Peacock Fund.
"We focus primarily on company valuations and we identify any stock mis-pricings in the Chinese and Indian stock markets. Having said that, over the past year, the Eastspring Investments — Dragon Peacock Fund has gradually increased its exposure to China as there have been better stock-picking opportunities there compared with India," says Chan.
The fund's consistent overweight stance on China has been beneficial this year because its equity markets have significantly outperformed their Indian counterparts over the past year, at 50% versus 25%, says Chan. "With the recent conclusion of the 19th National Congress in China, together with the recent news of India recapitalising its state-owned banks, there will continue to be stock-picking opportunities in both countries for our fund."
The corporate earnings growth in China and India is expected to continue next year. According to IBES Consensus' September report, earnings in China and India are estimated to grow at 16% and 17% respectively next year, which are among the highest in Asia. Consumption and infrastructure spending will be the key drivers in these countries.
Chan says the fund house will continue to favour companies with strong credit fundamentals and good cash-flow generation abilities in the fixed-income portion. "We continue to remain cautious on weaker credits as there could be more downgrades or defaults in this challenging environment."
As for equities, it will look at China's efforts to implement its promised reforms and the possibility of continued monetary easing. Meanwhile, India's economic recovery appears to be on a strong footing to achieve its potential real gross domestic product growth, aided by lower interest rates and a thrust on investments. 
"India's corporate earnings are expected to recover gradually, aided by higher demand, lower interest rates and a favourable investment cycle. Valuations are fair in the light of a recovery in earnings," says Chan.